It used to be that new body armor and other law enforcement protective gear such as helmets and shields were introduced throughout the year as they were developed. Now, unless a company really has a groundbreaking product that it can't wait to show the world, it will probably schedule its introduction in the first quarter of the year.
The reason is SHOT Show. The annual Shooting Hunting and Outdoor Trade (SHOT) Show usually held in Las Vegas in January has become much more than a gun and hunting show. It is now the nation's premier showcase for non-electronic law enforcement products, including firearms, apparel, and armor.
Here's a look at what some of the leading makers of law enforcement protective gear will be showing at this year's SHOT. Or if they are not exhibiting at SHOT, will be introducing in the first quarter of 2018.
Angel Armor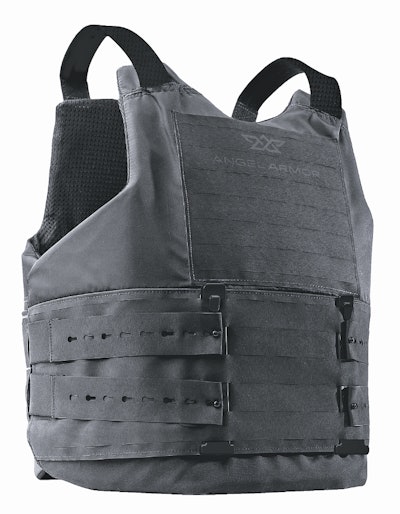 Colorado-based Angel Armor will be showing its modular soft and hard body armor system consisting of the company's RISE soft armor package and its Truth Snap plates: the Truth 47 and the Truth 44. The Truth 47 is a roughly 1.5-pound (depending on cut) special threat plate that provides protection from a number of high-powered pistol rounds and the AK-47's 7.62x39mm in the 123-grain FMJ configuration. The Truth 44 weighs about the same as the Truth 47 and offers additional protection from hot .44 Magnum loads. The two magnetic plates can snap together and create a plate that in conjunction with the wearer's soft body armor can stop 5.56mm rifle fire. So for about six pounds of additional weight, an officer can add front and back rifle protection. The Truth Snap system works with any soft body armor that can accept the addition of hard plates.
Armor Express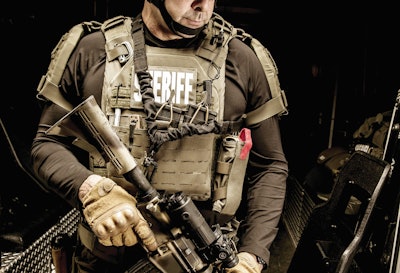 Set to debut at SHOT Show 2018, the SAU (Special Assignment Unit) from the Lighthawk Tactical division of Armor Express was designed to be a lightweight and modular tactical armor platform for law enforcement. The SAU's modularity allows it to function as both a tactical vest and plate carrier, the company says. Standard features include: front and rear rifle plate pockets, with expandable 4-way stretch, cummerbund with accessory wrap that accommodates optional Peraflex system pouches, MOLLE webbing or laser cuts for securing gear, removable sling catch, and advanced shoulder pads. Options include: cummerbund soft armor inserts, hard armor shoulder plates (HASP) (also set to premiere at SHOT Show).
ATS Armor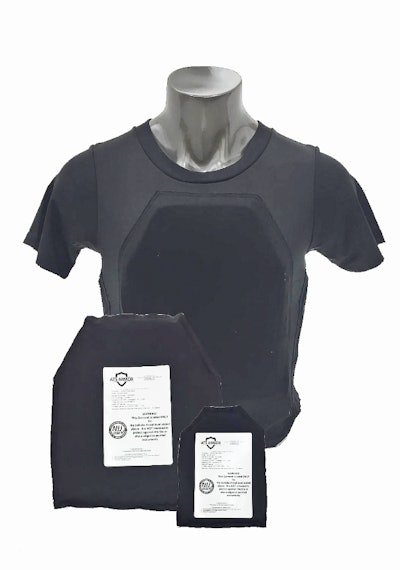 ATS Armor's Concealable Carry Kit is one of the most unusual body armor systems on the market. The Concealable Carry Kit is a T-shirt-style armor carrier that can be worn under a uniform or under plain clothes. It can be fitted with NIJ Level IIIA hard plates, or Level II or IIIA soft armor in front, side, and rear pockets. The concealable system is four panels and a shirt that wears like a form-fitting spandex T-shirt.
BlueRidge Armor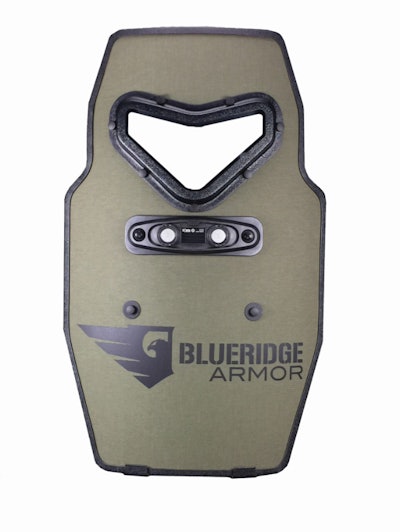 BlueRidge Armor will be showcasing its Vengeance line of hard armor shields at SHOT 2018. The company says the shields were designed from the ground up with direct input from federal law enforcement agents. Features include: patent pending Vengeance viewport that the company says offers enhanced lower peripheral vision and the Elzetta Tridextrous handle system. BlueRidge says the combination of the Elzetta Shield Light and its Tridextrous controls yields a handle system with three distinct grip surfaces with light activation at each position for "intuitive operation." Vengeance shields are available in four standard sizes ranging from 18x30 inches to 24x48 inches, with custom sizes available. Buyers can choose from Carbon Gray, Ranger Green, Multicam, Multicam Black, Multicam Arid, and Kryptek Typhon.
BulletSafe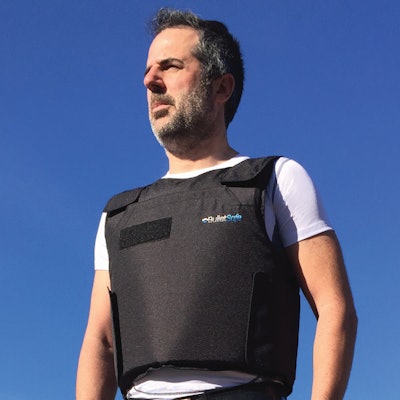 Version 2.0 of the BulletSafe Bulletproof Vest is scheduled to debut at SHOT 2018. The company says the improved vest was developed using feedback from customers. Offering NIJ Level IIIA protection, Version 2.0 of the BulletSafe Bulletproof Vest features rifle plate pockets, a Coolmax back panel for added ventilation and comfort, modular straps for adjustable fit, and an integrated spot for displaying a badge or identifying patch. Options include: armored straps and a tactical outer carrier.
Phalanx Defense Systems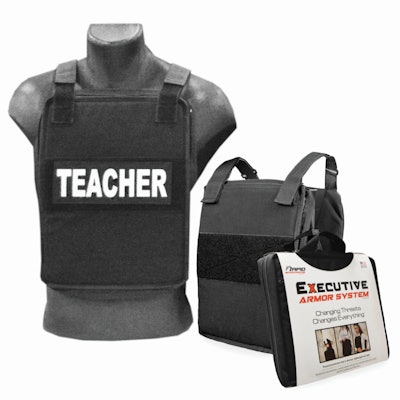 Phalanx Defense Systems offers the Executive Armor System, a discreet, personal protection system. This low profile fabric briefcase rapidly deploys into an NIJ Level IIIA soft armor vest, allowing the user to be protected in a variety of scenarios. The panels are 11x14 inches for chest and back coverage. Phalanx says the Executive Armor System is an excellent product for educational institutions, public safety departments, and families.
Point Blank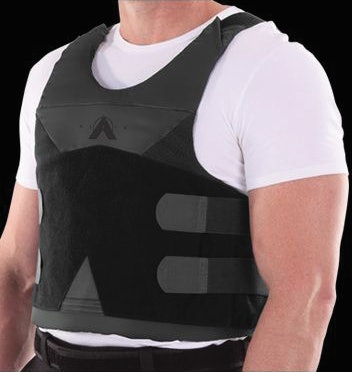 The flagship concealable soft body armor from Point Blank Enterprises is the Alpha Elite with Armorvent. The Elite model armor is designed for minimal visibility under the uniform or under plain clothes. Features include: Point Blank's Self-Suspending Ballistic System (SSBS) that prevent rolling and sagging, a water-repellent microfiber outer shell, top-loading plate pockets, removable elastic cummerbund, and the Armorvent ventilation system for comfort. Point Blank says Armorvent (developed by a company of the same name) is fueled solely by the body's natural cooling mechanisms and uses scientifically proven EVAP Technology to accelerate sweat evaporation and naturally ventilate body heat while providing padding and improved load distribution. Point Blank sells a variety of Alpha Elite armor packages in Level II and Level IIIA. The armor, designated by AX on Point Blank's model numbers, uses Dyneema's Force Multiplier Technology and is extremely lightweight. Level II packages are available at .63 pounds per square foot, and Level IIIA Alpha Elite armor ranges in weight from .87 pounds per square foot to .79 pounds per square foot.
Premier Body Armor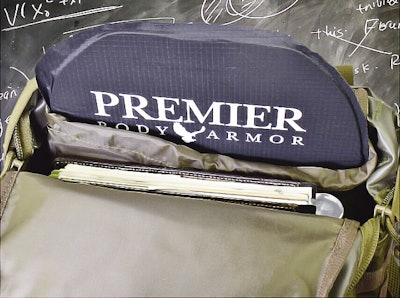 New from Premier Body Armor for 2018 is the NIJ Level IIIA backpack panel designed specifically to fit bags from top manufacturers like 5.11 Tactical, TruSpec, and Vertx, just to name a few. The company says this new product was developed to provide ballistic protection for off-duty officers and their families, and it fits backpacks, go-bags, and plate carriers. The panel is less than a quarter-inch thick and features an outer shell is constructed of durable stain and water-repellent microfiber material.
Propper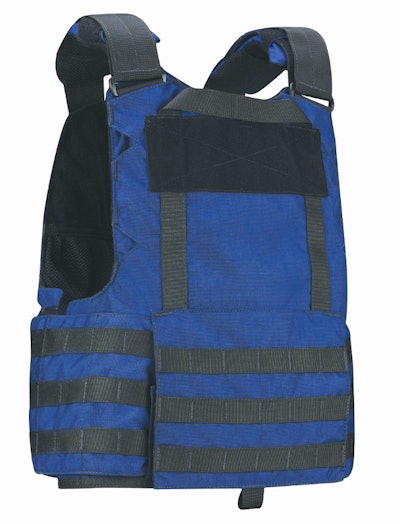 The Switch vest from Propper is designed to be so flexible that it can be used to equip an entire unit, from snipers to EMTs, with one style of vest. The Switch is low profile and can be worn slick under a button-down shirt or fully loaded over a uniform or BDU. Pouches inside the cummerbund hold mags, tools, medical supplies, and other gear the mission demands, while soft armor inserts can slide easily into the side panels for added protection. Features include: integrated admin pouch with elastic tool retention, strategically placed MOLLE fields, 4-way stretch interior cummerbund pocket, non-abrasive interior mesh, and included shoulder pads. Options include: ID placards, NIJ Level III or Level IV hard Plates, double M4 double pistol kangaroo, triple M4 kangaroo, MOLLE attachment panel, and M4 attachment panel.
Safariland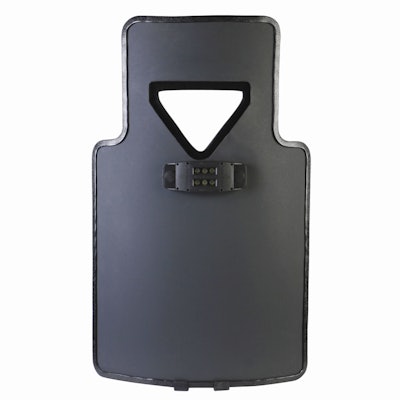 Safariland Group company Protech Tactical will debut a new series of five lightweight, boltless Type IIIA ballistic shields at the 2018 SHOT Show. Utilizing a patent-pending process to integrate the lens cap into the ballistic body of the shield, the X Series improves ballistic performance by eliminating the risk of a round penetrating a bolt or seam. Protech says the X Series streamlines the traditional ballistic shield and introduces a design that eliminates points of weakness, reduces weight, and maintains overall ballistic integrity. Composed of polyethylene, X Series shields are the lightest handgun threat shields currently on the market, according to Protech. A choice between ultra-lightweight carbon fiber or Kydex exterior skin provides a durable, high-end finishing touch. Available with 3-position or horizontal handle, X Series shields can be fitted with optional FoxFury Taker B50 LED light system.
Survival Armor
The Paladin is the top-of-the-line concealable body armor from Survival Armor. The lightweight armor is lab certified at a weight of .68 pounds per square foot for the NIJ Level II package. Survival says the Paladin incorporates a proprietary aramid fabric strike face with state-of-the-art unidirectional material. The Paladin has been tested against a wide variety of special threat ammunition including 9mm 127-grain SXT +P + Ranger, .357 SIG 125-grain GDHP Speer, and 5.7x28mm 40-grain V-MAX FN SS-197.
Team Wendy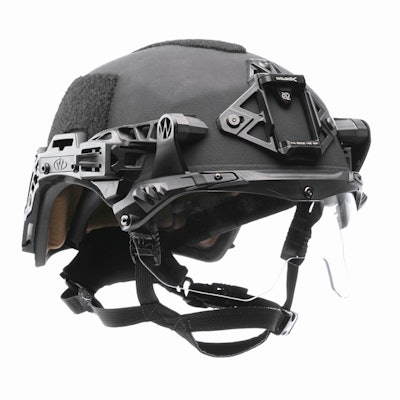 The new Team Wendy EXFIL Ballistic SL helmet provides a 15% reduction in weight while maintaining the same fragmentation and NIJ IIIA performance ratings as the original EXFIL Ballistic, the company says. The SL rails and shroud are compatible with all helmet mounted accessories while also facilitating the addition of a new Ballistic visor. The finished helmet system comes in at 2.22 pounds in Size 1 and 2.31 pounds in Size 2.
U.S. Armor
The top-of-the-line ballistic package from U.S. Armor is the Enforcer 6000, which the company says weighs in at less than a pound per square foot for the Level IIIA, making it one of the lightest NIJ .06-certified vests on the market. Flexibility was built into the panels with new types of aramid materials, and the panels' ballistic capabilities were created through layering of Honeywell Gold Shield and Spectra Shield and two different types of DuPont Kevlar. U.S. Armor has mated the Enforcer 6000 Level IIIA package with two optional carrier upgrades: the CuTec Copper and the Outlast Heat Management. The CuTec Copper carrier actually has copper thread sewn into the interior fabric that lies closest to the officer's skin to help prevent heat rash. The Outlast Heat Management uses a material found in NASA space suits to cool the wearer or warm the wearer, depending on conditions.
Warrior Trail Consulting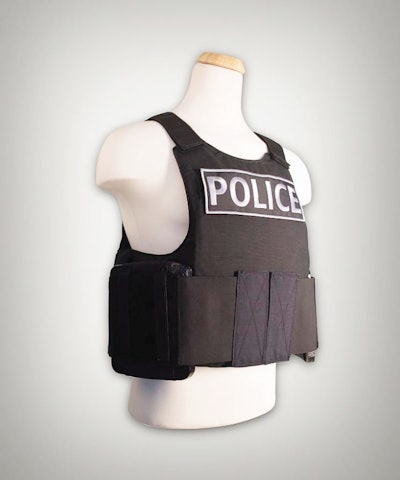 Virginia-based Warrior Trail Consulting is best known for its non-ballistic training body armor, but for 2018, the company is now offering advanced rifle protection solutions to law enforcement and first responders through a partnership with ShotStop Ballistics LLC. ShotStop says its patented Duritium material uses ultra-high molecular weight polyethylene manufacturing methods to achieve an ultra-light product at 2.7 pounds per square foot for NIJ Level III. A polyuria coating protects the durable plates from water, body fluids, and fuels, making them ideal for use in maritime environments, the company says. Warrior Trail also has developed a complete and customizable active shooter response kit that includes both the vest and ballistic plates.