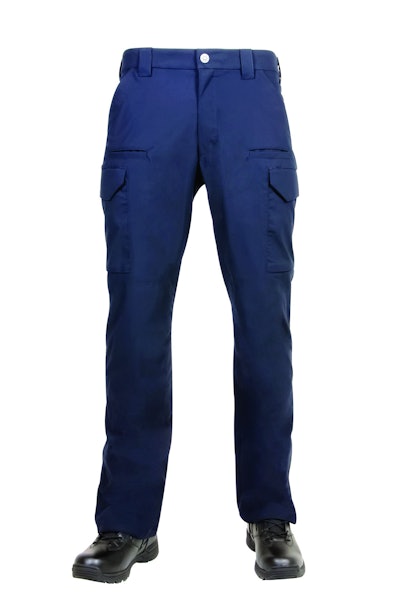 Patrol officers and police agency purchasing units have a handful of excellent choices from which to choose a pair of tactical pants. Now those options have recently grown with the introduction of the V2 Tactical Pants from First Tactical.
"The V2 Pant is the culmination of two decades of improvement and modifications to the industry standard," the company says. "The V2 pant is performance-ready and purpose-built to handle any mission that arises while maintaining the neat, clean, and professional look required for public safety."
First Tactical says one of the reasons the V2 pants offer such performance is their construction. The fabric is First Tactical's proprietary two-way mechanical stretch material called ARMS—which stands for Advanced Response Mechanical Stretch. ARMS is a 65/35 poly-cotton woven material with a micro rip-stop that is treated with Teflon for a stain-repellent finish. Unlike some rip-stop materials—which even from a distance show a tell-tale checkerboard pattern—ARMS fabric gives no such appearance.
Another reason the V2 pants maintain a sharp appearance is that the color is double dye process. First the company dyes the fiber, then—once the fiber is woven into fabric—the fabric is dyed for a second time. Cory Nykoluk, VP of merchandise for First Tactical, says the pants will hold their color for 50 washes. "If you wash your pants once a week you'll get a year's worth of use out of it, and it keeps its dark color."
Functionality was a key goal for the V2 pants, according to Nykoluk. Like most tactical pants, the cargo pockets have two internal AR-15 magazine pockets—but the V2 pants' pockets are slightly larger. "We keep an eye on technology, and we're seeing that P-Mags are getting larger in diameter. With extra space, our pockets accommodate those oversized mags appropriately," Nykoluk says.
"These V2 Pants are performance driven. The ARMS mechanical stretch gives the waistband flexibility, allowing for IWB carry and extreme movements in the field. Also, the fabric at the back of the knee is notched out which articulates the leg, setting it into performance position, without losing its professional appearance," Nykoluk adds.
The pocket flaps are "boarded," meaning they are reinforced so when they are flipped up they stand up, allowing one-handed access unfettered by the flap. "If you're shoving gear in your pockets, you don't want it collapsing," Nykoluk says. The cargo pocket flap also tucks inside for all dump pocket needs.
Perhaps the most noticeable feature is what goes unnoticed on the V2 pants, and that's the fact that they are tactical pants. They were designed to look simple like ordinary office khakis.
Not too many years ago, the "look" that officers wanted was an over-constructed pant with oversized cargo pockets that could fit a small watermelon—officers wanted to look "tacti-cool." But today, many agencies and officers are seeking an understated appearance, and the V2 Pant fits that bill perfectly. Agencies and officers are increasingly looking for pants that could be worn on duty, but are just as suited to work on the range.
"V2 Pants were designed to be low profile, refined, professional looking, that could be used as a tool in the field but could also be used in the office—or in public," Nykoluk says.
The V2 Tactical Pant comes in four uniform colors—black, khaki, midnight navy, and OD green—so most agency uniform colors are represented, with a full offering of men's and women's sizing. List price on the V2 tactical pant is $50.
Doug Wyllie is contributing web editor for POLICE.