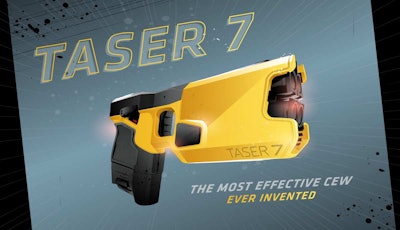 The International Association of Chiefs of Police (IACP) show is one of the more unusual law enforcement trade shows. It's kind of a miscellaneous exhibition of everything that is used in police work, ranging from massive software solutions, to helicopters, to widgets. Some years the show seems to have a theme like say body cameras. Other years it's really not so easy to spot a trend at the show. The 2018 IACP show held in Orlando in early October was one of those difficult to characterize shows.
But that doesn't mean that there were not some interesting and innovative products on display at this IACP. Here's a look at what caught our eyes.
Atlas Business Solutions Inc.
ScheduleAnywhere
There is perhaps no bigger routine headache for law enforcement supervisors than scheduling. ScheduleAnywhere is a software tool that makes it easier to schedule enough officers to work their shifts. It keeps track of vacations and training, and it gives each officer access to a personal work calendar over the Web. www.scheduleanywhere.com
ATS Armor
Lightweight Shields
In recent years, hard armor has been getting lighter and more efficient. The latest shields from ATS Armor are examples of this trend. The company's IIIA Patrol Shield weighs in at just six pounds and stops pistol rounds up to .44 Magnum. Its Type III Tactical Shield can stop a variety of popular rifle rounds and weighs just 15 pounds. Both feature ATS Armor's proprietary handle system for easy maneuverability and ergonomic designs that maximize protection. www.atsarmor.com
Central Square
Superion Software
Right before IACP four public safety software companies—Superion, TriTech, Zuercher, and Aptean—merged into a new company, Central Square. That was the biggest news from Superion at the show. In addition, the company showed its OneSolution software, which facilitates communications between agencies. OneSolution is, as the name implies, a combined CAD, RMS, jail management system, and mobile computing tool. www.superion.com
Code 3
Matrix System
Code 3 brought its new Matrix emergency lighting system to IACP. The programmable system offers plug-and-play simplicity and can configure the entire emergency system of lights and sirens on a law enforcement vehicle. Code 3 says the Matrix can read signals being sent through the vehicle's controller area network to trigger different flash patterns and siren sounds. www.Code3esg.com
Dodge
Durango Pursuit
Agencies clamoring for Dodge to produce a pursuit-rated SUV to complement their Chargers got to see their wish come true at IACP. The 2019 Dodge Durango Pursuit shown at IACP is available with two engine options, the 5.7-liter HEMI and the 3.6-liter Pentastar. All-wheel-drive with an eight-speed transmission is standard. Agencies can call (800) 999-3533 for more information.
First Tactical
V2 Pant
Durability and comfort were the goals in the production of the First Tactical V2 Pant. The V2 Pant is even durable in the wash. First Tactical says the ripstop fabric of the pant will hold its color after 50 washes. www.firsttactical.com
FirstNet
Mobile Data Solutions
AT&T/FirstNet and its partners, including Panasonic and Sierra Wireless, brought a demonstration vehicle to IACP so they could walk potential customers through the benefits of using the dedicated first responder network and how to get the most of its capabilities using Sierra Wireless (www.sierrawireless.com) connectivity and Panasonic (www.na.panasonic.com) computers and mobile devices. https://firstnet.gov
FLIR
Black Hornet Drone
If you had walked by FLIR's IACP booth you might have seen what looked like a toy helicopter hovering over one of the staffers. FLIR's Black Hornet Personal Reconaissance System is one of the smallest drones on the market and it is much more sophisticated than a toy. The Black Hornet PRS can stay in the air for 25 minutes and can give the user enhanced situational awareness with infrared and electro-optical sensors. Range is up to two kilometers. www.flir.com
Genetec
Clearance
Genetec's collaborative case management tool Clearance was developed to help officers share case evidence both inside and outside their agencies. The secure and easy-to-use tool helps investigators manage digital evidence such as video and audio. Clearance also allows agencies to receive digital video evidence via e-mail from a variety of sources. www.genetec.com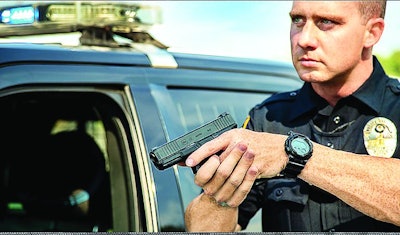 Getac
X500 Notebook
Getac's next-generation X500 ultra rugged notebook boasts a seventh generation Intel Core vPro Quad Core HQ processor, up to 64GB of RAM, and the latest 802.11ac WiFi. Getac says the X500's ruggedness has passed military MIL-STD-810G and MIL-STD-461G certifications for drops up to three feet, and it is IP65-certified for dust and water resistance. https://us.getac.com
Meggitt Training Systems
FATS 180LE
Meggitt Training Systems introduced the FATS 180LE immersive simulator at IACP. The FATS 180LE provides a 180-degree display. Scenarios are projected on three borderless 150X84-inch screens with a 16:9 aspect ratio. A 5.1 surround sound audio system with directional sound effects allows instructors to incorporate unsettling noises from any direction to elevate situational awareness. In addition, the FATS 180LE supports up to 20 simulated weapons, including rifles, pistols, shotguns, OC sprays, and TASERs. The company says owners of the FATS 100 systems can upgrade their systems to the FATS 180LE. https://meggitttrainingsystems.com
Motorola Solutions
Spillman Software
The two flagship products of Motorola Solutions' Spillman are Flex and Nova. Flex is Spillman's primary law enforcement product. It offers public safety agencies integrated real-time data through RMS, CAD, JMS, mobile data and field reporting, and crime analysis with CompStat. Nova is designed specifically for smaller agencies that need records, dispatch, and jail management. Nova is particularly useful for campus agencies because it offers built-in Clery reporting tools. www.spillman.com
Omnigo
Records Management System
Omnigo showed its records management system, which is designed to help law enforcement agencies streamline their data collection process. The software can be used to create mandatory and audit reports, and securely disseminate information into the right hands. The software makes it easy for users to search within a unified database and allocate relevant incident details for crime reporting, state and federal reporting, and auditing purposes. The data can also be used to recognize crime trends and to show agencies where to allocate resources with the software's built-in analysis tool. Omnigo says the software can facilitate an agency's transition from using the Uniform Crime Reporting (UCR) program to the new National Incident-Based Reporting System (NIBRS). (See article on page 32 of this issue to learn more about NIBRS.) www.omnigo.com
PowerDMS
Documents Management Software
PowerDMS brought its policy and training records management software products to IACP. The policy management tool makes it easier for agencies to update policies and build accreditation files. The training records management tool eliminates the need for keeping paper training records. www.powerdms.com
Tyler Technologies
ShieldForce Mobile App
Tyler Technologies debuted its new mobile device app New World ShieldForce at IACP. Tyler says the app, which is now available for iOS and will be available for Android next year, improves situational awareness and provides a connection between patrol officers, dispatchers, and command staff by extending computer-aided dispatch (CAD) functionality onto a smartphone, tablet, or watch. Tyler plans to optimize ShieldForce for Samsung DeX, as well as the Samsung Gear S3 and Samsung Galaxy Watch smartwatches. www.tylertech.com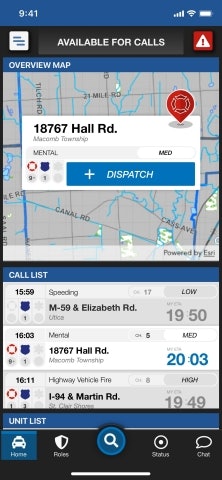 Vigilant Solutions
Vigilant Investigative Center
Vigilant Solutions announced the launch of the Vigilant Investigative Center (VIC) at IACP. VIC is an AI-driven investigative platform that helps law enforcement to generate leads. It combines the capabilities of Vigilant's FaceSearch facial recognition, PlateSearch license plate recognition (LPR), BallisticSearch ballistics analysis, GunOps crime gun mapping, and VideoManager body worn video management technologies in one cloud-based solution. VIC also serves as a nationwide sharing platform for law enforcement and allows for integration of data sources. www.vigilantsolutions.com
VirTra
V-VICTA Training
A little more than a week before IACP VirTra announced the launch of the VirTra-Virtual Interactive Coursework Training Academy (V-VICTA), an interactive training program for users of VirTra's simulators. The first volume of V-VICTA curriculum has met the standards set forth by the International Association of Directors of Law Enforcement Standards and Training (IADLEST) National Certification Program for POST Certification across 35 states and it is recognized in all 50 states. The five products in the first volume include "Contact and Cover Concepts," "Human Factors in Force Encounters," "Tourniquet Application Under Threat," "TASER Targeting," and "Injured Officer Handgun Manipulation." All have been thoroughly reviewed by IADLEST's assessment team and have passed the rigorous independent review process.V-VICTA provides law enforcement trainers with the complementary accredited training components, including a master manual, student handouts, pre-testing m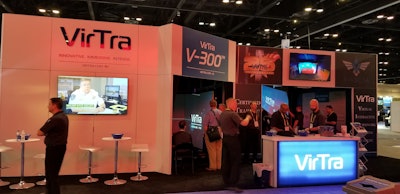 aterial, and final exams. www.virtra.com
WatchGuard
Mobile BWC Charger
WatchGuard had one of the most talked about booths at IACP. The draw was a Ferrari super car wrapped with the WatchGuard logo. But the company made its most interesting product announcement a month after the show. WatchGuard is now offering a mobile battery charger, the QuickConnect, for its Vista body cameras. The QuickConnect allows officers to recharge their Vista cameras in their cars without having to remove the camera from its body mount. www.watchguardvideo.com