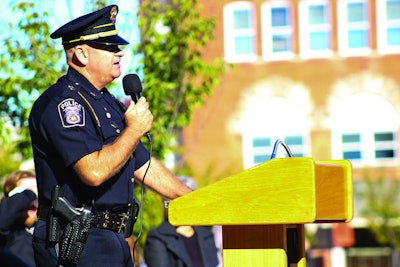 In years past engaging your community with departmental crime prevention initiatives was pretty simple. You hosted a community meeting and offered up your staple products. Most of these were boiler plate speeches with everyday burglary prevention advice. Today, there's a "new normal," with community groups, the business community, and all of our customers demanding more intensive crime prevention programs.
For me, as chief of police for Ephrata, PA, the new normal is to prepare for the possibility and train for the probability of active shooter incidents. And this new normal includes talking to community groups about these attacks.
What most adults, business leaders, and the clergy at houses of worship have realized is that their children and grandchildren have more training in active shooter reaction than they do. And they believe it is time to learn. They want to know how to respond to and hopefully survive such an event.
Of course, when I am speaking to community groups, I am likely to have people in the audience who believe "it will never happen here" in Lancaster County, PA, and they can be quite vocal in expressing those beliefs. I say two things to these naysayers. One, we live and work in the county where the Nickel Mines Amish school shooting occurred in 2006. So it has already happened here, and not that long ago. Next, I ask them this question: "If you knew you were going to be in a fight for your life tomorrow, what would you do to prepare for it today?" Before they answer I tell them, "If the time to perform arrives, then the time to prepare has passed." Most of them then become believers.
Many departments are now besieged by groups requesting active shooter response training. This is a dilemma for many chiefs and sheriffs who are faced with new demands: Now, how do we offer this and are we reaching all of our customer base?
Before you can start educating the community about what to do in case of an active shooter attack, you have to build relationships with community groups.
The Business Community
One of the best ways to connect with your business community is by becoming a member of or participating in your local chamber of commerce or similar business-focused organization in your community. In my case, it is a requirement for me to be a member of the COC. In the meetings, I can network and mingle with business leaders and owners. One successful way of engaging other members in this environment is to attend mixers and informal educational meetings such as the brown bag lunch and learn program or even formal presentations.
When you have presented to your groups, prepare for the follow-up calls. Many businesses have required safety training to meet industry and insurance standards. These presentations from you about active shooter response tie in with their company training.
Of course your goal in presenting the training is not to help local businesses with their insurance. But you want to create a team so to speak, with the business community and police working together. This is a strong bridge to the next logical steps of engaging the rest of the community base. Business leaders and employees have other memberships that will help you create links to other groups.
Community Organizations
Local law enforcement leaders are always on the speaking circuit within their communities; it's part of the job. The organizations that we speak to are usually service-oriented or philanthropic, business, fraternal, veteran, or religious groups. Many of these groups have community safety initiatives, which is a great connection between your department's mission and their missions.
When presenting before these groups, you will find the members often have connections to even more organizations. I have been amazed through the years that one presentation can often open doors into many other organizations.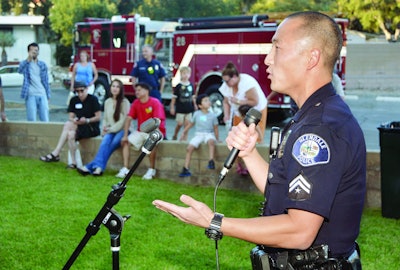 Houses of Worship
Due to the diversity of faiths within our country, it can be difficult to reach out to all of your houses of worship. Most department leaders or emergency managers will have some listed contacts for larger houses of worship that are used for emergency sheltering. But it can be difficult to contact smaller houses of worship. Not all have a traditional telephone or are on social media.
The best starting point is to contact your local ecumenical association or any organization where your local religious leaders of all faiths gather together. If you are invited to meet with them, this will be a great connection. Most of the time they wish to hear about current issues so that they can assist the community and law enforcement. Providing for the homeless, helping people with addictions, and helping people affected by economic problems or disasters are their mainstays. But after the Pittsburgh synagogue shooting and the Texas church shooting, you have to talk to them about attacks on houses of worship, including active shooters.
Houses of worship today are the most vulnerable of all of the community's assets. And sadly, today's crime prevention presentation for houses of worship must go far beyond locking the building and securing any valuables. I strongly recommend an enhanced crime prevention strategy for houses of worship that includes safety team training and active shooter response training.
Getting Started
If your department does not have an active shooter presentation for the masses, invest the time of your training staff and offer presentations to your community. Your community will embrace it and be grateful. Until then, if you can identify a trusted trainer with a solid product, seek them out. Personally, I have performed many presentations within my region through our local task force.
There are a number of programs that can help you produce a quality active shooter training program. Here's a quick look at some of them.
"Run. Hide. Fight. Surviving an Active Shooter Event" is a video from the Department of Homeland Security. It's on YouTube in English and Spanish, and with subtitles. Although this is a mere start of what a good presentation should be, it provides a basic foundation on what to do should an active shooter attack. It also promotes discussion and questions, so be prepared to moderate.
ALERRT (Advanced Law Enforcement Rapid Response Training) offers law enforcement training on its Civilian Response to Active Shooter Events (CRASE) program. Visit the ALERRT Website (https://alerrt.org) to review the available training.
And there are many more active shooter response programs and qualified trainers. A Web search will give you a list to start with. Research them as to what is more compatible with your department's needs and budget. Also, I always recommend that you ask for past customers' names so that you can perform your own due diligence in selecting a vendor or program.
In closing, engaging your community is a continual, evolving process that requires sweat equity. It is difficult for the new chief or sheriff, especially if they are new to the area. These ideas should help assist you in gaining better connectivity with your customer base and help you educate them on what to do in case of an active shooter event.
William L. "Bill" Harvey is the chief of the Ephrata (PA) Police Department. He retired from the Savannah (GA) Police Department where he worked assignments in training, patrol, and CID. Harvey has more than 25 years of experience working with recruits, rookies, and FTOs.