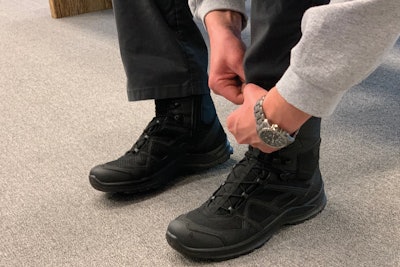 Law enforcement footwear manufacturer Haix conducted a contest to select 1,000 police officers to wear-test the company's Black Eagle Side Zip boots. The company says it wanted officers to experience the quality of Haix footwear.
Selected officers from across the country received a free pair of Haix boots to keep after completing the wear test. Participants had a choice of the Black Eagle Tactical 2.0 GTX High Side Zip in leather with Goretex or the Black Eagle Athletic 2.0 T High Side Zip in fabric without Goretex.
Haix asked each chosen participant to put the footwear through its paces and, after wearing them on the job for four weeks, give the company its feedback in the form of a survey. Here is a look at the results.
Quality of Materials and Construction
For the survey, officers rated various aspects of the Haix Black Eagle boots on a scale from 1 to 10, with 1 being poor and 10 being excellent for most categories. For both the quality of materials and construction, wear testers gave high marks with an overall average rating of 9.24 out of 10.
One wearer was "very impressed with the leather and stitching," adding that "the leather took on a quick shine and resists scuffing."
Many respondents evaluated the boots' construction based on how much abuse they could handle without becoming damaged. "Seams and soles have held up under considerable abuse and use in daily patrol use without any defects or damage," said one officer. "I have been in multiple foot chases, booted a windshield, and they have held up well," said another.
These testimonials were not limited to patrol work, with one wear tester saying, "I am a K-9 handler and feel that it would stand up to the wear and tear I need it to."
Overall Comfort
Comfort is very personal, so survey responses in this category ran the gamut. Despite differences of opinion, officers gave an average rating of 8.58 out of 10 for overall comfort.
One wear tester said the boot provided "Amazing comfort right out of the box" and added, "The boot fits true to size and fits comfortably around my entire foot." A veteran officer called them the "Most comfortable boots right out of the box I've had in 30 plus years in law enforcement."
Others said they had to break the boots in for varying lengths of time, but after that they found them to be comfortable, including "More comfortable than any other side zip boot I have tried!"
One wear tester appreciated how long they could wear their Black Eagle Side Zip, calling it a "great boot for those 14-hour days. I have some that are more comfortable but they will not last as long as these."
Some wear testers said they would prefer more arch support or more heel cushioning. One respondent said they were very supportive for such a lightweight boot. Another added a thicker insole for additional cushioning and afterwards found them "extremely comfortable."
Weight of the Boot
On a scale ranging from 1 for heavy to 10 for lightweight, wear testers gave their Haix boots an average score of 9.26. A common response was a comparison to athletic shoes because officers said they felt so lightweight, with one wear tester calling them "Big boots without the big boot feel."
Others felt the boots, while not extremely lightweight, were the appropriate weight for their intended purpose. An officer who rated the boot a "6" on the weight scale said the boot was "Not the lightest but for the support it gives it is worth it." Other similarly qualified comments included, "For a leather boot that also keeps your feet warm, I'd say they aren't too heavy" and "Boots are extremely light, considering their mostly leather construction."
One officer appreciated that the boot not being too heavy enhanced on-the-job performance, saying the "Boot is perfect for active patrol work. I can run, chase, fight, and maneuver easily."
Side Zipper
When it came to the side zipper, quite a few people stated that they didn't usually like any zippered boot as a matter of preference. Others are diehard fans of the style because they find it makes their boots easier to get on and off. The resulting average score was 8.77.
Several wear testers said they were pleasantly surprised with the Haix boots they tried out. "I am still not a big fan of the side zipper but of all the boots with zippers that I have tried yours are the best so far," said one. Another wear tester commented, "The side zipper is good but there is space for improvement," wishing it could be "a little more smooth."
Slip Resistance
Wear testers gave the boots high marks for slip resistance, with an average of 9.08. "They do not slip on greasy floors," said one officer. On a call at a fast food restaurant "my old boots would have slipped but my Haix didn't."
Most officers wore the boots in mostly warm and dry conditions. Several respondents were able to test them in a wide variety of environments. "The traction of these boots is actually quite surprising," said one pleased officer. "I have worn them in extreme hot and cold temperatures, with snow, rain, and ice. The boots have great slip resistance." Another "worked an accident on an icy bridge and barely slipped at all!"
Others said they would have given the boots a higher rating if they'd had a chance to test them out in icy or snowy conditions. One wear tester felt confident about their performance: "I don't feel there would be any problems with snow due to the tread of the boot."
Waterproofness
Officers who tested the leather Black Eagle Tactical with Goretex evaluated them for waterproofness, giving an average rating of 8.38. Many were happy to share their good experiences on rainy shifts.
An officer surprised by a change in weather was glad he had his Haix boots on when he was "Working an outside event one evening and was caught out in a storm. Only thing dry on me were my feet. Extremely waterproof. Very nice."
One officer in Florida shared, "I tested your boots by stepping in a puddle up to my ankle. It was nice and cool, but my feet were absolutely dry! Perfect again!"
Breathability, Temperature, and Sweat
The survey also asked wear testers to rate their chosen Haix Black Eagle boots based on breathability, foot temperature, and foot sweat. For the latter, the scale ranged from 1 for excessive sweat to 10 for minimal sweat. The average rating for all categories fell between 8 and 9, with overall average scores of 8.79 for breathability, 8.66 for foot temperature, and 8.32 for foot sweat.
"I hate having sweaty feet," wrote one grateful officer. "My foot odor has actually gone away, as has some of the itching I get after work when I take my boots off. This is by far one of the best features of this boot."
Regarding temperature, some preferred having a separate summer boot and winter boot. But others felt the Haix boot would work well for both. "Great! Keeps my feet at a good temperature whether it's cool or warm out; gives a good balance."
One officer wanted others to benefit from his positive experience and spread the word: "Several coworkers have purchased these boots after hearing how comfortable, durable, and lightweight/breathable they were."
Durability
When asked about durability, a good number of wear testers gave their responses with the caveat that one month might not be enough time to determine longevity. This might have affected the score they ultimately provided, but an average rating of 8.99 suggests they were happy with the boots' durability during the wear testing period, across different details.
"Have put these boots through several months of 10-hour shifts in uniform patrol and they still look as good as the day I got them," a patrol officer responded.
A tactical officer said, "I put a lot of foot traffic on my boots having to climb lots of stairs and going into fields and being part of SRT teams. I've liked the durability at this point."
Another wear tester expected to be wearing the Black Eagles for a while: "The boots are strong and durable, and I think they will last a long time."
Overall, the officers who wear tested the Haix Black Eagle Tactical 2.0 GTX High Side Zip and Black Eagle Athletic 2.0 T High Side Zip were pleased with their new footwear. In fact, 74% said they would recommend them to a friend.
For more information about Haix footwear, visit www.haixusa.com.