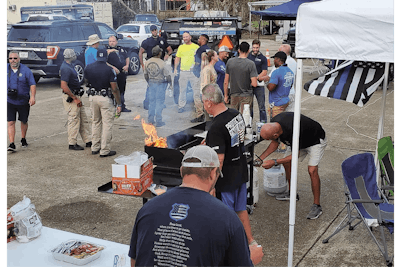 When natural disasters strike the communities where they work and live, law enforcement officers have to focus on their duties, even when their own families are suffering. Their homes can be damaged, their loved ones injured, but they have a job to do.
Helping these officers and other public safety professionals affected by tornados, hurricanes, wildfire, and more is the mission of the Fraternal Order of Police's Disaster Area Relief Team (DART).
"The members of the Fraternal Order of Police and the police officers that serve those communities, they're victims too," says Jason Smith, chairman of the National FOP DART. "It is important while they are standing the line, while they're stitching their communities back together, that somebody shows up and helps stitch them back together."
Since forming in late 2019, the National Fraternal Order of Police DART has deployed its resources five times to disaster-stricken areas and provided care and comfort for officers and other first responders that were affected. In their two most recent deployments, FOP volunteers converged on communities in Kentucky that were devastated by tornados and Colorado communities ravaged by wildfires.
Although several state FOP lodges through the years have fielded disaster response teams, the idea for a national DART team was birthed after the experiences of National FOP President Patrick Yoes and what he recalls from Hurricane Katrina.
At the time of Katrina in 2005, Yoes was the president of the Louisiana FOP. When Katrina hit, 2,000 of the state's 6,000 FOP members were left without homes. That experience plus the outpouring of support that flooded into his state remained with Yoes. So, when he was elected head of the National FOP in August 2019, his first goal was to establish a national disaster response effort.
"I've been on the receiving end of it, and I know what it's like and I know the difference it makes," Yoes says about the impact of relief efforts when they come to your town.
As soon as he was elected, Yoes reached out to Smith. As recent past president of the Oklahoma FOP, Smith had extensive experience with Oklahoma DART, which had formed in 2008. Yoes asked him to chair the formation of a national response team.
MORE THAN MEALS
Much of the national DART effort drew on what Smith had learned as part of the Oklahoma FOP team, which had responded to the Joplin, MO, and Moore, OK, tornados. Smith says there was a large loss of life, including children at an elementary school, in the Moore tornado and that is where he learned the value of disaster response aiding first responders involves more than just providing meals.
"What we learned during that deployment was that not only were we serving the nutritional needs of our members, we were serving their mental wellbeing as well. We were giving them a safe place to get off stage and get a meal and just talk about the things that they had just had to do and had to see with people who have done that and seen it," Smith says. "They can either talk about the football game tomorrow night or they can talk about the children they just dug out of the rubble. Whatever they want to talk about, we're there to talk with them and take their mind off what they're having to do and take their mind off of what their families are going through while they are out protecting and serving."
FOOD AND REMEDIATION
The National FOP's DART program launched in early 2020 with two food-preparation trailers. The larger of the two food trailers is a NASCAR-style trailer that the National FOP purchased from the GEICO Skytypers Air Show Team. United Parcel Service partners with FOP to pick up and deliver the large 53-foot, two-story trailer to disaster areas. The FOP also fields a smaller 28-foot mobile kitchen that Smith can tow behind his truck. That smaller trailer, which was donated by California FOP, is usually the first to reach an area due to the simplicity of towing and Smith's immediate response when DART is deployed. The larger of the two food trailers is staged in Tennessee and the other smaller trailer responds from Oklahoma. Sometimes both are deployed to the same area or adjacent areas. When a hurricane struck the Gulf Coast, the 28-foot trailer made headway immediately to the damaged area and the 53-foot trailer arrived two days later.
The National FOP DART response also includes several remediation trailers. These trailers are full of tools and supplies needed for crews to temporarily repair the damaged homes of first responders. "We partnered with Lowes, which donated trailers full of tools, tarps, chainsaws, and just anything you can think of for when we get to these hurricanes and these tornado zones," Smith says.
While some volunteer teams cook and serve food, the remediation teams head out into the community to take care of stabilizing the homes of first responders. In some cases, the FOP volunteers complete their primary tasks and then continue working remediation to help regular citizens in the community. Such was the case recently in Mayfield, KY. In addition to handling immediate remediation needs at homes of first responders, the work crews also started cutting trees in the community and helped stabilize multi-family units, including a retirement home and an apartment complex.
During the first five deployments the national DART volunteers prepared and served more than 36,000 meals and worked on more than 140 homes.
LIVING IN CARS
FOP DART volunteers include retired officers, active-duty officers who use their vacation time to respond, and other FOP members who are paid by their departments to respond on loan to the agencies in the communities impacted by damage. Their commonality is their dedication.
Yoes explains when someone signs up to volunteer, they are told they will not be living in the best conditions since they are going into a disaster area. They eat, sleep, and live wherever is available. Some bring tents, some campers, and some just live out of their personal vehicles. When the team is activated, emails are sent out to the volunteers with the location and details of the deployment.
"They show up with what they need, they sleep in their cars, they shower under a hose, and they do all of that because of their love of serving and protecting," Smith says. "That's what got us into this profession in the beginning and it's what is carrying us on through to this mission. "
"I could not be prouder of seeing how our members pull together," Yoes says. "I have been on the receiving end of this, so I know the difference it makes, not just a hot meal but that a hot meal is provided by their peers," Yoes adds. "There is something very healing on both sides of that, the receiver and the one providing that."
Anyone who wants to volunteer with the DART team can find more information on the National Fraternal Order of Police website at www.fop.net
National DART Deployments
Deployment of the National Fraternal Order of Police Disaster Area Response Team (DART) have included:
● Lake Charles, LA., August 2020: Served more than 4,500 meals and remediated more than 30 homes of police officers.
● Gulf shores/Orange Beach, AL, September 2020: Served more than 3,000 meals and remediated eight to 10 homes.
● Thibodaux/Matthews, LA, August 2021: Served more than 15,300 meals and remediated more than 76 homes.
● Mayfield, KY, December 2021: Served more than 3,600 meals and remediated more than 24 homes.
● Boulder/Marshall, CO, January 2022: Served more than 9,600 meals. This deployment was the largest daily meal service to date. Volunteers produced 800 meals three times a day.