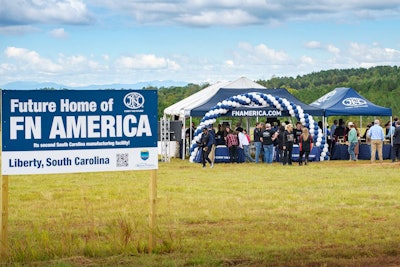 FN America broke ground on what will be the site of the company's second production facility in South Carolina. This second facility will be located within the Pickens County Commerce Park.
For more than 40 years, the company's primary production facility has been in Richland County, South Carolina, and has produced more than 1 million small arms under contract to the U.S. Department of Defense.
The company will invest $33 million to construct the future 100,000-square-foot facility over two phases beginning in April 2024. With state-of-the-art equipment and construction, FN said the new facility will expand the company's manufacturing footprint and allow it to meet the demand of its military, law enforcement, and consumer markets.
"This was a historic day for FN. More than 40 years ago, FN opened operations in Columbia to fulfill a government contract for the U.S. Army. Since that day, FN's business has grown tremendously, and we have forged unbreakable bonds within the state of South Carolina," said Mark Cherpes, FN America president and CEO.
Growing a Workforce
In attendance at the groundbreaking were several of the students and instructors from the Pickens County Career and Technology Center.
For many years, FN America has worked closely with the school through a work-based learning partnership that engages the school's highly skilled machine and tool students to give them real-world experience as they pursue a career path in manufacturing. The new manufacturing facility is anticipated to create 176 jobs.
"That partnership has helped to develop our future workforce in the community and will be of great importance as we embark upon this expansion to better meet the needs of our customers," added Cherpes.
FN History in the U.S.
The company was originally established in the United States in 1979 and opened its doors in 1981 to produce the M240 medium machine gun, a variant of the FN Mag-58, under contract to the U.S. Army.
Today, FN America employs more than 600 individuals to produce firearms, accessories, and other adjacent products for the U.S. military, law enforcement agencies, and consumers. The company has produced the M4A1, M16A4, M249 light machine gun, M240 medium machine gun, and FN SCAR under contract for the U.S. military as well as its FN 509 striker-fired pistol line used by U.S. law enforcement agencies like the Los Angeles Police Department.