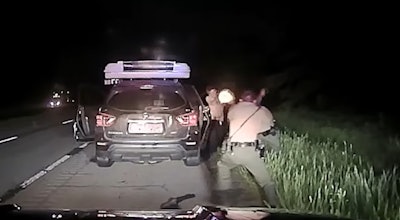 The Illinois State Police have released dashcam footage of a deadly shooting in which a stranded motorist shot a trooper and was killed when another trooper returned fire.
A trooper stopped to assist the suspect around 3 a.m. on May 9 along the right shoulder of Interstate 64. Near the vehicle was 23-year-old Brandon Griffin from Albuquerque, New Mexico, and his wife, 31-year-old Christine Santos, Fox News reports.
Both were wanted and the troopers attempted to take Griffin into custody.
The video shows Griffin resisted physically and one trooper used a Taser, sending Griffin to the ground. He somehow managed to get up, reached into a passenger seat and pulled out a gun and shot one of the troopers.
The other trooper returned fire, killing Griffin.
The injured trooper was treated and released at a local hospital.