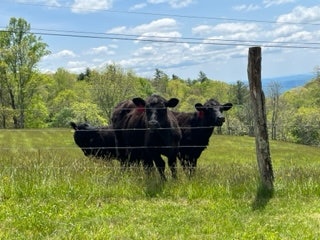 A suspect in Boone, NC, thought he had a good plan to get away from police, but a group of cows revealed his hiding spot in their pasture.
On Tuesday, Boone police said 34-year-old Joshua Russell Minton ran from officers during a traffic stop and was chased until he got out of his vehicle.
Minton was able to hide in a field until a group of cows betrayed him, ABC 11 reports.
"As officers began to search the area they received some unexpected, but welcomed assistance from some local cows. Apparently cows do not want suspected criminals loitering in their pasture and quickly assisted our officers by leading them directly to where the suspect was hiding. The cows communicated with the officers as best they could and finally just had the officers follow them to the suspect's location," the Boone Police reported on Facebook.
Minton is facing multiple charges that include eluding arrest with a motor vehicle, driving with license revoked and disorderly conduct.