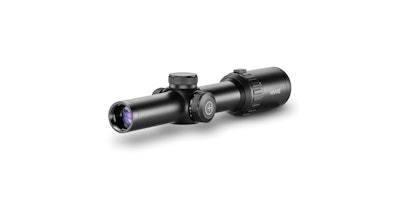 Hawke Optics has announced that it is releasing its first line of fiber optic illuminated riflescopes.
The company's new Vantage 30 WA FD IR models use fiber dot reticles. Hawke says the reticles are daylight bright, clean, crisp, with a red illuminated center dot. The red illumination can be controlled with an 11-stage brightness control, giving shooters the ability to adjust from low light to bright daytime conditions.
"Our standard illuminated riflescopes are built with a material inside the glass etched reticle that lights up when you turn on the scope's illumination turret. In the new Hawke Fiber Dot Illuminated Riflescopes, the illumination is run directly to the reticle dot, creating the cleanest, crispest, brightest dot you can have. Offered this year in 4 models; a 1-4, 1-8, 2.5-10, and 3-12, the fiber dot is truly considered daylight bright. Perfect for shooting in the bright open desert sun or in bright white snow," a company spokesperson said.
Features of the Vantage 30 WA FD IR models include capped low-profile turrets 30mm, a mono-tube chassis, 11 layer fully multi-coated lenses, and a high torque zoom ring fast focus eyebell.
The Vantage 30 WA FD IR line includes:
● Vantage 30 WA FD IR 1-4x24 
● Vantage 30 WA FD IR 1-8x24 
● Vantage 30 WA FD IR 2.5-10x50
● Vantage 30 WA FD IR 3-12x56
For more information, go to www.hawkeoptics.com.