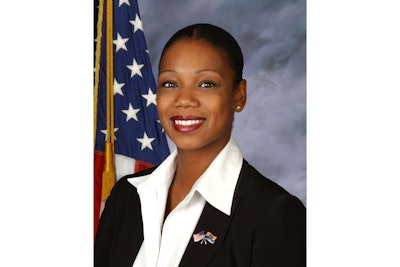 New York City Police Commissioner Keechant Sewell announced Monday that she was stepping down after nearly a year and a half as the first woman at the helm of the NYPD, The New York Post reports.
"I have made the decision to step down from my position," Sewell wrote in an email to the department Monday afternoon. "While my time here will come to a close, I will never step away from my advocacy and support for the NYPD, and I will always be a champion for the people of New York City."
Sewell, 51, was sworn in on Jan. 1, 2022 after being appointed by Mayor Eric Adams. She did not provide a reason for her departure, and it was not immediately clear who would be taking over to lead the largest police force in the country.
Sewell's relationship with City Hall had seemed to sour in recent months, with the commissioner finding herself increasingly handcuffed when trying to make key department decisions, The Post reported Sunday.
NYPD commissioners have historically held the authority to promote rank and file cops to detective, and detectives to higher ranks — but Sewell had to run the moves past City Hall, law enforcement sources said.
"They tied her up," one source told the Post. "There's no executive choices on her behalf. If a cop distinguishes himself and she wants to promote him, she can't do it."
Sources said Adams was blindsided by her immediate resignation.