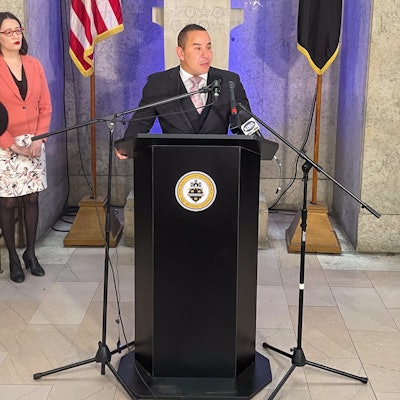 Moments after being named as the new chief of the Pittsburgh Bureau of Police, Larry Scirotto took questions about why he was fired from his last job as chief of the Fort Lauderdale Police Department.
Scirotto is the right person to lead the region's largest police bureau, Mayor Ed Gainey said.
Scirotto — who will remain acting chief pending approval by city council —beamed as the mayor officially nominated the former assistant chief Pittsburgh Police to lead the department, the Post-Gazette reports.
"It's good to be home," Scirotto, who spent 23 years with the Pittsburgh police until he retired from the city in 2018.
It was alleged discriminatory hiring practices that led to Scirotto's termination from the job in Fort Lauderdale. He was hired as police chief of the South Florida city in June 2021 and took command in August 2021.
By November 2021, Fort Lauderdale city officials had hired a law firm to investigate claims Scirotto was favoring non-white candidates for promotions. He was ultimately fired in March 2022.
He defended his hiring practices Wednesday, saying that of 15 promotions he offered in the first months of his tenure, six were minorities in terms of ethnicity, gender or sexual orientation. He said those promotions were based on merit.