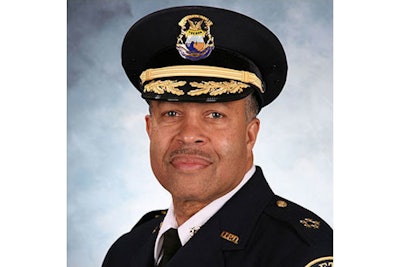 Detroit Police Chief James Craig returned to work Thursday saying he is recovered from COVID-19 after fighting the respiratory illness caused by the coronavirus for weeks.
Craig, 63, said in a statement to WDIV that he underwent a test on Wednesday and the result came back negative for COVID-19.
The Detroit News reports that the chief urges others in Detroit who have contracted the virus to "fight back."
"I've heard countless stories of some of our residents who are home, bedridden. Get up, move around," said Craig, during a Thursday media briefing, noting he's always had an avid fitness regimen. "I knew in order to overcome this deadly virus, I needed to punch back."
"This unknown enemy that we fight is real," he said. "It wants to consume you."
Mayor Mike Duggan announced that the chief had the virus back on March 27, reports WDIV. Craig has been recovering at home since. However, Duggan has repeated that the chief has remained in control of Detroit Police Department operations throughout his recovery.
Dozens of Detroit police officers have tested positive for COVID-19, forcing hundreds to be quarantined for weeks.
According to the Detroit News, Detroit's Chief Public Health Officer Denise Fair said people, like Craig, are recovering from the virus every day.
"Many have mild symptoms and are able to recover right at home without a lot of medical care," she said. "Chief Craig is an example that COVID-19 can be beaten."