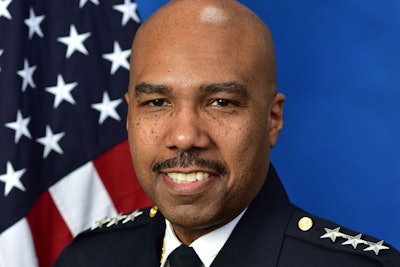 Washington, DC, Mayor Muriel E. Bowser has chosen Robert J. Contee III as the city's newest police chief, forgoing a national search and picking a veteran officer and native Washingtonian to lead the force.
Contee, a 31-year veteran who joined the force as a cadet while a senior in high school, will take over from outgoing Police Chief Peter Newsham on Jan. 2 and will serve on an acting basis pending confirmation by the D.C. Council, the Washington Post reports.
At a news conference, Bowser said she is confident that Contee, assistant chief of the Investigative Services Bureau, will "lead the way and serve as a blueprint for a modern-day police department" and find "new and better ways to reduce violent crime while continuing to engage the community."
On Tuesday, Contee cast himself as a leader who will support his officers but also is open to change. He highlighted his personal narrative of growing up in an impoverished community riddled with crime and drugs, and watching his father — now 11 years sober — struggle with addiction and as the victim of a never-solved stabbing.
Those experiences shaped his views on policing, he said, emphasizing the need for "compassionate crime fighters" while focusing on violent crime and repeat offenders.
"There are some people who are violent in our community who need to go to jail. Period," Contee said. "There are some people in our community, like my father, who are not violent in nature, who need treatment. . . . I think there is enough space to accomplish both of those things."