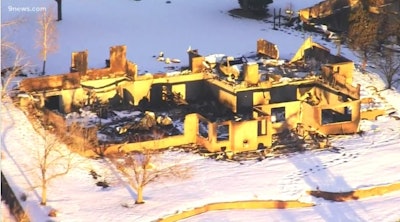 The chief of the Louisville (CO) Police Department, who is now helping lead his community's recovery effort, lost his home of 32 years in the devastating Marshall Fire.
Chief Dave Hayes told 9News he got word at about 9 p.m. the night of the fire, and decided he wanted to go check on his house to see what it looked like.
Hayes said what used to be a house had collapsed into the burnt-out basement, and the car he had parked in the driveway was melted.
Right now, Hayes is working nonstop trying to help others in his community. He's still working in the only clothes he had on the night the fire started, and a change of clothes his friend brought to him.
"At some point I'll get to me, but it's important, as it is to the men and women of the Louisville Police Department, that we continue to provide good service and safety, and I would like to think that I was needed in Louisville and that's my plan that we're going to get through this," Hayes said.