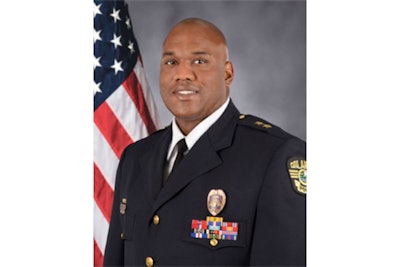 Orlando Mayor Buddy Dyer has announced Deputy Chief Eric Smith is set to take over the leadership of the city's police department following the announcement of Chief Orlando Rolón's retirement after serving three years in the position.
Dyer announced Smith's new position as the department's 40th police chief on Monday at Orlando police headquarters, WKMG reports.
"As mayor, it's been my priority for our departments to develop strong succession plans that identify and train our future leaders and Chief Smith is an example of that," Dyer said at the ceremony. "Chief Smith has grown through the ranks of OPD the last 27 years, working in nearly every aspect of the department, including three of the four department bureaus and 10 of the departments' 11 divisions."
Smith has served as OPD's high risk incident commander since 2016, leading SWAT, crisis negotiations and emergency response services for the crisis intervention team. He currently serves as commander of the Patrol Services Bureau, leading the largest section of OPD comprised of 500 officers.
Chief Rolón's last official day of work will be Aug. 19.