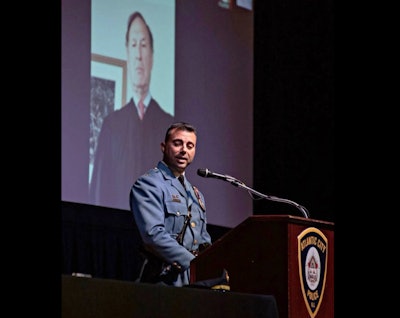 Earlier this month Atlantic City Police Chief James A. Sarkos was sworn into the position, but with a unique twist. A United States Supreme Court justice administered the oath of office.
The public swearing in for the new chief was held at Jim Whelan Boardwalk Hall and U.S. Supreme Court Justice Samuel Alito administered the oath of office to Sarkos, reports The Press of Atlantic City.
Alito said he was honored to perform the swearing in, and showed he is as human as the rest of us when it comes to using internet video communication, asking, "Can everybody hear me?"
"I'm honored and humbled to be sworn in as chief in such an iconic building, and to have a Supreme Court justice representing the highest court in the land swear me in," Sarkos, 46, said in his speech during the Nov. 17 event.
Sarkos, according to the city, had led the Atlantic City Police Department since Oct. 1, 2020, following the retirement of Chief Henry White.
The new chief began his law enforcement career with the Ventnor Police Department in 1995 and then worked for the Wildwood Police Department and later the Linwood Police Department. He joined the Atlantic City Police Department in October 2000.
"I am proud of what we have accomplished at the Atlantic City Police Department in the two years that I have served as interim officer in charge and acting chief," says Sarkos. "I am particularly proud of serving the community in various ways over and beyond traditional policing activities. I look forward to continuing to serve the residents and visitors of this great city. It remains my honor to lead the dedicated and courageous officers of the Atlantic City Police Department."
Sarkos was the project manager for several Atlantic City Police Department initiatives including the Boardwalk Camera Project, the ACPD Surveillance Center/Emergency Operations Center also known as "A.C.H.I.L.E.S." (Atlantic City Headquarters for Intelligence Logistics and Electronic Surveillance), Project P.A.C.T. (Protecting Atlantic City Together) camera sharing initiative, R.T.M. (Risk Terrain Modeling), Project Medicine Drop, and RAPID electronic pawn system.