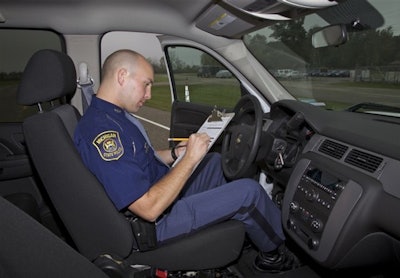 For the first time in two decades, Ford's mainstay Crown Vic Police Interceptor will be absent from the track, when the Michigan State Police commence their annual test of law enforcement vehicles in September.
Ford has phased out "America's patrol car," which it began producing for the 1992 model year, and replaced it with the Taurus-based Police Interceptor that made its debut at last year's tests as a work-in-progress vehicle. Ford is bringing back what should be the final production model of its Taurus-based Police Interceptor into a crowded field of new police vehicles.
In all, the Michigan State Police will test 10 sedans, three special service vehicles and six motorcycles that will vie for police fleet dollars.
The new P.I. will be available in front-wheel and all-wheel-drive powertrain configurations. The automaker will also bring its turbo-charged all-wheel PI. Ford has added a revamped, direct-injection, 3.5-liter, V-6 engine to its vehicles.
The MSP Precision Driving Unit will evaluate the vehicles for acceleration, top speed, and brake testing on Sept. 17 at the Chrysler Proving Grounds in Chelsea, Mich. Two days later, the vehicles will be put through high-speed handling tests at Grattan Raceway to simulate pursuit conditions.
General Motors/Chevrolet brings its Caprice PPV, which debuted a year ago. This year, Chevy adds a 3.6-liter, V-6 sedan to its 6.0-liter, V-8 offering. Chevy is also bringing its 3.6-liter Impala.
Dodge will also bring V-6 (3.6-liter) and V-8 (5.7-liter) versions of its Charger Pursuit, each offered in two rear-axle gear ratios (the higher-torque 3.06 and more fuel-efficient 2.65).
This year's special service category includes the pursuit-rated Chevrolet Tahoe (5.3-liter, V-8) and Ford P.I. Utility (3.7-liter, V-6) in front-wheel and all-wheel drive.
Two new entries arrive in the motorcycle category this year — the Victory Commander I (with batwing faring) and Commander II. The state police will also test Harley-Davidson's FLHTP Electra Glide (with batwing faring) and FLHP Road King. And officers will again test the BMW R 1200 RTP, as well as the Kawasaki Concours 14P ABS.
Statistical results from the tests are compiled and published in an annual report used by law enforcement fleet managers when purchasing patrol vehicles.
Related:
2011 Michigan Vehicle Tests: Patrol Cars