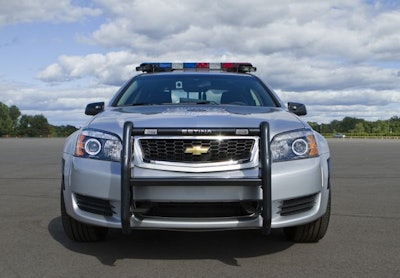 Executives with General Motors' law enforcement fleet unit said building their Chevrolet Caprice PPV in Australia doesn't put them at a competitive disadvantage because the vehicle is well-suited for patrol work.
Several agencies, especially on the East Coast, have experienced longer wait times for the patrol version of the PPV, which went into production in April. The detective version was made available sooner, because it went into production in January of 2011.
Earlier this week, Ford touted the Chicago-based production line for its 2013 Police Interceptor while showing the final production version of the patrol car replacing the Crown Vic at the Chicago Auto Show.
GM executives weren't fazed. In an interview with POLICE Magazine, Dana Hammer, GM's manager of law enforcement vehicles, acknowledged that it would take longer for the Caprice to reach agencies. Hammer said the vehicle spends six weeks on a boat being transported from Australia—it's built at the Holden factory in Adelaide, Elizabeth—to the Port of Benecia near Oakland, Calif.
"We have to make sure that everyone understands there will be additional wait times to ship the cars," Hammer said. "Instead of being a three-month delivery, it's going to be a five-month delivery on average."
The Caprice has caught on with fleet buyers, Hammer added, because it's "the right vehicle" for law enforcement. Of all the available patrol cars, the Caprice offers the largest interior and trunk, he said.
The 2012 Chevrolet Caprice PPV is a rear-wheel drive police vehicle available with a standard V-6 engine or an optional V-8 engine that can reach speeds of over 150 mph.
Law enforcement fleet managers use "order to delivery" to estimate the arrival of new patrol vehicles. A typical order-to-delivery timeframe of a GM fleet vehicle would be about 110 days or just under four months.
A vehicle built in Australia faces additional challenges to meet that timetable, including "dwell time"—the number of days a ready-to-ship vehicle sits at the port. Cargo ships leave Australia once a month with Chevy Caprice PPVs, so vehicles that miss the boat sit longer, Hammer said.
Another reason Caprice PPVs have taken longer to reach agencies is due to a process known as "second-stage manufacturing." When the PPVs reach Northern California, a GM-hired automotive supplier adds police-specific equipment to the vehicles before they're delivered to agencies. The supplier installs spotlights and wiring harnesses. The supplier also modifies the rear passenger doors, disabling door handles so prisoners can't escape custody.
GM has taken several steps to deal with the situation, including setting up a surplus inventory of PPVs at the Northern California port known as its E-Fleet. Agencies can acquire E-Fleet vehicles through an alternative ordering process offered by dealers.
Hammer urged agencies to be patient with GM at least initially because the Caprice PPV is being launched for the first time as a police vehicle. The sedan is based on the Pontiac G8, a re-badged Holden Commodore built in Australia until it was discontinued in 2009.