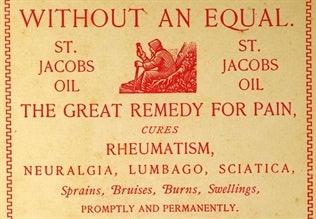 Most academies and departments embrace a form of "tactical talking" such as verbal judo, MOAB, or some other fashion of police/citizen verbal intercourse.
It doesn't matter which system you use; they all give you years of experience in a compressed amount of time. Most young officers take this training in stride but must apply the principles in question. Often on the streets, it's not what you say but how you deliver it.
You've sat and watched the old Westerns. There was always an episode or scene where a snake-oil salesman came into town. They would be selling their miracle curatives forany ailment. Most were alcohol-based with a touch of mineral oil and a few other special ingredients (turpentine, camphor, and herbs), which was nothing but quackery at its finest.
However, just before the purchase of this miracle elixir, some doubting chap in the crowd would ask if this stuff works. There would usually be a local person paid in advance or a co-worker of Dr. Harvey's Miracle Healing Juice. This wingman would proclaim aloud the vast miracle cures that this medicine has performed for them or family members. This ploy is still prevalent in sideshows today, and it's known as "cooling the mark."
You are the mark, and the co-conspirator is cooling your questions down and making the sales. In law enforcement, we don't sell snake oils. All we have to offer the public is service. Quality service should be our product. We don't use snake-oil sales practices. If you tell a victim that you are going to do something, follow through.
But there will be times while interacting in the streets that you too will have to cool the mark. If you've worked a neighborhood long enough, you'll be known to the residents, maybe even by name. You're dispatched on a call and the victim of this particular crime during their airing distress will state that nothing is going to happen. Woe is me, pity me, and they begin to shut down on you. No more information. This could turn into a complaint at the rate it is going.
Use your past successes, public ones that they know about. Recall the burglary that occurred down the street last week. We caught them. If we can catch that dastardly burglar, we may catch yours, but I need your help, tell me more. You are cooling the mark, not making jest of them but here reassuring them that you have something to offer them. Good police service but you need their help. No snake oil, just cooperation.
You've been taught to do this when working motor vehicle accidents. You reassure the victim (despite their visible injuries) that they're going to be alright. The paramedic's appreciate this because they don't want the victim to go into shock. They need their cooperation. You remind the victim that this is the best ambulance crew in the city. If I got hurt, I'd want them working on me. No miracle cure, just a reassurance.
What we do when we seek the cooperation of our victims is for them to be calm under extreme pressure. We want them to help us help them with their witnessed accounts. All you're doing is giving them a reason for pulling through this strenuous time in their life for a better good. You aren't hustling snake oil, only trying to get them to buy into the quality service you will provide.