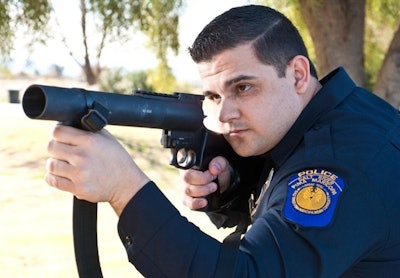 While visiting SHOT Show in January, I couldn't help but be amazed by the vast numbers of less-lethal devices now on the market. Less lethal has been around for years. It's still a growth area with advances in technology that improves delivery of use of force.
With more and more litigation on police use-of-force scenarios, training requires both application and follow through. Society wants its police to be more compassionate and use more humane applications of control in the treatment of our contacts. Not all of our customers may be criminals. It could be a mental health issue or a toxic mix of chemicals that causes their senses to go awry.
I don't know what less-lethal system your department uses. Your decision will be guided by your policies. My advice to you is to be fully familiar with your system, stay current, and stay certified in its application. Train for the worst. Practice not only application but also how you document, report, and testify about its usage. Train for arrest as well as first aid for collateral victims. I know what it's like to be doused with aerosol spray that was intended for the perpetrator.
Contact your neighboring, mutual-aid departments about their less-lethal systems. Find out what they use. Compare their policy for deployment to yours. This could require a day of discussion so all will know how to work as a team on the most stressful days.
Whenever you arrive for mutual aid, you're the visiting team. Everyone has different ground rules. Your policy may state that the point where good conversation ends and their resistance continues warrants the next step. Another department arriving on mutual aid may have a more stringent or lackadaisical policy. All of the officers need to read from the same playbook. In a dire scenario, you as the visiting officer could be asked to deploy their less-lethal system or tend to their equipment. This isn't the time to read the directions.
Another added bonus here is when the press or a concerned person calls to ask you a question (armchair quarterbacking), you'll have a better understanding to avoid any pitfalls or misspeaking. Not all systems are perfect and they have limitations.
It's hard enough out there, so let's not complicate issues. We must all prepare for our worst days. Mutual-aid compacts have the paperwork issues that have to be worked out by the powers that be, but there is more to them than just a written agreement. Have you trained together on not only complex calls but the regular ones? It is strongly recommended that agencies with shared plans should train for the "extremely bad day" event, mass shooting, or large natural disaster.
Use a table-top training exercise if you have to, but work out the issues in training and not under stress. As a young officer with no rank, you can still do something. Next time on a midnight shift when you pull up to the other guy's car—I call it "patrol spooning"—don't just chew the fat and talk about sports. Make a meaningful conversation happen. Ask if I had to back you on a call, is your policy or response to this event similar to mine? Creative thinking promotes successful outcomes.
Related: