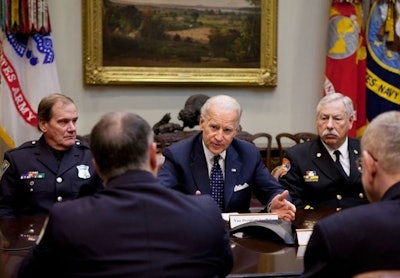 The federal government agreed to establish a public safety broadband network for emergency first responders and provide funding for next-generation 911 technologies.
The initiatives were included by Congress on Feb. 16 in a stimulus bill that extends the federal payroll-tax reduction and unemployment benefits. The Federal Communications Commission will auction frequency spectrum to help fund the stimulus plan and develop the network with the remaining 10 MHz (or D Block) from the 700 MHz spectrum auction. The D Block was initially slated for auction to commercial wireless carriers, but the minimum bid wasn't met.
Today, Obama administration officials, including Vice President Joe Biden, met with high-ranking police and fire leaders at the White House to discuss the network. Police chiefs and sergeants from the New York Police Department and National Association of Police Organization (NAPO) attended the meeting.
Biden said the plan "will enable new spectrum to be used for innovation, to speed wireless communication, and to fulfill a promise made to first responders after 9/11 that they would have the technology they need to stay safe and do their jobs," according to a White House statement.
The network would be governed through an independent board under the National Telecommunications and Information Administration (NTIA). The $7 billion that will be used to fund the build out of the network will come from proceeds of spectrum auctions. Public safety officials agreed to eventually give back spectrum in the 470-512 MHz, or T-Band, range. These channels will be cleared on an 11-year timetable. The feds have agreed to cover the cost to relocate these licensees.
Groups such as the APCO International that have advocated for the assigning of the D Block for the public safety network cheered the announcement.
"APCO International thanks our congressional supporters on both sides of the aisle in both chambers of Congress for their dedication to responsibly achieving the build out of a public safety broadband network and in supporting next-generation 911 technologies," said Gregg Riddle, the group's president, in a statement. "We pledge our full cooperation in the implementation of this legislation for the betterment of our nation's security."
The agreement was also welcomed by Motorola Solutions, which has secured contracts for public safety LTE projects under development in Tennessee; the San Francisco Bay Area; Harris County, Texas; and the state of Mississippi. The company is also actively developing hardware for these high-speed broadband networks.
"The allocation ensures that first responders will have the latest wireless broadband technology to support their critical missions," Karen Tandy, Motorola's senior vice president of public affairs, told PoliceMag.com. "In addition, the spectrum makes possible the interoperable communications that are urgently needed for different agencies to talk and work with each other."