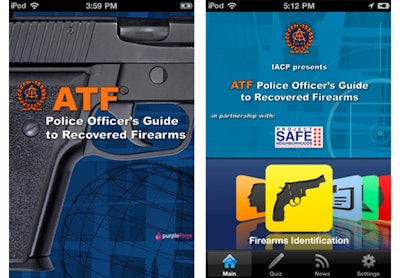 As smartphones and other mobile devices become more prevalent in law enforcement, officers search for reference apps that quickly bring actionable information to the field. A reference app is an effective tool that can be effectively used again and again.
Such tools can lead agencies to close investigations sooner and assist law enforcement professionals in the most complex cases. Here are four of the most useful law enforcement reference apps I've encountered:
Officer's Guide to Recovered Firearms
The International Association of Chiefs of Police has made ATF's Police Officer's Guide to Recovered Firearms available for iOS (iPhone and iPad), Android, and BlackBerry. The app, developed by Purple Forge, helps officers recover firearms by identifying and describing guns in detail. It covers information on locating serial numbers on firearms and helps officers interpret the results of a firearm query from NCIC. This technology can help get criminals off the streets, as well as identify people who are prohibited from carrying unlawful weapons. The app uses a database format to make it easier for officers to monitor and organize firearms. It comes in four languages, and the best part is it's free.
HeartStart, an iPad app from Philips HealthCare, could help you save a life. When someone goes into cardiac arrest, this app helps you understand the how-to of Automated External Defibrillators (AEDs) and teaches you basic guidelines for saving a life with Cardiopulmonary Resuscitation (CPR). While the app is useful for its educational value, its true worth is in giving you the knowledge of a skill you can carry with you in the event of an emergency.
This iOS app for iPhone and iPad was developed by an active officer—Indianapolis Metro PD's Ronald Shelnutt—to serve as a quick reference for field officers on the Miranda Warning. It provides even more value with a daytime display for day-shift officers, an easily readable display for nighttime operations, a talk-in Google translate feature, and an FBI Top Ten Most Wanted link. Police officers no longer need Miranda cards if they have this app.
The Vehicle Identification System app from Ten 8 Industries, compatible with iOS (iPhone and iPad), Android, and Windows Mobile, is an officer's helpful guide to classifying makes and models. This app helps officers identify vehicles through corroboration of witness testimony regarding suspect vehicles. The app's extensive database includes every vehicle make and model from the past decade. Such a tool can help an officer track down a vehicle during an investigation's most critical phase. If a witness doesn't quite know the exact model or make of the getaway vehicle, an officer could use this app as a visual aid to help the witness quickly identify the vehicle.
Editor's note: Want reviews and news about law enforcement mobile apps? Click here.
Logan Harper is the community relations coordinator for UNC-Chapel Hill's Masters of Public Administration program. Read about the university's LE app here.