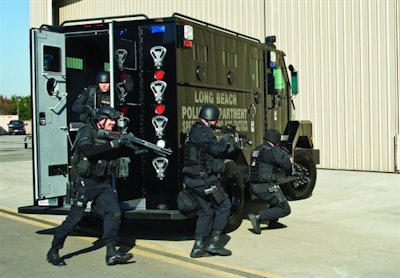 From its inception in the late 1960s, the SWAT concept has faced continuous challenges from those opposed to the "militarization of police." These same SWAT opponents are even more critical of the use of police "tanks," which is a misnomer.
These Armored Rescue Vehicles (ARVs) can play an important role in protecting citizens, as three northern California agencies demonstrated this summer. Let's revisit why SWAT is necessary in today's world.
While the police are society's "peacekeepers," it's the citizens who request the police during actual, or perceived, times of danger, especially when violent criminal activity may be involved. The same is also true for the vast majority of police activity. Only a very small percentage of police activity results in SWAT being called out — it's usually for situations considered too high risk for police to handle.
ARVs are one of the many specialized "tools" in the SWAT toolbox. As such, they're usually employed only for high-risk situations and community relations initiatives. The end result is that ARVs are employed very selectively and infrequently.
These three San Francisco Bay Area law enforcement agencies employed ARVs in differing ways:
July 16, San Francisco: What was initially believed to be a SFPD officer-involved shooting of a parolee turned into a near riot, when officers were surrounded by a vastly larger hostile, threatening mob. SFPD units responded to assist from throughout the city. The SFPD's Tactical Squad responded fully geared and helmeted up with their ARV. This massive show of force prevented a bad situation from becoming a full-blown riot. I'm equally certain the impressive sight of SWAT and its ARV had a distinct "chilling effect" on the near-riotous mob.
July 26, Moraga: An East Bay Regional Park officer on routine patrol in a hilly, remote, rugged watershed area not far from the upscale city of Moraga suddenly found himself under sniper fire and high-powered rifle rounds. The officer returned fire, and called for help. Dozens of East Bay area LE agencies raced to assist the pinned-down officer. Among those responding was the little known EBRP PD SWAT team with its ARV.
Due to the threat of sniper fire, responding officers were initially unable to rescue the now pinned-down EBRP officer from the hidden sniper(s). EBRP is the largest regional park system in the U.S. with 65 parks spanning 1,750 square miles and two counties. So it's understandable that the EBRP ARV didn't arrive on scene until shortly after 8 p.m., and immediately rescued the pinned-down officer.
Officers established a perimeter as darkness fell on the rugged, wooded, and hilly terrain. The following day, SWAT deployed in the ARV and conducted an extensive search for the suspects, who were believed to be guards for a Mexican drug cartel's illegal marijuana grow operation. Though the sniper suspects escaped, searchers found high-power rifle casings and a marijuana grow.
July 30, Fairfield: The Travis Air Force Base's air show featured an array of America's impressive air power. For enthusiasts of military air shows, the Travis AFB show is one of the best.
Since Travis is an active base, security was predictably tight. The aircraft were displayed right on the tarmac with boldly printed warnings.
In the midst of all the many highly impressive military aircraft was a CHP helicopter, cruisers and officers. Not far from the CHP display was the Fairfield PD's display — a command vehicle and the agency's marked, flat-black SWAT ARV.
During a lull in the air show, I introduced myself to the sharp-looking FPD SWAT officer assigned to the ARV. I was impressed by his professionalism, appearance, knowledge and enthusiasm for SWAT.
I have no doubt those who talked with this SWAT officer came away with a new-found respect for law enforcement, especially SWAT. And isn't forging a mutual respect between citizens and police the true essence of community policing?
Related:
Armored Rescue Vehicles (photos)
Armored Vehicle Aids In Rescue of Shot Parks Officer