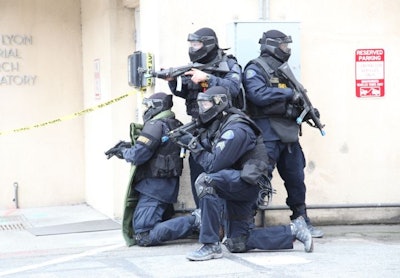 Urban Shield 2011 was the best and biggest in its five-year history. And next year's edition of this tactical-response training gem will be hard-pressed to top it.
Urban Shield is a comprehensive, full-scale regional preparedness exercise for officers who may respond to critical events such as terrorism or disasters. It takes place annually in the Bay Area. Urban Shield closely simulates "real world" incidents and tests a wide range of capabilities of police, SWAT, fire, Hazmat, EMS, and bomb squads (EOD).
Urban Shield 2011 took place over 50 continuous hours, incorporating 36 exercises hosted by 23 agencies. It covered 1,600 square miles in the counties of Alameda, San Francisco, and San Mateo. Urban Shield 2011 involved more than 4,000 participants and a multitude of local, state, and federal agencies.
I affectionately refer to Urban Shield as a "Gruelathon," because of the intense physical demands and mental challenges placed on the participants. This year, I asked myself, What is the secret to Urban Shield's continuing, resounding success?
The answer is the people. From top to bottom, everyone I've encountered in my three years of observing Urban Shield have been enthusiastic, motivated, and of the highest caliber.
How does this happen? The Alameda County Sheriff's Office is a professional, top-notch LE agency. From top to bottom, and bottom to top, the esprit de corps within ACSO is awe-inspiring.
This is a result of good, solid, leadership. It starts at the top with the bold, visionary leadership of Sheriff Gregory J. Ahern; it and continues with his capable, experienced command staff. Their collective, enthusiastic leadership and professionalism passes down through the entire ACSO.
Virtually every ACSO member, top to bottom, sworn and civilian, is a credit to our profession. They look and act sharp. They are consummate professionals, who are also approachable, and always willing to stop and assist. They do it with genuine enthusiasm.
This degree of esprit de corps only happens when there's high morale. Good leadership recognizes that the "grunts" get the job done. The higher the morale, the more enthusiastically the job gets down.
This is not to say that ACSO doesn't have its problems. Like so many other LE agencies, ACSO has been forced to make severe cutbacks due to the lingering bad economy. However, this hasn't stopped 700 of ACSO's 1,500 personnel from volunteering to participate Urban Shield year-after-year. This includes the two ACSO SWAT members who were involved in a harrowing shootout a week and a half before the event.
What are they volunteering for? To work long, 12-hour shifts supporting all aspects of Urban Shield, including driving, providing security for the competing SWAT teams, manning EOCs, and working various exercise scenarios. They must plan, organize, and ensure all goes smoothly with all the inevitable anticipated and unanticipated hiccups.
For the second time in three years, an Oakland Raiders home football game was the same day as Urban Shield. To cover normal staffing, the Raiders game, and Urban Shield, all but 50 of ACSOs sworn personnel were on duty on a Sunday. Yet, not one of the ACSO personnel I saw had even the slightest hint of "attitude." The opposite was on display. All exuded enthusiastic, dedicated professionalism.
It's difficult to explain the magnitude and complexity of Urban Shield. It's also difficult to explain the genuinely enthusiastic dedication of each and every member of ACSO involved with Urban Shield.
Tom Tucker, a retired U.S. Army colonel and director of LSU's Academy of Counter-Terrorist Education told his ACSO sergeant escort the following:
"I've been involved with units from every branch of the military, and have worked with numerous LE agencies," he said. "However, I've never seen a higher degree of genuine enthusiasm as that displayed by every ACSO member—top to bottom."
Leadership starts at the top, and spreads throughout the entire Alameda County Sheriff's Office. This is the reason Urban Shield continues to offer the "best of the best" training for first responders.