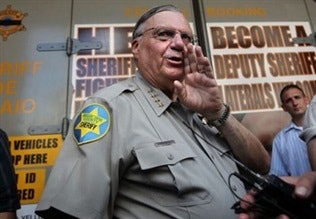 Former El Mirage (Ariz.) Police Department Assistant Police Chief Bill Louis has just published a book about the hundreds of criminal cases not followed through on by "America's toughest Sheriff" Joe Arpaio.
Louis says he became aware of the boxes of these forgotten cases after he had retired from a long and well respected career with the Phoenix Police Department. He was asked by Chief Mike Frazier to join him in assembling the "new" El Mirage Police Department in Arizona after the city of El Mirage terminated its contract with the Maricopa County Sheriff's Office in 2007.
Louis titled his book "If There Were Any Victims," the direct quote from Sheriff Joe Arpaio deflecting questions about the negligence of his department and these crimes.
Once former Assistant Chief Louis had taken the role of second in command in El Mirage, he received a call from the Sheriff's Office to let him know he needed to "come and get the boxes of police reports" from reported El Mirage crimes for the years of 2005-2007 when the Maricopa County Sheriff's Office (M.C.S.O.) was the sole law enforcement provider for the city as per a paid contract.
When Louis and his staff looked into the old reports they discovered that many of the original reports had not had any follow-up done. Cases where there were strong leads, known suspects, and even suspects who admitted to committing the crimes, had been filed away in boxes and nothing had been done to seek prosecution as required by law.
Cases had been cleared by a term used by M.C.S.O. "Exceptionally Cleared." The abandoned police reports had been cleared with this label. According to FBI Uniform Crime Reporting or UCR standards, a case can be "cleared by exception" when there is no possibility of follow-up or prosecution. "Exceptionally Cleared" isn't an approved clearance term for any crime where an agency is abiding by the FBI UCR standards. This wasn't good for 430-plus cases stuffed in boxes left to collect dust by M.C.S.O.
Adding insult to injury, in December of 2011, Sheriff Arpaio issued a public apology for the mishandled cases. He stated that "if there were any victims" he was sorry.
Louis retired from the El Mirage Police Department after spending three years getting the department on sturdy, reliable ground. The El Mirage Police Department never went public with the embarrassing disaster left by M.C.S.O., but it was discovered through public records requests and released to the public when the Arizona Republic and East Valley Tribune reported first on the situation.
"If There Were Any Victims" reads a lot like a police report: clear and to the point, with explanations about criminal and victim statistics and behaviors. As a former officer myself, and as a parent and a human being, I found the format to be the emotional saving grace while reading it.
The cases Louis reveals through selected police reports are gut wrenching. Small children molested, young girls raped, 12-year-olds impregnated by their adult male cousins, a mother of three murdered and stuffed into her closet—these are just a few of the cases that left me scratching my head and asking how anyone in the Maricopa County Sheriff's Office could stand by and let these cases go unprosecuted.
Louis does a good job of limiting the "cop talk" and breaking down the law enforcement responsibilities into basic concepts so a reader who has no experience with how law enforcement works can understand exactly what has transpired with the cases not being followed through or prosecuted by M.C.S.O.
Interspersed with the police reports within the chapters are segments about resources available to victims and how to avoid becoming one. The back of the book contains a glossary of law enforcement terms.
The book is available in print or as an e-book at www.iftherewereanyvictims.com. I also interviewed former Assistant Chief Louis about his book and the Maricopa County Sheriff's Office. Check back for that blog post soon.
Related: