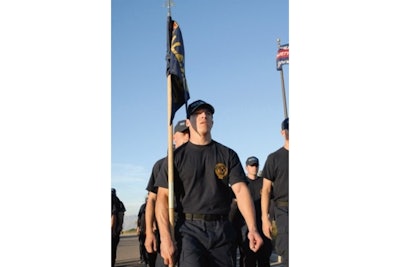 For nearly a decade, law enforcement agencies have been dealing with a shortage of officers. Older officers are retiring and few young people want to take their places. That means qualified police candidates and working officers are extremely valuable resources and every agency is competing for them.
Last month a panel of police chiefs discussed what can be done to maintain staffing levels at law enforcement agencies. The discussion by Steven Casstevens, chief of the Buffalo Grove (IL) Police Department (past president of the International Association of Chiefs of Police); Bill Harvey, retired chief of the Ephrata (PA) Police Department; and James Small, public safety director of Palmyra, WI, was part of a webinar sponsored by POLICE Magazine and Vector Solutions titled "Recruiting and Retention Through Excellent Officer Training." The overarching issue addressed during the webinar was the role of quality training in attracting officers to an agency and convincing them to stay.
Recruitment
Can the quality of the training offered by a law enforcement agency help it attract qualified candidates, either recruits or laterals? That was one of the questions that the chiefs tried to answer.
"For millennials and post-millennials, training is something that incentivizes them to be part of your workforce. They want to be building and growing. They want to feel purposeful," Palmyra's Small said.
Casstevens said the Buffalo Grove PD emphasizes training in its orientation for prospective candidates, whether they are laterals or new recruits. He says a lateral prospect once told him that training was critical in the decision to move to the agency. "The candidate said, 'I can't believe all the opportunities for training that are available for training in Buffalo Grove,'" Casstevens said.
Hosting training can help an agency attract lateral recruits, the chiefs said. Harvey said there is also a recruiting benefit to sending officers to outside training. "Your officers can be your best recruiters when they attend training sessions. They will talk to other officers in the hallways, at coffee breaks, and at lunch. I always told my officers to be sure to take their business cards to the events."
Retention
Finding a way to keep veteran officers is one of the highest priorities of agencies of all sizes. Small agencies have to worry about larger agencies poaching their officers with more compensation. Big city agencies have to worry about affluent suburbs enticing their officers with the same or better money, more community support, and sometimes better quality of life.
All three chiefs on the panel agreed that training and the opportunities for promotion and special assignments that it affords can be a decisive factor in officer retention. Casstevens said he uses training as a "reward for hard work."
Small said leadership at the Palmyra PD works with officers to development a plan for their careers. "We ask them what is your goal for your career and how can we help you achieve those goals, even if it means they will no longer work for us. If we help them develop for their next position and put them in a position to succeed, then their time with us is fulfilling."
Casstevens said that when helping officers work toward their goals he tries to help them see the path by flipping the typical question. "Instead of where do you see yourself in 20 years, I ask them to look back on their careers 20 years from now. The question is not where you want to go. It's where you want to have been to get there," he says.
At the end of the session, one listener asked the chiefs about the size of their agencies and their retention level. Casstevens' Buffalo Grove PD has 63 officers and he says in his more than nine years as chief, only one voluntarily left. Harvey says Ephrata PD had 32 officers at the time of his retirement, and he never lost any. Small says Palmyra has eight officers and has not lost any in four years.
To hear the entire "Recruiting and Retention Through Excellent Officer Training" webinar, go here