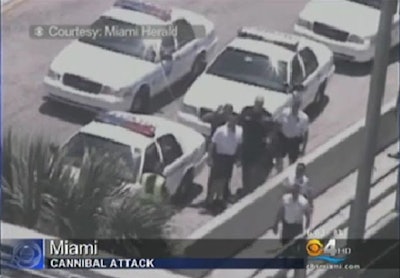 A face-chewing attack in Miami and several other bizarre assaults have opened law enforcement's eyes to a new wave of designer synthetic drugs that turn its users into monsters.
The attacks raise serious concerns for officers, because hopped-up users fail to comply with O.C. spray, batons or other pain-compliance techniques. The popularity of the drugs, which seem to be multiplying faster than lawmakers can ban them, raise another troubling concern for law enforcement. They will likely trigger a spike in in-custody deaths that could open cities up to wrongful-death lawsuits, according to Dr. Brice Goldberger, professor and director of toxicology at the University of Florida's College of Medicine.
"People are dropping dead and getting themselves injured or killed as a result of ingesting these new drugs," Goldberger told POLICE Magazine. "This is nothing like we've ever seen before in the field."
Officers should handle suspected users with kit gloves, he said.
Goldberger drew a parallel with the PCP/angel dust craze of the 1970s and '80s, but said experts were familiar with the effects of those drugs. The effects of these new synthetic drugs are still largely unknown.
"I don't think there's any way to make these drugs safe," Goldberger said. "Using these drugs is like committing chemical suicide. Their short and long term affects are unknown."
Goldberger's lab does testing for medical examiners and law enforcement agencies such as the Florida Highway Patrol.
Earlier this month, President Obama signed a law that bans the sale, production, and possession of more than two dozen of the most common bath salt drugs. But health professionals say lawmakers cannot keep pace with bath salt producers, who constantly adjust their chemical formulations to come up with new synthetic drugs that aren't covered by new laws, reports the Associated Press.
Street "bath salts" drugs were initially thought to be responsible for Rudy Eugene's face-chewing attack on Ronald Poppo on the Miami Causeway on May 26. However, the toxicology report failed to detect traces of them during the autopsy. Only traces of marijuana were detected in Eugene's system.
The new synthetic drugs, which include synthetic cannabis such as K-2 or Spice, are undetectable by traditional drug testing methods. And because of the varied combinations produced by street chemists, crime labs often struggle to detect them.
"The new synthetic drugs require special testing. It could take weeks or months to develop a test for a specific drug," Goldberger said. "The problem is there are potentially hundreds of these new compounds reaching the street. So it's a tremendous challenge for many of the laboratories that work with medical examiners and law enforcement officers."
The labs require high-end testing equipment to detect the substances, which may elude smaller law enforcement agencies. Because the state labs are equipped with this gear, smaller agencies should turn to them for assistance if they believe they have a relevant case, Goldberger said.
Related:
Feds Temporarily Ban Chemicals Used in 'Bath Salts'