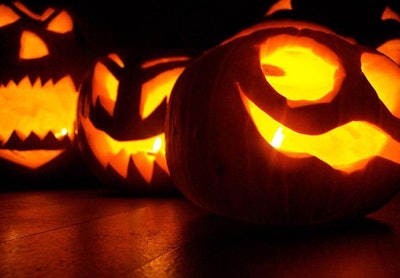 Ah, yes. In the tenth month of the year the days are getting shorter and the creeps seem to be getting creepier. It wouldn't be October without weird Halloween-related crime stories.
On Oct. 26, a Subway restaurant employee threw a pot of soup on a would-be robber wearing a ghost mask. The offender ran out and escaped in a getaway car, but he didn't get any money, and no employees were hurt.
In a case that sounds more like a horror movie, an NYPD police officer was arrested for planning to kidnap and possibly cook women. The FBI also charged him with illegally accessing a federal law enforcement database to research potential victims. It's an eerie story made all the more disturbing by the fact that the accused appears to have abused his powers of authority to stalk women.
Not every arrest is so clear-cut. On her blog "The Boogie Man is My Friend," the anonymous cop who goes by Momma Fargo writes about her encounters with all types of people on the job. Her recent post "Walk the Line," details the arrest of a 20-year-old meth addict and her family's attempts to help her put her life back together. This officer was particularly touched by the woman's predicament because she has a friend who successfully cleaned herself up and started her life over after going through rehab.
This next incident is just odd. A man admitted to assaulting his live-in boyfriend over his taste in music. Apparently, he would only listen to Alanis Morissette. The victim received a large cut on his face after being hit with a plate. The accused was arrested for felony domestic battery.
On a lighter note, police helped catch a driver who habitually avoided a stopped school bus by driving on the sidewalk. The school bus driver videotaped the woman being caught in the act. It's nice to see people cheer for cops doing their job. "Justice is served," indeed.
Related: