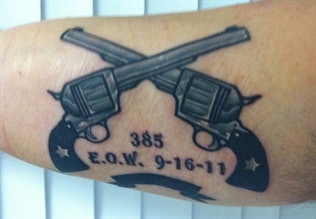 Earlier this month, we posted a photo gallery featuring a few law enforcement tattoos from a skilled tattoo artist in Illinois.
We then asked you to submit your own "blue ink" to be included in another photo gallery. You didn't disappoint.
We received nearly 30 law enforcement tattoos from PoliceMag.com readers, and we were impressed!
Your tattoos represented something that had great meaning to you, such as a fallen partner, Biblical quotation, or career accomplishment. The symbols of courage, strength, and honor remind us once again that America's law enforcement officers represent one of this country's proudest assets.
So take a look at some of the tattoos we received, and continue your good work protecting our neighborhoods safe from violent criminals.
You can view the new gallery here.