Last week the world's leading makers of law enforcement firearms, ammo, gear, apparel, and equipment exhibited their newest products at the Shooting, Hunting and Outdoor Trade (SHOT) Show in Las Vegas.
Here's a quick look at some of the coolest police products I saw walking the literally miles of exhibits.
Amtec Less Lethal Systems (ALS)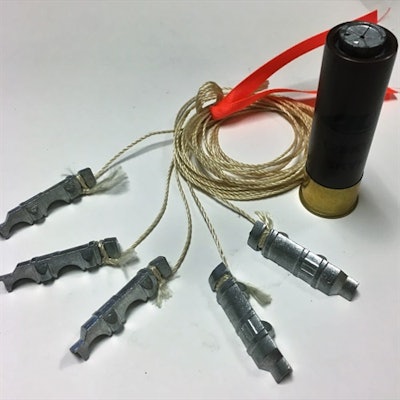 Of the products I saw at this year's SHOT, ALS' new 12-gauge anti-drone round takes the prize for innovation. More and more often, law enforcement operations are facing surveillance from commercially available drones, the ALS12SKY-Mi5 (SkyNet) gives officers a means to shoot those annoying little aircraft down using a less-lethal munition. Once it's shot out of a 12-gauge rifled choke barrel, the five tethered segments of the SkyNet round separate with centrifugal force and create a five-foot wide "capture net" to foul the drone's propellers and bring it down.
First Tactical
First Tactical showed two new designs of tactical pants. The V2 Tactical Pant is constructed of 65/35 poly/cotton ripstop fabric with a Teflon finish color protect technology. First Tactical says the pants will hold their color after 50 washes. Features include: reinforced pockets, running gusset for flexibility, a stretch waist, and triple-needle stitching. List price is $49.99. First Tactical's Defender Pant is designed for special operation and intense training. The pants are constructed of Cordura nylon/cotton fabric with a mechanical two-way stretch. The combination of the breathable nylon/cotton fabric and built-in venting keeps the wearer cool. Features include: reinforced knees, flexible waist band, tourniquet pocket, and reinforced belt loops. List price is $149.99, $199.99 for Multicam.
FLIR
Few people have ever called thermal imaging systems "inexpensive," but that adjective may apply to FLIR's new Breach thermal monocular, depending on your budget. The Breach lists for $2,495, which is a major price breakthrough for a full-function thermal imaging system. The Breach is so small and lightweight that it can be carried in a pocket or attached to a helmet, but it has plenty of features. Users can choose from seven color palettes all with 1280 x 960 resolution. Up to 2.5 hours of video and 1,000 still images can be stored on the Breach's internal memory. Data can be downloaded through a USB-C port that can also be used to power the device. Available in March.
Reebok
Tactical footwear was the star of the Reebok booth. The company showed its complete line of Sublite Cushion boots. The Sublite Tactical Series includes 8-inch, 6-inch, Oxfords, and Mids all featuring the Sublite EVA cushion midsole with rubber heel and forefoot pad. The boots have moisture wicking nylon mesh linings and MemoryTech Massage removable cushion footbeds.
http://reebokwork.com/type/tactical-footwear
SIG Sauer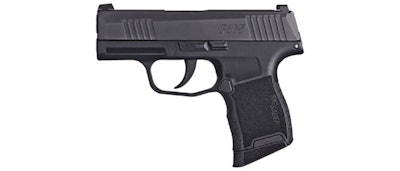 The debut of SIG's new P365 micro-compact pistol was one of the big stories at this year's SHOT. Measuring 1-inch wide, 5.8-inches long, and 4.3-inches tall with a barrel length of 3.1-inches, the P365 is small but it packs a lot of firepower. This 9mm, striker-fired pistol features a modified double-stack magazine that holds 10 rounds in both the flush-fit and extended versions. The P365's grip design has a high grip to bore axis that reduces perceived recoil. The pistol's frame is polymer with a slim-line rail that will accommodate SIG light or laser accessories. The stainless-steel slide comes standard with front and rear serrations for easier slide manipulation, as well as SIGLITE night sights. List price is $599.
Voodoo Tactical
Bags are not usually one of the most innovative product categories at SHOT Show, but Voodoo Tactical showed a really cool duty bag system this year. The Valor Standard P.R.B. (Patrol Ready Bag) is 28 inches long, 16 inches wide, and 12.5 inches high, and it can hold a lot of stuff. This "war bag" is designed to hold a helmet, plate carrier and plates, a range bag, reports and manuals, ammo, and pounds and pounds of other gear you need in the field. It's also got wheels for easy transport.
Look for our full report from the 2018 SHOT Show in the March issue of Police Magazine.