If you've ever attended the Shooting and Hunting Outdoor Trade (SHOT) Show, or even if you haven't, you likely know that lots of law enforcement products now debut there every year, in addition to firearms and related products intended for the average consumer.
After attending SHOT 2018 in Las Vegas this week, I've compiled a collection of firearms (and ammo) that caught my eye and that I think you'll be interested in, too.
FN

FN showed quite a few new firearms of interest to law enforcement, including the FN SCAR-SC, FN 15 SRP Tactical, FN 15 Patrol SBR 10.5", and FN 15 Tactical Carbine FDE P-LOK.
The compact design of the 5.56x45mm-caliber FN SCAR-SC makes it ideal for special response teams and SWAT. The FN SCAR-SC is offered in the U.S. as select-fire only with a non-reciprocating charging handle and telescoping buttstock.
The FN 15 Tactical Carbine FDE P-LOK comes in full Flat Dark Earth (FDE) with an enhanced MIL-SPEC lower receiver and match-grade free floating, chrome-lined, cold hammer-forged barrel. It also has a 12.5-inch P-LOK rail with M-LOK accessory mounting system.
For more information, visit https://fnamerica.com.
Hornady

Hornady was promoting its new Subsonic 300 Blackout ammunition made to expand at a slower rate thanks to its patented Flex Tip insert for deep penetration with better accuracy. Hornady says its SUB-X (Subsonic — eXpanding) bullet expands at subsonic velocities as low as 900 fps. It's also designed to not produce as loud a report as other subsonic ammo.
For more information, visit www.hornadyle.com.
Kel-Tec

The news from Kel-Tec at SHOT was that as of the second quarter 2018, the company's semi-automatic Sub-2000 will be taking SIG P320 magazines. This 9mm or .40 caliber rifle is adjustable and foldable to 16.25 x 7 inches for easy storage and can already accept most popular handgun magazines.
For more information, visit https://www.keltecweapons.com/rifles/sub-2000/.
Smith & Wesson

At SHOT, Smith & Wesson had its expanded M&P M2.0 line of pistols, including the M&P Shield M2.0, M&P Shield M2.0 with integrated red and green Crimson Trace laser, and the M&P M2.0 Compact pistol in 9mm and .40 S&W.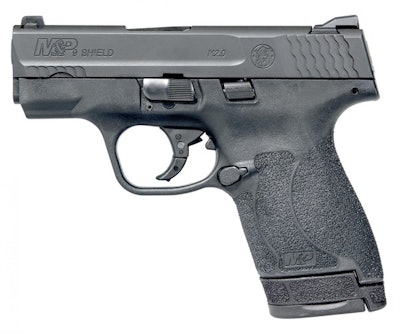 The new Shield features the M&P 2.0 trigger, and a 3.1-inch barrel. It's available in both 9mm and .40 S&W, with a choice of white-dot sights or tritium night sights, and one standard and one extended grip magazine. Options include integrated Crimson Trace laser sight.
Also of note, the M&P9 and M&P45 M2.0 pistols are now available with a threaded barrel for use with suppressors.
For more information, visit www.smith-wesson.com.
Springfield Armory

Springfield Armory had a fair share of new firearms in its booth at SHOT. New in its XD-S line, the XD-S Mod.2 3.3" Single Stack .45ACP is a polymer-framed pistol that holds 6 rounds of .45 ACP and features a higher hand position, enhanced grip texturing, thinner slide, an Ameriglo Pro-Glo front sight with tactical-rack rear sight, and an enhanced trigger. It's being marketed as a defensive carry pistol. Options include a Tritium sight and a red Viridian laser.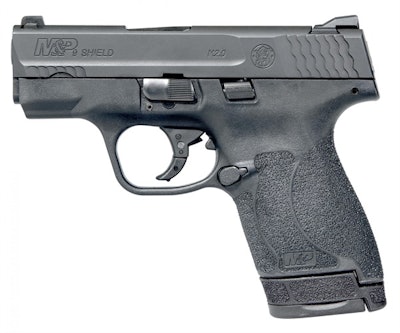 The 911 .380 ACP pistol has a small frame measuring 5.5 inches long and less than 4 inches high, with a smooth profile, making it ideal for concealed carry, but it's made to both shoot and feel like a full-size firearm. Two configurations of the 911 .380 are also offered with integrated green Viridian laser grips.
For more information, visit www.springfield-armory.com.