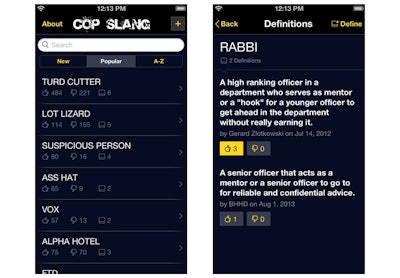 Law enforcement like any other profession has a language all its own. There are the 10 Codes, which tend to be consistent from agency to agency. And then there is the real language of law enforcement, the inside jokes, funny sayings, vulgar comments, and gallows humor that is common among men and women who wear a badge.
We call that language "cop slang," and we noticed a while back that some of these sayings, words, and phrases can be everyday lingo for officers from certain agencies and incomprehensible to others.
That's why we invented the Cop Slang feature on PoliceMag.com, which allows officers to anonymously post their own terms and definitions and even specify what agencies use them. Cop Slang is very popular on the Website, and now we are taking it to another platform.
On Monday, Police Magazine launched the Cop Slang app for the iPhone. Cop Slang on the iPhone is a handy little dictionary-style app that lets users read more than 2,500 definitions and add their own. Features built into the app let you search for the latest terms, the most popular terms, or search for specific terms by alphabetical order.
Cop Slang is available now for the iPhone for 99 cents. Get it here.