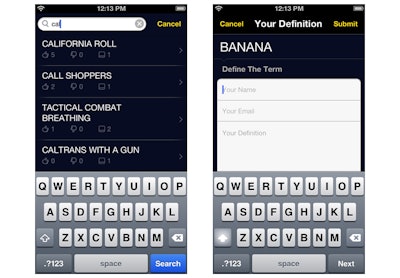 PoliceMag.com has launched a mobile app of its popular Cop Slang glossary of law enforcement terms to allow officers to access it from their smartphones and submit terms on the fly.
With the Cop Slang mobile app, officers can add a new term or definition from their phone and rate existing terms from a list of more than 2,600 definitions of nearly 1,000 terms of police lingo.
As with the desktop version, users rate definitions with a "thumbs up" or "thumbs down" with a quick touch from their Apple device's screen.
Since the launch of Cop Slang in May of 2012, officers have added numerous law enforcement terms. Initial terms were culled from PoliceMag.com's law enforcement sources, and since launch it has ballooned with terms added by users.
With the help of field officers, PoliceMag.com has built the most comprehensive dictionary of law enforcement slang available online or in print, said Paul Clinton, web editor.
"Our Cop Slang dictionary of police lingo has been a huge success on PoliceMag.com," Clinton said. "We wanted to carry that over into the mobile world so officers could access these terms from their patrol car."
It's being offered it all for only 99 cents—the price of a single song in the iTunes store. The app was developed by POLICE Magazine's web department.
"In developing and launching the Cop Slang iPhone app, we hope to increase law enforcement engagement with POLICE Magazine in a fun and interactive way," said David Broyles, web producer.
To download the app from your mobile device, go here.