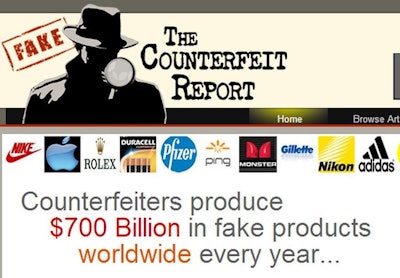 The global business of counterfeit goods has reached more than $700 billion a year. Fake products, mostly sold online, not only take business away from legitimate manufacturers but often pose safety threats to unsuspecting consumers who buy them.
Police agencies investigating these crimes come into contact with such impressive counterfeit products that often go unnoticed to an untrained eye. Building a case with this evidence requires testimony from a fraudulent goods expert, and police investigators who seize the goods from suspects may wonder how to verify their authenticity.
Detectives searching for help identifying counterfeit goods who lack the resources provided by larger agencies now have a helpful resource.
Craig Crosby, a retired officer, has launched The Counterfeit Report, a website with reference material on more than 200 commercially available brands. With the help of manufacturers, Crosby has assembled detailed info about what makes products fake. He illustrates his listings with marked-up photos showing the items and lists features that guarantee authenticity. Recently added products include Juicy Couture handbags, Nike Air Max Shoes, Ping G10 drivers, and Miss Dior EDP perfume.
Crosby has also posted listings on several products from the law enforcement market, including Streamlight TLR weapon lights, Magpul rifle stocks, Fobus GL2 holsters, and even a fake NYPD detective's badge. By studying the data on the website, investigators can train themselves to spot these fakes on eBay or other online shopping websites.
As another egregious example, Crosby warns officers about purchasing batteries over the Internet for patrol gear due to the active market for reproductions and safety hazards associated with their use. His favorite detail illustrating a false one stems from Duracell's failure to renew its U.S. patent for its pink bunny mascot. Rival Energizer filed a trademark claim to use it after Duracell's rights lapsed, and fake Duracell batteries often carry images of the bunny on packaging.
The Counterfeit Report allows manufacturers to set up accounts and update information about their products. Crosby is considering setting up a law enforcement section of the website that provides investigators additional information including who to contact when working a case.
Editor's note: View our "Counterfeit Police Products" slideshow for examples.