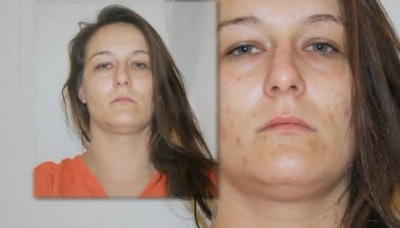 March is the month that ushers in the Spring season. It's also known for being unpredictable, what with its confusing weather coming in like a lion and going out like a lamb as well as the many antics that can occur on the green beer holiday known as St. Patrick's Day. It's no wonder then that this March has brought with it all manner of surprising stories, including a police dog that fired a gun and a suspect delivered to police by none other than Batman.
A Massachusetts K-9 was searching a bank of snow for something a suspect was believed to have discarded after a traffic stop. Following his usual indicating procedure, K-9 Ivan pawed at the item he sniffed out, accidentally firing the gun. Luckily, no one was injured, although the sound certainly startled the dog and everyone else on scene.
Another handgun offered a surprise for police in Oklahoma, this time in a very different hiding place. A woman arrested after drugs and a gun were found in her car had even more up her, uh, sleeve. During a cavity search, an officer noticed the handle of a gun sticking out of her body. The officer recovered the revolver from her vagina and also found several bags of meth wedged in the crack of her buttocks.
A man dressed as Batman (more like the 1960s Adam West TV show version than the more recent movie iterations) delivered a suspected burglar to a police station in Bradford, England. The masked vigilante was wearing a sweatshirt with the old-school Batman logo, a cape, and briefs over his pants. The real cops booked the suspect and a trial date was set.
In another story related to TV nostalgia, a Pennsylvania high school student's "Fresh Prince of Bel-Air" ringtone resulted in his entire school being shut down for hours, according to a news report on local television. Apparently a woman who called the student's cell phone to confirm an appointment had somehow never heard the popular TV theme song rapped by Wil Smith, and thought it was a threat. She misheard the lyrics on the teen's voicemail message "shooting some b-ball outside of the school" as "shooting some PEOPLE outside of the school" and alerted police.
Talk about an embarrassing incident for everyone. The good news is it shows how seriously any possible threat of violence at school is taken these days, and at least no one was hurt – well, except for maybe some egos.
OK, here's a bit more TV-related news, all about TV crime fighters. A Website that compares cable TV providers posted an infographic on its blog displaying the best "cops, sleuths, and snoops" on TV, according to an online poll. Winner of toughest guy is character Rick Grimes of "The Walking Dead," while "Baddest Woman" goes to character Ziva David of "NCIS." Booth and Brennan of "Bones" were voted "Best Team."
Are you surprised by some of the poll winners? Who are your picks for the best crime fighters on TV? How would they respond to some of the above stories? Sound off below in the comments.