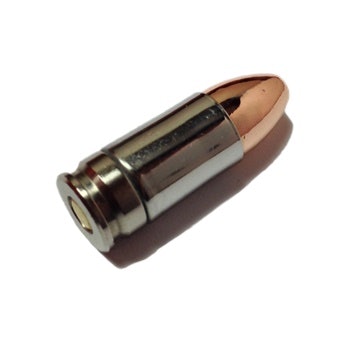 Shell Shock Technologies (SST), a technology start-up based in Connecticut, has developed the NAS³, a two-piece case consisting of a solid nickel-plated aircraft aluminum head and a proprietary enhanced nickel alloy shell. The 9mm case is designed to be 50% lighter and cost significantly less than a conventional brass case.
The nickel-plated aircraft-grade aluminum head offers greater lubricity than brass and will not clog, wear out, or damage breach and ejector mechanisms, according to the company. Its design also prevents "ballooning" caused by pistols and automatic weapons with an unsupported reach. The nickel alloy stainless cylinder offers uniform wall thickness and a case capacity that is fractionally larger than a standard 9mm shell.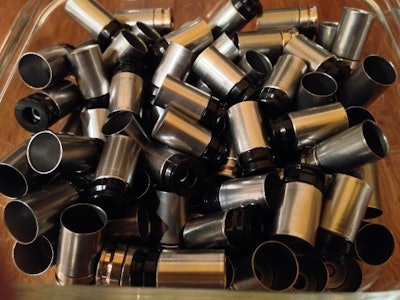 Together, the NAS³ case is made to offer greater corrosion resistance, tensile strength, and elasticity than brass. Cases will not split, chip, crack, or grow (stretch) and are fully reloadable with SST's custom reloading dies, according to the company.
NAS³ cases have been tested on a variety of automatic and hand loading machines including Ammo Load, Camdex, Alpha/Bitterroot, Homady, and Dillon Precision. Testers have reported up to 40 reloads.
Founded in August 2015, SST is committed to developing technologies that combine low cost with unprecedented performance. The company plans to release additional pistol cases (380 and .45 ACP) by the end of the year as well as a selection of rifle calibers, all featuring NAS³ technology. SST will buy back spent cases from range operators for the same price per pound as brass cases.
For more information visit www.shellshocktech.com.