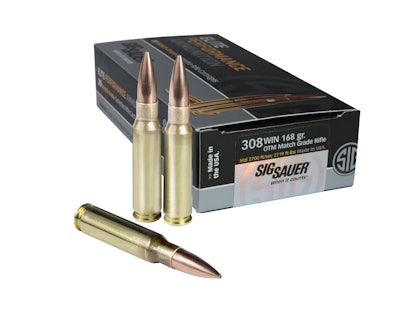 SIG Sauer Inc. has expanded its Match Grade Elite Performance Ammunition line for rifles with the addition of a 168-grain 308 Win loading. Featuring a 168-grain Sierra MatchKing bullet, the SIG Sauer 308 Win Open Tip Match (OTM) round has a muzzle velocity of 2,700 fps with a muzzle energy of 2,719 ft-lbs.
SIG Sauer engineers designed this round to excel in today's precision autoloading platforms as well as bolt-action rifles. The temperature-stable propellant in this cartridge is designed to deliver consistent muzzle velocity in all weather conditions, and uses premium-quality primers to ensure minimum velocity variations. All SIG Sauer rifle ammunition is precision loaded on state-of-the-art equipment that is 100% electromechanically monitored for geometric conformity and charge weight consistency. The shell case metallurgy is optimized in the SIG Match Grade OTM cartridge to yield consistent bullet retention round to round.
"Retailers have been asking us for additional calibers in our Match Grade rifle ammunition due to the shortage of supply in the market," said Dan Powers, president of the SIG Sauer Ammunition Division. "Our new 308 Win Match Grade OTM Elite Performance Ammunition delivers the accuracy and reliability precision shooters require and will help SIG retailers meet customer demand."
All Elite Performance Ammunition is manufactured in the United States by SIG Sauer to the same exacting standards as the company's premium pistols and rifles. For more information, visit www.sigammo.com.