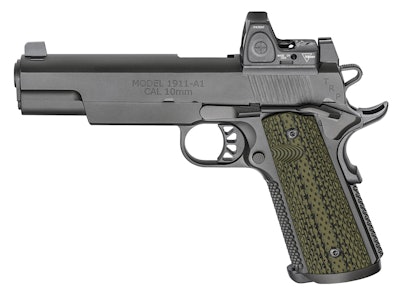 The Springfield Armory TRP 10mm RMR comes in two models – one with a 5" barrel, and one with a 6" barrel – both of which are now available with a Trijicon Ruggedized Miniature Reflex (RMR) sight specifically milled into the slide of what Springfield Armory calls its most elite production 1911.
Springfield Armory chose Trijicon for its ability to stand up to the power of the formidable 10mm round. The sight is crafted from 7075-T6 aluminum to mil-spec standards and has a patented shape that absorbs impacts and diverts stresses away from the lens to increase durability.
The 5" and 6" TRP 10mm RMRs feature forged National Match frames and slides, and precision-fit to match-grade stainless steel fully supported barrels. Frames and slides are Black-T finished to withstand heavy use and harsh environments.
Add a Trijicon Ruggedized Miniature Reflex optic to TRP 10mm stopping power, and you've got a critical-use 1911 like nothing else – the new TRP 10mm RMR. Fast red-dot targeting, National Match frame and slide, 5" or 6" Match Grade barrel, Black-T finish, TechWell Magwell/Grip System, Gen 2 Speed Trigger, and much more. It's TRP power and precision with Trijicon's red-dot accuracy for confidence like nothing else.
For more information about both models of the new 1911 TRP 10mm RMR, visit https://www.springfield-armory.com/products/1911-trp-10mm-rmr.