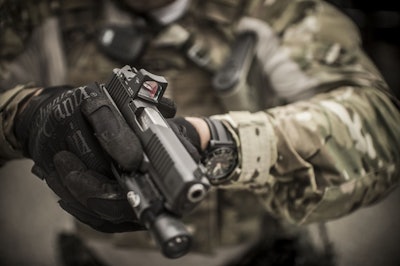 Trijicon Inc., maker of long gun and handgun sighting systems, has announced that it will present an educational session on handgun reflex optics for law enforcement officers at the 2019 Shooting, Hunting, and Outdoor Trade (SHOT) Show. The 2019 SHOT Show is scheduled for January 22-25 in Las Vegas, NV.
The one-hour class titled "Using Reflex Sights on LE Handguns" is part of the Law Enforcement Education Program (LEEP) sponsored by the National Shooting Sports Foundation and POLICE Magazine. It will cover the practical use of reflex sights on handguns, how they work, and the advantages they offer in terms of tactical effectiveness, enhanced officer safety, and reduced officer and/or agency liability.
The class is scheduled for Tuesday Jan. 22 10:45 to 11:45 a.m. and Wednesday Jan. 23 8:15 to 9:15 a.m. It will be led by Frank Martello, assistant manager of law enforcement programs for Trijicon. As a retired Marine Corps infantry officer first sergeant with the Stafford County (VA) Sheriff's Office, Martello has more than 40 years of tactical operations training and small arms experience.
The LEEP registration fee is $25, which admits officers to all LEEP classes.
For more information go to http://shotshow.org/leep/