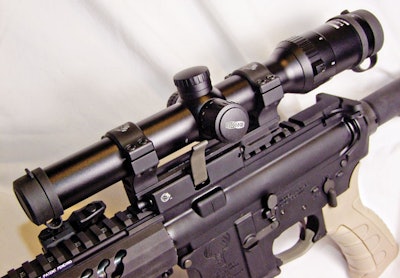 Recently, I have noticed a trend of law enforcement agencies moving to low powered, variable power optics on patrol rifles. The majority are 1, 1.25, or 2-4 or 6 power with a lighted reticle. Such an optic allows for a fast, well placed shot and gives you magnification for more precision. One of the best of the breed is the Czech Republic-built 1-4X22KD from American-owned Meopta.
Meopta's 1-4X22KD has a 30mm tube to give you a crisp, clear image of whatever you view through it. Its illuminated reticle is the "K Dot," a modified German 4 with a dot centered on a broken horizontal crosshair and a vertical post. This style of crosshair is amazingly accurate and very quick. You will find this set-up allows for very precise shots at a distance because the dot is unobstructed like a fine cross, yet it is well defined.
When used as a "red dot," this reticle is as quick as any dedicated dot system. You can do snap shots at distances out to 50 yards, and at CQB distances, I found the vertical post worked well to compensate for barrel/optic offset. This is something you will have to verify with your AR or M4.
For testing I mounted the KD provided to me for testing and evalution on a Stag 3G using a PRI mount. What I found was the scope was easy to zero, held zero when removed to shoot with iron sights, and was dead on when used through the magnification range. The 3G is capable of MOA, and thanks to the 2 MOA dot, shooting tight, one-hole five- and 10-shot groups is not an issue.
Zeroing the KD to obtain this was a snap thanks to its MeoTrack adjustments. Each click moves the point of impact one half-inch at 100 yards. The raised bar on each turret allows you to make adjustments without tools, and you can move each turret precisely one click at a time. I found I could practically walk bullet impacts around the target. If I did my part each group was only one or two inches from the previous group. This scope made it look like I was a good shot, or at least a better shot than I am.
Meopta's 1-4X22KD is a fine optic. With a retail price of around $850, this scope is moderately priced. It functions as well as, if not better than, advertised; stays zeroed on your weapon (provided you use good mounts); and has a lifetime transferable warranty against defects. During one of the range tests I knocked the 3G/KD off the bench when I had a senior moment, but the system was on target and I did not notice any fogging, so the seals are clearly built to take a solid shock.
In my opinion the Meopta 1-4X22KD is worthy of consideration for patrol, SWAT, and competition use. You would be hard-pressed to find a scope with the features and manufacturer backing this one has.
Meopta 1-4X22KD Specs:
Field of View at 100 yards: 25.8 yds
Windage/Elevation
Adjustments: 83 MOA
Weight: 18.7 ounces
Price: $849.95
Scott Smith is a former federal police officer for the Department of Veteran's Affairs who currently serves as a reserve officer.