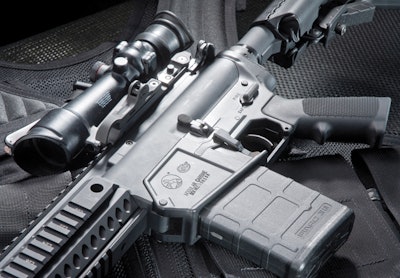 The Colt LE901-16S is a very versatile direct impingement gas-operated carbine with a 16.1-inch barrel. It's commonly referred to as a "modular carbine" because users can easily transform it from a 7.62mm NATO caliber carbine to a 5.56mm M4 carbine.
I believe modular rifles like the LE901-16S are excellent tools for law enforcement because they give officers the ability to choose caliber based on mission needs. There are times when you need more punch than a 5.56mm cartridge can offer. That's why I'm a big advocate of adding 7.62mm (.308 Winchester) rifles to law enforcement arsenals.
While the short barreled M4 in 5.56mm is an ideal firearm for CQB work, especially when operating in more confined spaces, there are situations when you can maintain a tactical advantage by being armed with a heavier caliber carbine. For example, if your tactical team conducts operations in remote areas, especially where smugglers operate, it makes perfect sense to arm some of your sworn personnel with a 7.62mm rifle. You can also maintain a tactical advantage when you carry a semi-automatic 7.62mm carbine while conducting open air assaults involving vehicles, when engaging heavily armed active shooters who are wearing body armor, working protective details, operating on patrol in more remote areas, and when serving as an aerial rifle operator on a helicopter. The LE901-16S gives you a variety of options.
It's very easy to convert the LE901-16S from a 7.62mm carbine to a 5.56mm carbine. All you have to do is swap out the upper and the recoil system. The design is so well thought out that the process is extremely easy and requires the use of only a few proprietary parts.
Complete Battle Rifle
Out of the box you can tell that the LE901-16S is a serious fighting rifle. It's sturdy and well built, and it feels substantial and powerful in your hands.
Ergonomically, the controls you need can be found on the LE901-16S where you expect to find them. Better yet all of the operating controls are mirrored with ambidextrous partners. This is a great feature for left-handed shooters.
Other features include a chrome lined barrel, adjustable Vltor buttstock, free-floating quad rail with sling attachment points, monolithic rail covers, and backup iron sights.
Cutting Weight
In its 7.62mm Nato configuration, the LE901-16S is essentially an AR-10 carbine. An AR-10 is basically an M16/AR-15 or M4 on steroids. It operates with a metal or plastic 20-round box magazine.
AR-10s are very useful firearms, but they have one drawback: They are heavy. The average AR-10 weighs more than 9 pounds before it is fitted with accessories and a loaded 20-round magazine. One way to cut the weight is to choose the lightest accessories and mounts necessary to complete your mission.
This concern played a role in my choice of optics for the LE901-16S. I like Aimpoint optics, and I chose the Aimpoint Micro T1, which weighs 3.7 ounces on the Colt LE901-16S instead of using heavier optics. I also installed an Aimpoint 3X magnifier.
When calculating ways to cut the overall weight of your carbine and accessories, don't forget the mounts. For the LE901-16S, I chose GG&G mounts, including the GGG-1237 Aimpoint T-1 Accucam QD Mount with lens covers, which weighs 5.6 ounces. Additionally, I selected the GGG-1233 Aimpoint 3X Adapter Plate, which weighs 1.2 ounces, and the GGG-1016B Multi-Flex Mounting Base, which weighs 2 ounces.
I also wanted to try the LE901-16S with some Trijicon optics. So I installed a GG&G quick detach mount on a Trijicon ACOG TA11C-308 3.5x35 power magnified optic with a bullet drop compensator. While this ACOG weighs 14 ounces, the GGG-1192 ACOG Standard Accucam QD Mount weighs only 4 ounces.
One feature that I felt the LE901-16S lacked was a quality foregrip, so I added a GG&G Forward Vertical Grip. I did not install a tactical light, but SureFire's Mini Scout would fit really well on this carbine.
At the Range
During my evaluation of the Colt LE901-16S modular carbine, I fired the 7.62mm NATO configuration at various targets in a CQB environment using the Aimpoint Micro T1. I also shot the carbine from a standing unsupported position using the Aimpoint Micro T1 and the Aimpoint 3X magnifier, confirming that this combination is an effective way to turn a red dot optic into a magnified optic. Finally, I tested the Colt LE901-16S from a sitting position while using the Trijicon ACOG TA11C-308 with the red dot reticle and delivered hits on a steel plate the size of a human torso at 300 yards.
Transforming the LE901-16S into a 5.56mm carbine did not affect accuracy. I was still able to successfully engage the target at 300 yards using a Trijicon TAO1NSN ACOG.
All testing was conducted using Winchester and Israeli 147-grain 7.62mm NATO ammunition and Winchester 55-grain 5.56mm NATO ammunition. The ammunition was loaded into plastic P-Mags.
From a purely economic perspective there is something to be said for a law enforcement agency maintaining an inventory of Colt LE901-16S carbines. A qualified law enforcement officer can switch an LE901-16S from a 7.62mm carbine to a 5.56mm carbine in about a minute. All you have to do is remove the 7.62mm NATO caliber upper receiver and replace it with any Mil-Spec M4 carbine upper receiver that is chambered in 5.56mm. Then you install the lighter recoil spring in the retractable stock as well as the plastic magazine block inside the larger magazine well of the Colt LE 901, so you can reliably use M16/M4 magazines.
Even though every select-fire and semi-automatic 7.62mm NATO rifle and carbine that I have field tested to date has proven to be reliable, easy to operate, comfortable to shoot, and accurate for law enforcement purposes, I have my personal favorites. The Colt LE901-16S is now one of them. So if your agency is considering buying modular rifles, I would urge you to try out the Colt.
Colt Manufacturing LE901-16S Modular Carbine Specs:
Caliber: 7.62mm/5.56mm
Magazine Capacity: 7.62mm: 20 rounds/5.56mm: 30 rounds
Barrel Length: 16.1 inches
Rifling: 1:12-inch right-hand twist
Overall Length: 37.5 inches (fully extended)
Collapsed Length: 34.24 inches
Weight (empty): 9.4 pounds
Features: Full-floated barrel with bayonet lug and flash hider, quad rail, ambidextrous controls, Vltor buttstock
Sights: Backup iron sights
Finish: Matte black
Price: $2,129
Nick Jacobellis is a retired U.S. Customs agent and a former New York police officer who was physically disabled in the line of duty while working as a federal agent.