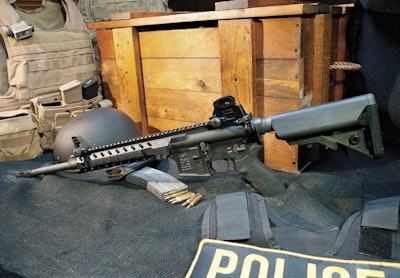 Lewis Machine and Tool Co. (LMT) recently released what it believes is an improvement on the venerable AR-15 design, the LM8MRP. For those who don't speak LMT code, the LM8MRP is a direct gas impingement AR-15 with a 16-inch barrel that features the company's latest modular upper receiver or Monolithic Rail Platform (MRP).
Built for Duty
LMT's LM8MRP is what I would consider a solid "all-around" rifle for law enforcement applications. It combines the best of everything that would be needed or even useful in a patrol rifle and leaves off everything else.
The LM8MRP's lower receiver, LMT's standard Defender lower, is a forged AR-15 semi-automatic lower receiver with a single-stage, military-style trigger. The trigger felt solid and clean with little play. The weight of pull was normal for a single-stage trigger and the reset was distinct. This is all indicative of a good combat-grade trigger and exactly what I would hope for in a rifle of this configuration.
For added comfort, the pistol grip has been upgraded from the standard A2 style to an ERGO Grip. In my experience most shooters have a strong preference when it comes to pistol grips. Adding the ERGO as a standard accessory may not be the best option, as many shooters, myself included, would prefer something else. Unfortunately LMT does not offer an option.
The LM8MRP's stock assembly is a standard adjustable carbine-style receiver extension tube with LMT's SOPMOD buttstock. This stock is adjustable to six positions and has greatly improved ergonomics over a standard adjustable carbine stock. The comb incorporates two waterproof compartments for storage of batteries or other small items, and there is a robust rubber pad on the back for extra grip and reduced felt recoil. While I don't know that the storage compartments would be overly useful, I did enjoy the design of the stock and felt it was very light, solid, and comfortable. This is another item most shooters have an informed opinion about, and I feel this stock will please a broad audience.
Moving on to the upper half of the LM8MRP, you'll find some innovations that set this rifle apart from many others in its market. LMT's latest variation of its Monolithic Rail Platform upper receiver is now in production and it's an excellent feature on the LM8MRP.
On the LM8MRP, a standard profile A3 flat top upper receiver is essentially mated to a proprietary carbine-length mounting platform and the design is machined as one continuous piece. This accomplishes several things:
First and foremost, the single piece design greatly increases rigidity. As more and more shooters are using vertical fore grips, hand-stops, and other equipment and techniques that apply torque to the forend of the rifle, a rigid platform that can handle this torque without negatively affecting the sights or barrel is important. Any amount of pressure applied to either can affect shot placement, even at close range.
To test this I mounted a vertical fore grip on the LM8MRP and applied opposing pressure during several of my test shots. This technique is frequently taught to shooters learning the fundamentals of an automatic rifle. The opposing pressure helps the shooter keep the gun on target during continuous recoil and increases accuracy. The downside is this can negatively affect the sight picture, as the pressure twists the front and rear sight in opposite directions. As hard as I tried to torque down on this rifle, I felt no movement. This was confirmed on my target, as I saw no point of impact shift.
The weight vs. strength balancing act is constantly a factor when it comes to building weapon systems and LMT seems to have found the right ratio on this rifle. While the upper receiver has been designed with the goal of shedding all unnecessary weight, the LM8MRP's designers maintained the high structural integrity that is so crucial to maintaining an accurate rifle.
Great Balance
Overall the LM8MRP is clean and attractive with smooth edges and no unnecessary additions. The monolithic flat top upper receiver incorporates a 1913 Picatinny rail that runs the entire length and the fixed iron sights are removable, allowing the operator to either upgrade them or add an optical system. I've always been a fan of iron sights on AR-15 rifles and, although I've owned just about every optic out there, I still think I do some of my best shooting with iron sights. I suppose there's something to the idea of simple is better. With more rifle manufacturers omitting sights of any kind on their rifles, it is nice to see LMT still includes a nice set of "good old irons" on the LM8MRP.
Shouldering the LM8MRP you immediately notice how balanced it feels. Initially I was a little disappointed that, after going through such lengths to minimize the weight of its new upper, LMT added a heavy barrel. I believe a thinner profile barrel is still accurate enough for most engagements and would greatly reduce the weight of the gun. The more I played with it though, the more it made sense to me. The heavy barrel is more accurate at a distance and also helps to balance out the weapon.
When loaded, the LM8MRP felt as though about 60% of the weight was back toward the shooter. This balanced everything nicely and actually helped me maintain accuracy with long-distance or offhand shots. Overall I noticed little muscle fatigue, even when shouldering the gun for long periods of time. Considering my duty rifle is a much lighter 10.3-inch model designed for CQB work, this was impressive.
Combat Weapon
The LM8MRP shoots very well. Now before I get into the specifics, please understand that this rifle is built for a specific purpose and winning gold medals at a bench-rest competition isn't one of them. This is a combat weapon with iron sights designed for gunfighters, not a sniper rifle.
With that in mind, I didn't spend my range time with the LM8MRP measuring shot groups at 100 yards and scribbling down the results in a log. I spent it as most of you likely will, moving, shooting, manipulating, and reloading. I tried my best to run this rifle hard and put it through some of the same conditions it would likely experience in law enforcement or military training and deployment. I had two hopes: that the rifle would maintain accuracy and there would be no catastrophic failures or malfunction problems.
What did I get? Exactly what I wanted. Here's the breakdown:
For ammunition I chose a mix of four different loads I had on hand; two of them were SAAMI Specification .223 caliber cartridges and the other two were true Mil-Spec 5.56mm loads. I won't go too in depth about ammo, but there is a distinct difference between .223 caliber and 5.56mm cartridges, and most modern AR-15s like the LM8MRP are timed to run both. That is due to the fact that more and more of the law enforcement community is using both, and agencies don't have the budgets necessary to recalibrate their weapons every time they change rounds. The .223 loads were Hornady TAP 55-grain Ballistic Tip and Federal TRU 55-grain BTHP. For the 5.56mm rounds, I chose M193 and M855; both military standard rounds. The M193 is a 55-grain FMJ and the M855 is a 62-grain steel core and tip.
All rounds performed without issue and the LM8MRP's cold hammer forged barrel with a 1:7 twist rate maintained consistently tight groups on human silhouette paper out to 100 yards. I even fired a few quick sequences of 15 to 20 rounds to heat up the barrel before returning to the prone position for accuracy work and saw no difference in my groups. I ran these distance drills at the beginning and end of my range session to see if fouling would affect the accuracy and it did not.
Moving down range, I increased my rate of fire and concentrated more on manipulations and speed vs. accuracy drills. I was pushing my limits as an operator while trying to maintain the best shot placement possible. This is where extra weight or poor ergonomics will show themselves and, as I said earlier, they did not. Firing several drills, most with magazine manipulations in between, the LM8MRP ran without any malfunctions. I even mixed all four different rounds into one magazine and fired them in rapid succession to see if the varied pressures or bullet weights would induce a timing issue, and the LM8MRP ate everything without a hiccup.
At the end of the day I had fired about 600 rounds through the LM8MRP and, aside from adding a little grease to the bolt carrier about halfway through the session, it ran without issue.
The LMT LM8MRP is offered in two configurations; the one I tested and one with a stainless barrel for increased accuracy. Retail pricing is set at $2,030 and $2,164, respectively. This puts them into the price range of what I would consider "premium" or "custom grade" rifles. Considering many of the LM8MRP's competitors are coming in near that price point, I think this rifle offers good value for the price.
I was impressed by LMT's LM8MRP; it's a high-quality gun. Yes, I know it's a bit pricey, but think of it this way: Let's say you're in the middle of a gunfight and someone is able to freeze everything and pose the question, "Do you wish you would've spent a bit more for a better rifle? You know, the one that wouldn't fail on you like yours is about to?" The moral is that a few extra bucks spent on your rifle might mean you get to go home at the end of the day.
A.J. George is a police officer and firearms instructor in Scottsdale, Ariz.