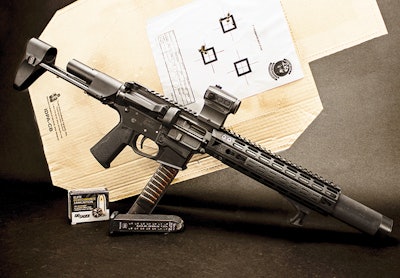 Editor's note: View our "SIG Sauer's P224 SAS DAK Pistol" photo gallery for detailed photos of the pistol.
I've been waiting for more than a quarter-century for SIG Sauer to produce a subcompact pistol like the new P224 SAS.
The P224 is basically a P229 that has been cut down to fit the traditional dimensions of a subcompact. It's available in 9mm, .40 S&W, and .357 SIG. The SAS (anti-snag) model also features a recessed hammer and a dehorned slide and frame.
To create the P224, SIG did a lot more than just take a saw to the grip, slide assembly, and barrel of a P229. The grip on the P224 is contoured and textured differently than the grip on the larger P229. In addition, SIG does not use screws to secure the plastic, textured one-piece grip to the frame of the P224. This is a worthwhile feature for a pistol that's intended to be carried close to the body because over the years I have noticed that the carbon steel screws that are more commonly used on Classic Series SIG pistols tend to rust when the pistols are carried close to the body or exposed to the elements in a duty holster.
I was impressed with the P224's overall fit, finish, dimensions, and ergonomics. Weighing in at a bit more than 25 ounces when unloaded, the P224 has a 3.5-inch barrel and an overall length of 6.7 inches. At this subcompact size, this pistol still accommodates a double-stack magazine. Magazine capacity for the 9mm is 11 rounds; for the .40 S&W and .357 SIG models it's 10 rounds. That's a lot of bang for a subcompact.
DAK Trigger
The test model sent to me by SIG was a DAK model. I had requested a double-action, single-action model. So when I first opened the box I wasn't happy.
DAK stands for "Double Action Kellerman," named for the SIG designer who created the trigger system. A DAK trigger system has an initial trigger pull of between 5.5 pounds and 6.5 pounds, with follow-up shots at 4.4 pounds. It also has a slightly different trigger reset than a DA/SA model, and I wasn't sure that I'd like the DAK, considering all of the time I have spent shooting Classic Series DA/SA SIG pistols.
I've also had a problem in the past with the consistency of DAK pistols. Over the years I have noticed that a DAK trigger on one Classic Series SIG pistol feels a bit different than a DAK trigger on other SIGs. I suspect this is the case because different SIG pistols have different ergonomics. For example, if you install rubber grips on a Classic Series SIG pistol, you can change the reach to the trigger. While such differences may be subtle, they can affect different shooters in different ways and to different degrees.
Another concern that I had about the test model that SIG sent me was the caliber. I had requested a 9mm because I was concerned about the recoil of a heavier caliber in a subcompact pistol with a short cut-down grip and how it could affect my slightly arthritic hands, especially when firing snappier service ammunition.
No Hiccups
All of my concerns were alleviated the second I emptied the first 10-round magazine of 180-grain Winchester FMJ white box ammunition at a TQ19 POST Police Firearms Qualification Target that was positioned 21 feet away. After firing one box of Winchester FMJ, I also test fired the P224 using some 180-grain Winchester Ranger SXT hollow-point ammunition with nickel cases. Once again I was impressed. The P224 digested the .40 S&W caliber service ammunition without any noticeable difference in felt recoil. Five magazines later the torso area of my target was riddled with bullet holes, except for one flyer, which was obviously my fault.
Even when I kicked things up a notch and shot some snappy 155-grain .40 S&W Speer Gold Dot hollow-points, the P224 was well behaved and extremely accurate. I walked back to the 25-yard line and proceeded to use this pistol to deliver a number of head shots on a TQ19 "man" target. There was no discernible difference between the way the P224 SAS DAK performed in my hands compared to a larger P229 in the same caliber.
Some officers find it difficult to operate subcompact pistols while wearing gloves. So I wanted to test the P224 while wearing a pair of Blackhawk Aviator Gloves. This range session took place when the temperature plummeted to a frosty 34 degrees. The P224 proved to be easy to manipulate and shoot while wearing gloves.
Despite my initial concerns, I discovered some important advantages to the P224's DAK trigger. I am a huge fan of DA/SA SIGs, but I have to admit that using a SIG pistol with a DAK trigger eliminates any possibility of the operator forgetting to manually lower the cocked hammer on the pistol while operating under an enormous amount of stress. Still, I prefer the DA/SA trigger for quick fire and accurate shot placement. The DAK trigger is a tad slower to cycle. Think of it as a super smooth double-action-only "revolver like" system.
You would think that the DAK's slightly slower cycle would be a disadvantage. But I found it didn't have to be. With practice, I discovered that I could actually use the slight difference in speed between both trigger systems to my advantage by using it to ensure proper sight alignment as I completed the process of cycling the DAK trigger.
After spending a little time with the P224 on the range, I developed a cadence while cycling a DAK trigger that enabled me to deliver accurate shot placement without delay. Even one of my closest friends who carries a popular striker-fired pistol and has almost no experience with a DAK trigger was able to effectively operate the P224 test pistol so well he actually preferred the DAK trigger over a DA/SA SIG.
The P224 also proved to be incredibly well engineered and flawlessly reliable. I attribute this reliability to the fact that the SIG engineers did not simply cut the length of the slide assembly to create a smaller pistol. They understand that the key to insuring functional reliability in a subcompact pistol is to manufacture a recoil spring and a recoil pin that can reliably operate a shorter slide assembly.
Concealed Carry
While field testing the P224 SAS DAK .40, I carried it in an Uncle Mike's inside the pants holster with a DeSantis A01 double magazine belt pouch. I also used a DeSantis Intimidator high ride belt holster that I believe would be ideal for on- or off-duty use.
Even though my initial request was to test a 9mm DA/SA P224 SAS, I am glad that SIG sent me a P224 SAS with a DAK trigger in .40 S&W caliber. Testing this pistol proved to be an eye-opening experience. I found the pistol to be comfortable to shoot, despite its subcompact size and short grip. And my concerns about the DAK trigger system evaporated the second I pulled the trigger on the test pistol. The P224 SAS DAK has now become one of my all-time favorite SIGs. It was well worth the wait.
Nick Jacobellis is a medically retired U.S. Customs Agent and former police officer who was physically disabled in the line of duty while serving as a federal agent.
SIG Sauer P224 SAS DAK Subcompact Specs:
Model: SAS
Caliber: .40 S&W
Magazine Capacity: 10 rounds
Barrel Length: 3.5 inches
Overall Length: 6.7 inches
Height: 4.5 inches
Weight (empty): 25.4 ounces
Trigger System: DAK
Sights: Fixed, or SIGLITE night sights
Slide Finish: Nitron-coated stainless steel
Frame Finish: Black hard coat anodized alloy frame
Price: $1,125