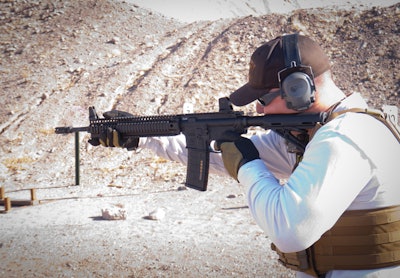 Daniel Defense has been a rising star in the firearms manufacturing world for several years. The company, which began as a way for founder Marty Daniel to add the right components to his own rifle, has grown into a booming business with two large manufacturing facilities and a few government contracts.
DD's popular and widely customizable DDM4 AR-15 rifle has found its way into the hands of many law enforcement officers across the country and consistently receives rave reviews. That's a feat considering the incredible number of companies who've stamped their marks on the sides of AR-15 receivers.
I first had the chance to shoot a few of Daniel Defense's rifles at an Aimpoint writer's event held at Telluric Defense in Brunswick, Ga., a couple of years back. Several of us ran those guns pretty hard during a long day of shooting and not once did I witness a malfunction or hear a disapproving grumble from anyone in the group. What I did witness was a testament to the quality and durability of the product.
So when Daniel Defense announced an improved version of its Lite Rail system, I was eager to check it out.
First Impressions
When my test and evaluation DDM4 arrived, I tore into the box like a kid on Christmas morning. Inside was a beautiful DDM4 rifle with a 16-inch barrel, Magpul MOE stock, DD's fixed front and rear sights, a Superior Suppression muzzle device, and a 12-inch Lite Rail II (LRII).
I pulled the DDM4 LRII out of the foam packing and immediately snapped it up to my shoulder, just as any good shooter does when meeting a rifle for the first time. I'm used to shooting SBRs, as my "work rifle" is an MK18, so I am usually a little bummed by the weight of a full 16-inch gun, especially one equipped with a full-length quad rail system. But I was pleasantly surprised at how light the DDM4 was overall. This was not only a very lightweight gun, but more importantly, it was extremely well balanced.
Most rail systems, although highly functional, add a lot of weight and typically cause the gun to be very front heavy, leading to quick shoulder fatigue. Throw in a heavy profile barrel, like those typically found on M4-style rifles, and you're looking at a very heavy front end. Daniel Defense's new Lite Rail II, paired with one of its proprietary low-profile, cold-hammer forged barrels (Daniel Defense is one of only five companies worldwide that make their own barrels), and the LRII system gives the DDM4 a huge weight advantage over most similar systems.
Locked into my shoulder, my DDM4's 12-inch LRII provided just enough real estate for me to acquire a commanding yet comfortable grip just behind the front sight post. The MOE stock was sturdy and comfortable yet light and very simple. And Daniel Defense's fixed iron sights are functional simplicity at its finest. If you're looking for an AR-15 configuration to fit many possible roles, this is it.
What's New
Now for the star of the show, the new Lite-Rail II system.
Daniel Defense introduced its first lite rail system, dubbed the Rail Interface System (RIS), several years ago and it was widely touted as one of the finest available. In fact, it was so impressive that the U.S. Special Operations Command (USSOCOM) awarded Daniel Defense a contract for the rail systems and they've proven themselves in battle time and time again.
At first glance the new Lite Rail II looks remarkably like its predecessor. A full-length, free-floating quad rail with Daniel Defense's proprietary barrel nut and patented Bolt-Up system, the LRII retains the best features of its older sibling.
But a closer look reveals the many advancements that make it better. The former six-bolt attachment system is replaced by a four-bolt system, eliminating a third of the hardware needed to secure the rail to the steel barrel nut.
The original Lite Rail RIS was created from two halves welded together, a strong yet complicated process. The LRII is machined out of a single piece of 6061-T6 aircraft-grade aluminum with a new relief-cut pattern that increases structural rigidity while reducing weight. The whole package is type-III anodized to military specifications, adding a protective coating for a long service life.
A 7-inch carbine length Lite-Rail II weighs in at just 8.7 ounces. The 12-inch example on my test rifle is a hair under 14 ounces, a few less than most of the competition. Ounces count when it comes to guns and gear and any day you can shave a few off your kit is a good day.
Trigger and Action
Now that you're thoroughly acquainted with the DDM4 LRII let's get down to what really matters. How does it run?
I began with some good dry fire practice to get used to the trigger and check the smoothness of the action. Anyone familiar with AR-15s will tell you they get better with age, and that's partially why I was happy my example had already seen some use.
The DDM4 LRII uses a standard, military-style trigger with a crisp break and almost zero creep. This is not a trigger you'd use for precision shooting, but it's very clean and robust enough for duty use or competition. The hammer is an improved-style solid hammer with a smooth, contoured top. Daniel Defense included a heavy buffer and a full-auto bolt carrier as well. The added mass is handy when shooting the kind of high-pressure 5.56mm NATO-spec ammunition commonly used in the military and law enforcement, and when coupled with the mid-length gas system on my DDM4, it yields a very pleasant amount of felt recoil.
Shooting/Accuracy
I hit the range with the DDM4 LRII, a few Magpul P-Mags, and a lot of ammo. I cleaned and lubricated the gun beforehand so I didn't encounter any surprises during what was going to be a long day of shooting.
As with all of my firearms tests, I approached the shooting of the DDM4 LRII in a less-than-scientific manner. I don't use chronographs, I don't measure shot groups, and I don't split hairs over trigger weights and point-of-impact or POI shift. I save that kind of stuff for guns made to perform under those conditions.
I test guns the way I would train with them for duty use, using duty ammunition and wearing my duty gear. And I run the guns hard to test their reliability, ergonomics, functionality, and durability, all the things that matter most when life is on the line.
For testing the DDM4 LRII, I chose a variety of duty and practice grade ammunition, all of which I had on hand. The practice rounds, or "ball ammo," were Winchester 55-grain .223 and Federal XM193 5.56mm NATO. The duty rounds were Hornady 55-grain TAP ballistic-tip, Federal Tactical Response Urban (TRU) 55-grain boat-tail hollow point, and Black Hills Sierra Matchking 69-grain boat-tail hollow point.
I didn't spare the DDM4 any punishment and started my day with a quick 30-round dump of practice rounds while engaging a few steel targets at relatively close range. I wanted to make sure it would run hard and fast without the luxury of a warm-up session. You're not going to get that in a gunfight. It's going to be sudden and violent and your response needs to be the same. The DDM4 blazed to life without hesitation, as it chewed up and quickly spit out 30 rounds of fury on the unsuspecting steel silhouettes. I stood amid the field of spent brass and admired the smoking chamber, knowing I was off to a good start.
Now that the DDM4 and I had become friends, I changed gears a bit and hit the deck for some long-range accurate shots. Let's face it, the likelihood of taking a long-range shot in law enforcement (snipers aside) is very remote. Gunfights are up close and personal. With that in mind, as it pertains to police carbine training I tend to define "long-range" as 100 yards at the most. Guaranteeing a center-mass hit with iron sights at a distance beyond that isn't realistic. So I proned out at the 100-yard line and loaded up with a few different practice and duty rounds.
Starting with the Winchester and Federal ball practice ammo, I made several relaxed five-shot groups, each time trekking down range to check the accuracy. I did the same with the XM193 and both produced similar results, consistently leaving about a 5-inch pattern in the center of the silhouette.
I switched to the duty rounds and again made several five-shot groups. This time the pattern tightened up a bit, but the result was as consistent as before. I'm sure the gun is capable of better but with iron sights and me behind them I was pretty impressed. Kudos to Daniel Defense's barrel manufacturing.
The rest of my range time was spent inside the 25-yard line as I ran the gun hard in various positions in and around vehicles and barricades. I practiced several empty gun reloads and magazine exchanges and even induced a few malfunctions with some chewed up and discarded rounds I found on the deck. I was able to clear everything with ease and the DDM4 ran like a Swiss watch. I added a little lubricant about halfway through the day but that was only precautionary; the DDM4 ate its way through several hundred rounds without a single complaint.
Final Thoughts
As I took in the alluring perfume of burnt powder and surveyed the field of spent brass and shredded paper targets, I was satisfied with the result. The DDM4 LRII's high quality and light and well-balanced configuration made it a joy to shoot.
I'll admit, I'm not easy to impress with an AR-15. Although there are countless others out there, I'd only trust my life to a handful. They all claim to be as good as the next but those of us who've spent a significant portion of our lives running them and watching them perform know that isn't true. We've seen them fail time and time again and that only strengthens my belief in those that keep running. I'm comfortable telling you the AR-15s crafted by Daniel Defense are now in that small but distinguished group.
If you're an officer or an agency looking for your next duty rifle, take a good look at the Daniel Defense DDM4 LRII. If you decide you want one of your own, you can even build it to your liking on the Daniel Defense Website and have it shipped directly to your FFL. It doesn't get much easier than that. DD's product variety is amazing and its customer service is second to none, but it's the quality of the company's products that will impress you most.
www.policemag.com/freeinfo/11316
A.J. George is a sergeant with the Scottsdale (Ariz.) Police Department currently assigned to the advanced training unit as a firearms and tactics instructor.