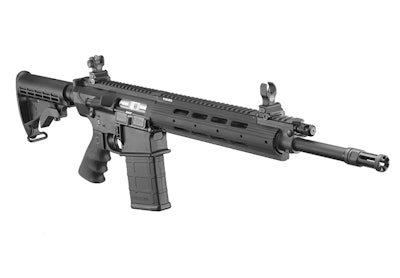 The semi-automatic AR-style rifle is the most popular long arm in contemporary American law enforcement operations. While ARs are available in other calibers, the vast majority of these rifles are chambered for the .223 Remington cartridge and/or 5.56mm NATO cartridge.
First used by the U.S. military beginning in 1963, the 5.56mm cartridge was adopted as the standard rifle ammo in 1969, and with U.S. influence being what it is, NATO armies began transitioning to it in the early 1980s. Advances in propellants and bullet design led to improved performance and the 5.56mm has proven to be a very "adequate" military cartridge, which leads us to a conundrum.
There is an influential clique of military and law enforcement personnel, ballistics specialists, and shooters who have, from the very beginning, felt that the 5.56mm was a poor choice for a military cartridge. These folks have shown no hesitancy whatsoever in claiming that the 5.56's on-target performance and long-range accuracy are so lacking that soldiers and officers are taking their lives in their hands going into combat with these rifles because the bore diameters don't approach 0.30 inches. They have called for the military to drop the 5.56mm NATO and return to the 7.62mm NATO cartridge. Many soldiers and law officers agree with them.
While this "bigger bullets are better bullets" controversy is ongoing, there appears to be little likelihood of NATO backtracking. But there can be no doubt that the performance of the 7.62mm NATO trumps the 5.56mm. Consequently, many shooters continue choosing AR-style rifles that fire the larger cartridge. The newest of these is Ruger's SR-762.
Piston Driven
The Ruger SR-762 apes the general appearance of the AR family with a few exceptions, as it's quite a bit larger so as to handle the 7.62mm cartridge. As is common with the breed, the upper and lower receivers, handguard, and buffer tube are made from alloy while the barrel, bolt, bolt carrier, and other internal components are steel.
All of the controls on the SR-762 are located in the "proper" positions so the manual of arms will be second nature to those already well versed in the AR platform. The flat top receiver has a full-length Picatinny rail, which allows you to mount a variety of scopes, optical sights, or back-up iron sights (BUIS). The BUIS should not really be necessary, as the Ruger comes standard with a set of rugged, folding sights. The rear sight features two different sized apertures and is adjustable for windage, while elevation adjustments are made on the hooded post front sight.
Ruger's SR-762 differs from the majority of AR-type rifles in that it uses a two-stage piston operating system instead of the direct gas impingement system originally designed by Eugene Stoner. Its chrome-lined gas block and chrome-plated piston and regulator work together to provide a smooth power delivery stroke to the bolt carrier while the by-products of the gas system are vented out the bottom of the gas block, away from the bolt carrier, keeping the action clean and free from contaminants. The hammer forged 16.12-inch barrel is fluted to reduce weight and facilitate cooling and features a muzzle brake/flash suppressor.
Feature Rich
A four-position gas regulator on the SR-762 can be adjusted for optimum reliability with a wide variety of ammunition or when the rifle is dirty. In addition, the gas system can be closed completely to allow manual operation during training or when using a suppressor.
As has become de rigueur for tactical ARs today, the SR-762 comes with a six-position M4-style adjustable buttstock, which allows the shooter to fit it to his or her individual size and makes for easy storage in vehicles. It can be fired with the buttstock completely closed, allowing it to be used in confined spaces.
A round, smooth-sided handguard on the SR-762 has a full-length Mil-Spec 1913 Picatinny rail at the 12-o'clock position. It is drilled and tapped for additional rails at the 3-o'clock, 6-o'clock, and 9-o'clock positions (two additional rail sections are included) for mounting sights, lights, lasers, or other accessories. Handguard covers with shallow finger grooves (three are supplied) allow the shooter to alter the configuration of the handguard to match personal tastes.
Three 20-round Magpul PMag polymer magazines come with the rifle and are fitted with covers to keep out debris.
Sights on Target
The SR-762 I received from Ruger was an impressive looking and feeling rifle. While at 8.6 pounds it's no lightweight, it was nicely balanced for fast, natural handling. I was especially impressed with the iron sights, which were some of the most practical BUIS's I've seen in some time. Not having time to obtain a scope and mount, I decided to test the rifle just the way it came out of the box.
My friend Lin Webb and I test fired the Ruger on a sunny, windy, November morning at the Trigger Time Training Center in Carthage, N.C. It took us about 15 rounds to get the sights zeroed in at 100 yards. Then we proceeded to shoot for score and were pleasantly surprised with the results.
The SR-762 has a very nice trigger and iron sights that provide a fast, sharp sight picture. The combination helped my friend and I produce 25 targets with nicely centered groups ranging from slightly over 2 to 3.25 inches in size. That's average performance for an out-of-the-box, iron-sighted tactical rifle. Which isn't bad, considering that both evaluators were shooting with 60-year-old eyes. And I believe the rifle would have proven to be a real tack driver with a bit of optical magnification.
We spent an hour engaging steel targets at 50, 100, and 150 yards, firing both from a rest and offhand. The rifle proved 100% reliable with all five types of ammunition that we chose to feed it.
The following week my brother Vince—a deputy with the Lonoke County (Ark.) Sheriff's Department—visited and it took little effort to convince him to accompany me to my gun club to run the Ruger through its paces again.
Vince's best 100-yard group (fired from a rest) put 10 rounds of Black Hills 175-grain match load into a well centered group measuring 2.5 inches. So he believes that the SR-762 definitely has "possibilities."
After shooting from the rest, we did some "informal" testing by engaging a series of soft drink containers placed on the 50- and 100-yard backstops. Having only iron sights proved no hindrance at all and we were able to make the plastic bottles dance to our tune for the next half-hour.
Vince says the SR-762 handles as well as, if not better than, most 7.62mm rifles he has fired over the years and has the advantage of possessing most of the "bells & whistles" demanded by today's tactical shooters right out of the box. He believes it would make a most comforting companion during those long, lonely night patrols in rural Arkansas.
My only complaint with the Ruger SR-762 concerned the metal buttplate, which bruised my shoulder after extensive firing. I would like to recommend that Ruger offer a slip-on recoil pad to prevent this. Other than that one caveat, I feel that Ruger's SR-762 would be a very viable choice if you, or your agency, have need of a semi-auto rifle with more power and range than the standard 5.56mm rifle.
Paul Scarlata has served as an auxiliary police officer and is a frequent contributor to POLICE Magazine.