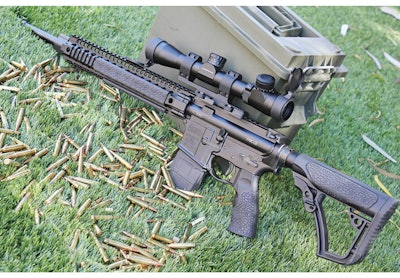 I first had the chance to shoot a few of Daniel Defense's rifles at an Aimpoint writer's event held at Telluric Defense in Brunswick, Ga., a couple of years back. We ran those guns pretty hard during a long day of shooting and not once did I witness a malfunction or hear a disapproving grumble from anyone in the group. What I did witness was a testament to the quality and durability of the product.
Since then I've watched the company grow exponentially with innovative products, cutting-edge manufacturing, and outstanding marketing. DD is often the first to the table with new ideas in a centuries-old gun industry yet they've never cut corners in quality. So I was sure I'd be impressed with the DD version of the Navy's trusty MK12 special purpose rifle.
The DD MK12 rifle is considered a "special purpose rifle" in that it serves a specific function, in this case medium range precision. Originally designed for U.S. Special Operations units, the United States Navy Mark 12 Mod 0/1 Special Purpose Rifle (MK12) was at first just an upper receiver meant to be attached to an existing M16 lower. The idea was to create a rifle that was more accurate at distance than a standard M4 yet still shorter and more maneuverable than the then current M16 platform. The MK12 evolved quickly and when it entered service around 2002 it was in the form of a complete rifle, not an upper receiver group. That rifle was capable of engaging targets with great accuracy out to about 500 yards. Considering the limitations on the 5.56mm NATO round it shoots, that is impressive.
To say there is one specific configuration that qualifies as a true MK 12 is misleading. The MK12 is a class of 5.56mm AR-15/M16 rifles designed to be light, versatile, and accurate. Daniel Defense's MK12 is all of that and more.
First Impressions
I've had the pleasure of squeezing the trigger on a handful of special purpose AR-15s and AR-10s. Personally, I think accurized versions of the original Stoner direct gas rifles are fantastic, especially for law enforcement use. The trick is to retain superb accuracy for precise, medium range shots yet keep the gun maneuverable enough to be used for entry work or close quarters gunfighting. I approached my time with the DD MK12 with these considerations in mind.
The first step was getting it out of the box, pulling it apart, and checking out the details that set this gun apart from the crowd.
My attention was immediately drawn to the grip and the adjustable buttstock assembly. Not too long ago Daniel Defense began manufacturing its own grips and buttstocks, and this was my first hands-on experience with either one. Made of high-strength polymer with textured rubberized surfaces for grip, the grip and buttstock on the DD MK12 are definitely an improvement over the standard. The stock is solid, has great ergonomics, and adjusts easily. The grip features an incorporated trigger guard, has a great angle, and is contoured to comfortably fit right- and left-handed shooters. My only real complaint is the lack of a locking feature on the stock.
All Daniel Defense rifles now feature the company's receiver end plate with an integrated quick-disconnect swivel attachment point. This is a great way to connect a single-point sling that allows for bilateral shooting as well as a quick way to detach the sling from the gun. Because the attachment point is at the rear center of the receiver, there is nothing protruding from either side of the gun that would impede manipulations or bust up your knuckles.
Another new Daniel Defense standard is the use of VLTOR Mod 4 charging handles. One of the few parts not made in-house, the VLTOR offers an improved design and larger latch for a more positive grip, especially with gloves or under stress.
Cracking open the beautifully forged and finished receivers I noticed two things.
First, the bolt carrier group was what I would consider duty quality. The full-auto M16-configured bolt carrier is fitted with a properly staked gas key and has a chrome-lined interior. The bolt itself is magnetic particle tested to true military specifications, and the extractor spring is enhanced, including a rubber grommet for more positive grip on the spent casings.
Second, the trigger group, or fire control system, was just awesome. Always seeking perfection, Daniel Defense chose the Geissele SSA two-stage trigger to keep with the MK12's intended purpose, precision. The Geissele is smooth as glass with a distinct first stage, crisp break, and very positive reset. A bad trigger will render even the most accurate guns useless for precision work. A truly great trigger can do just the opposite. I have to say the Geissele SSA was a great choice.
The front end of the MK12 is what really sets this Daniel Defense rifle apart from the pack. First, the MK12 sports the free-floating DDM4 12.0 quad rail, which is not only light and rock-solid, but provides 48 inches of real-estate for attaching accessories and protects what I would consider the star of this gun, the barrel. One of the very few AR-15 makers that manufactures its own barrels, Daniel Defense is well known for its high-quality barrels with extremely tight tolerances.
The DD MK12's barrel is made from a single piece of proprietary stainless steel that is cold-hammer forged with a 1:7 twist rate. The chamber is actually forged at the same time as the bore, a process unique to Daniel Defense's MK12 barrel and one that creates a seamless transition between the two. The entire completed barrel, along with the machined stainless steel low-profile gas block, is then salt bath nitride finished and high-pressure MPI tested. To finish it off, the 1/2 x 28 threaded crown is topped with Daniel Defense's enhanced flash suppressor.
Getting Ready
Prepping the rifle for the range took a few additional steps and accessories. First, I cleaned and properly lubricated the bolt with my trusty Fire Clean lubricant. After running a brush and a few clean patches through the bore to ensure there was no debris or test-fire fouling to skew my results, the gun was ready to fire.
As the MK12 comes sans sights, I chose what I thought to be the proper optic for its intended application. Leupold was kind enough to provide me with an MK4 MR/T, or "medium range tactical" scope. My example was the 2.5-8 x 36 with an illuminated tactical milling reticle (TMR). If you're not familiar with the TMR, the concept is actually quite simple, assuming you're familiar with the concept of ranging with milliradians (MILS.) The TMR takes that concept and makes it a bit simpler, using hash marks to break down mils into 0.2 subsections. Same idea, just more accurate. Throw in the broad range of magnification and multiple illumination levels, and this scope offers amazing adjustability. For a medium range rifle designed to not only be precise but also have the ability to quickly engage multiple targets if necessary, an easy-to-read optic is a huge benefit.
To mount the Leupold to the MK12, I chose Mark LaRue's one-piece scope mount, the SPR/M4 LT-104. Of all the optic mounts I've tested, LaRue's have been the only ones to live up to the claim of true repeatability, or the ability to retain zero after being removed and re-mounted to the receiver. Once the Leupold was properly torqued into the LT104 and mounted to the MK12 I was ready to make some noise.
Rounds Downrange
The MK12's rifle-length gas system and longer 18-inch barrel would tend to favor a heavier bullet, yet the faster 1:7 twist would allow a lighter bullet to properly stabilize and could be very handy in closer range. So to test the rifle's versatility, I grabbed a box of every match grade .223 ammo I had in my safe, including Black Hills 52-grain Match BTHP, Federal TRU 55-grain Sierra BTHP, HPR Hyper Clean 60-grain VMAX, and HPR Hyper Clean 75-grain Match BTHP.
I zeroed the MK12 at 50 yards with the Federal 55-grain BTHP. This is currently what my agency carries as a duty round, both for the SWAT team and patrol rifles, and we're continuously impressed with its performance. The quality of the Leupold scope and LaRue mount came in handy here as I was only about 2 MOA high and left during my first group.
I adjusted the scope to zero and began my accuracy testing. All shots were taken from the prone position with the rifle resting on a pack, just as the MK12 would likely be hastily deployed in the field. I also shot most groups from the 100-yard line, as I felt this would likely be the maximum distance for engagements in most law enforcement scenarios. There have been longer distance shootings but the vast majority of police engagements are much closer.
My first five-shot group was with the Black Hills 52-grain round. I was convinced from the start this round was simply too light to maintain accuracy at distance, even as close as 100 yards. I have always been a huge fan of Black Hills' match ammo (I run a ton of it through my bolt gun), so it wasn't the brand that concerned me, just the bullet weight. Three five-shot groups confirmed my suspicions as I was only able to maintain about a 3-inch group with little consistency.
Moving up the weight class, I repeated the process with the Federal TRU, the HPR VMAX, and the HPR Match BTHP. The 60-grain VMAX is where the MK12 really became consistently accurate, holding groups of about 1 inch with about a half-inch of variance for the cold-bore shots. The 75-grain Match was the clear winner, and I was able to hold between half-inch to 1-inch groups with little noticeable difference in the cold-bore shot. With the accuracy confirmed I decided to speed things up a bit.
I dialed down the magnification on the optic to 2.5x and ran a few hasty deployment drills. Starting from the 100-yard line, I moved quickly into position at the 50-yard line and took three quick shots on a target with 3-inch numbered dots. I was able to hold 1-inch groups with ease as I snapped a three-shot string in about two seconds. I did the same from a standing and then supported kneeling position with the same tempo and kept every one of them inside the circle. Pretty impressive.
At the end of the day I had sent about 150 rounds down the MK12's throat and it spit out every one of them with precision. The gun ran like a champ, the trigger was simply amazing, and the optic was, in my opinion, perfectly paired for the MK12's intended purpose. I'd take this gun on duty in a flash and with complete confidence.
A.J. George is a patrol sergeant with the Scottsdale (Ariz.) Police Department who also serves as the SWAT team's crisis negotiation supervisor.
Daniel Defense MK12 Rifle Specs:
Caliber: 5.56mm NATO
Magazine: Magpul 20-round PMAG
Weight (empty): 7.41 pounds
Overall Length: 34.75 to 37.87 inches
Barrel Length: 18 inches
Barrel: Cold, hammer forged stainless steel, 1:7-inch twist
Gas System: MK12 low-profile gas block CNC machined hardened stainless steel, rifle length, direct impingement
Price: $1,999, without sights or optics. Financing available from Daniel Defense.