Utilizing barrier separation between the liquid and compressed air, Combined Tactical Systems' Omni-Stream delivers an efficient stream at any angle. Unlike the traditional OC products that must be held upright, the Omni-Stream can be sprayed reliably from any orientation, even upside down.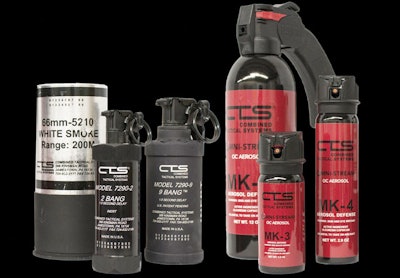 The Omni-Stream is available in OC MK-3, MK-4, and MK-9 sizes. The MK-9 unit incorporates a newly designed slim line "Ballistic" handle and spray nozzle, producing tighter spray patterns, positive actuation with audible feedback, and a clearly marked safety mechanism.
Defense Technology Direct Impact and Exact Impact 40mm impact munitions are point-of-aim, point-of-impact direct-fire rounds with a maximum effective range of up to 120 feet. These impact munitions consist of a plastic body and a crushable foam nose that can also contain a powder payload.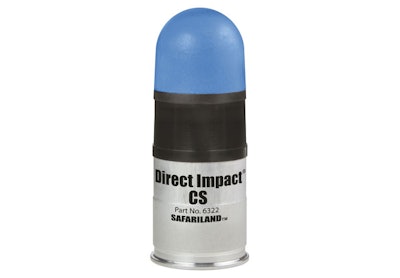 This payload area can hold inert, marking, OC, or CS powder. The crushable foam nose dissipates energy upon impact while releasing the powder payload. Both munitions are available in an extended range LE version, which provides a maximum effective range of up to 230 feet.
The MK 46E Enhanced Mega Crowd Control Unit from Guardian Protective Devices is an infield, proprietary quick charge system. It can be filled and charged on location, allowing the operator to remain in the fight and to continue applying controlling force.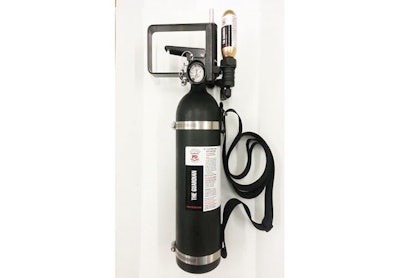 The aluminum cylinder holding the OC formulation is fitted with a discharge mechanism consisting of a spring-loaded trigger assembly with pull pin safety and built-in hand guard, shielded, and recessed pressure gauge. The MK 46E is well suited for use in crowd control and civil disturbances and has multiple uses inside a corrections facility.
Lamperd Less Lethal's 5-plus-1-shot 37mm Less Lethal Multi Launcher and 40mm Grenade Launcher both operate as pump-action devices. The launcher can be carried on the chest, back, thigh, or anywhere that you need it. It weighs only 4.7 pounds, compared to other systems weighing up to 15 pounds, and Lamperd's slimline launcher design of 2.5 inches in width makes navigating less of a problem and reduces the chances of getting the device hooked on something.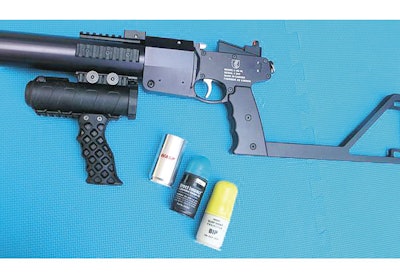 This launcher handles just like a patrol rifle, including a magazine design that allows you to strip out an empty magazine and feed in a fresh one, shortening the learning curve and instruction time. The five-position stock caters to all sizes and allows for full weapon extension or CQB mode.
The Take Down Tactical Handle from Mace Tactical Solutions is designed to be an effective and efficient way to deploy OC aerosol spray through virtually any riot or capture shield on the market today. Implementing OC directly onto tactical and riot shields increases your use of less-lethal force options and gives the user increased flexibility during a disturbance.
It's constructed of rugged, lightweight anodized aluminum with a knurled grip for enhanced control and retention and is available with a variety of nozzles for the deployment of fog, stream, and gel formulas. It's quick and simple to install on a wide variety of manufacturers' shields because it's fully adjustable to fit different hole spacing and shield thicknesses. Minimal additional training is required.
MSI's AB2K-MMADS is a fast, multi-mission, fully portable less-lethal aerosol delivery system. AB2K can shoot a stream of dense smoke over 100 feet. The non-toxic smoke is non-oil based so it will not contaminate deployment areas. A fully charged unit can expel 320,000 cubic feet of smoke.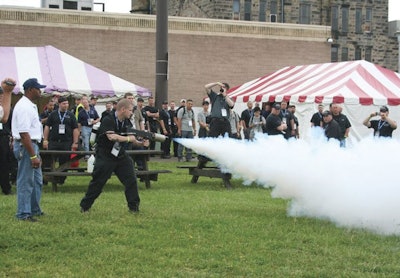 Optionally, law enforcement and military can upgrade missions with OC or CS and use the device in tactical scenarios. The smoke is compatible with thermal imaging. Participle size is 0.2 to 0.4 microns. The system has an extensive and broad range of applications including training and demanding tactical uses.
The Phazzer Raptor is a projectile-launching less-lethal weapon designed to replicate nearly every feature and function of the M4/M16 family of combat rifles, including trigger pull and trigger reset, balance and natural point of aim, as well as reloading and field-stripping procedures. It can launch projectiles to mark or incapacitate a suspect at up to 50 meters away.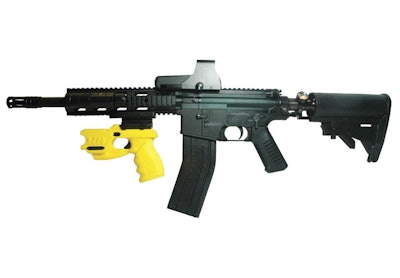 Like an AR-style rifle the Phazzer Raptor features standard tactical rails for mounting scopes, illuminators, lasers, and other devices. It also can be fitted with the Phazzer Enforcer CEW. The Phazzer Enforcer can be attached to the lower front rail mount to give operators multiple less-lethal options on the same platform. A wide range of munitions can be launched from the Phazzer Raptor.
Security Devices International (SDI)
Security Devices International (SDI) is a defense technology company specializing in the development of non-lethal 40mm ammunition. SDI's Family of Blunt Impact Projectiles (BIP) is ideal for crowd control scenarios and can adapt to any 40mm caliber standard issue weapons and grenade launchers.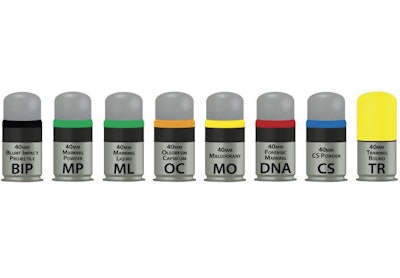 SDI's patented rounds have been developed for accuracy at longer ranges in order to ensure the greater safety of the user and provide an effective means of incapacitating subjects without causing lethal injury. This is due to a design that uses a collapsible head to mitigate kinetic energy, thus making it highly effective even at a very close range.
The TASER X2, shown, and X26P smart weapons both feature all-digital technology, self-diagnostics that monitor device health, charge metering that safely delivers the optimal current, firmware updates over the Internet, and ruggedized hardware that can withstand tough conditions.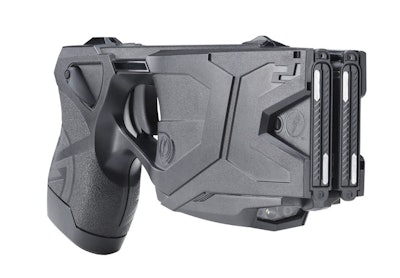 The single-shot X26P is similar to the original X26, while the X2 features a back-up shot while remaining lightweight and easy to carry. The X2 also allows you to display warning arcs without firing and has smart cartridges that communicate with the weapon and indicate the type of cartridge (by range length) that is loaded and its deployment status.