KE Arms is one of those great American success stories. It's a small shop in Phoenix, AZ, that is family-owned and operated by a bunch of guys who have made a life out of knowing all about guns. They build quality guns, parts, and accessories right here in the USA.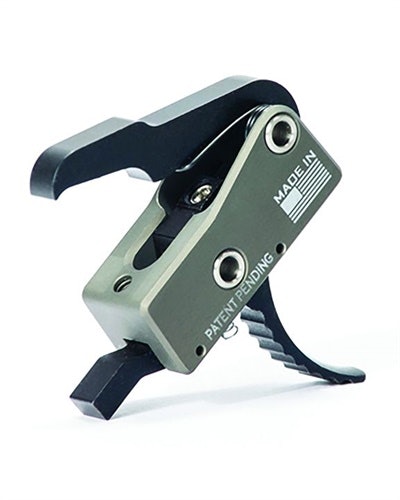 I met up with Russell Phagan at his shop to pick up the new SLT-1 trigger for this review. Now, usually review products are just shipped to me with some paperwork and maybe a business card. Not the case with KE. Russell insisted that I come to their shop; not because he wanted to save on the shipping but because he wanted to show me why their products are truly top notch.
Not many manufacturers will let you peek behind the curtain but KE actually encouraged it, and in my opinion there is no better way to show faith in your product. After a tour of the shop, a demo of their products, and a firm handshake, I left with the company's new SLT-1 trigger.
Now the SLT-1 isn't just another drop-in AR-15 trigger. It was designed from the ground up to be a completely different animal. Like its competition, the SLT-1 is designed to fit any mil-spec receiver pocket. It is a single-stage trigger with a trigger weight of around 4.5 pounds.
Unlike its competition, the SLT-1 incorporates what KE has dubbed "sear-link technology," which basically means there is no disconnector and the trigger sear is in constant contact with the hammer. This reduces the amount of force transferred to the internal parts, which means less wear and greater service life. It also means that you can activate the safety no matter which position the hammer is in. Nothing wrong with that, right? But does it work?
Yup, sure does.
I swapped out my Noveske MK18's standard trigger with the SLT-1, paired it with KE arms' ambi-selector, and spent a little time on the range to see if it lived up to its claims.
The first thing I noticed about the SLT-1 was the light and crisp trigger break. It is what I would consider somewhere in between a combat and competition trigger; smooth and crisp but with a very positive pull and no surprises.
Reset was equally crisp and overall trigger travel was very short, especially compared to standard AR-15 combat triggers. I banged through a couple of magazines making sure to do plenty of selector manipulation and the SLT-1 didn't stumble once.
The build quality of the SLT-1 is top notch and I would have no hesitation putting it into service for duty use. In fact, KE Arms is so sure of the SLT-1's quality they recommend it for use in harsh blow-back pistol caliber systems and even the SIG MPX. Not many aftermarket triggers can stand up to that kind of abuse.
For a retail price of under $200 you can take your AR-15 to the next level and support a great local American business at the same time.
A.J. George is a sergeant with the Scottsdale (AZ) Police Department assigned to the Technical Operations Unit, Special Investigations Section. He has more than a decade of law enforcement experience in patrol, field training, and traffic enforcement.