For this year's Shooting, Hunting, and Outdoor Trade (SHOT) Show held in January, the POLICE editors and a POLICE contributor walked the aisles learning about the latest products for law enforcement. Here's our report on the nation's largest police equipment show.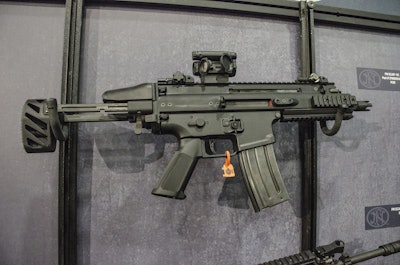 Ammunition
Amtec Less Lethal Systems (www.lesslethal.com) brought a new 12-gauge anti-drone round to the show. Once it's fired from a shotgun, the five tethered segments of the SkyNet round separate with centrifugal force and create a "capture net" to foul the drone's propellers.
Federal Premium (federalpremium.com) showed its new Hydra-Shok Deep round for handguns. The bullet features a core design that provides up to 50% deeper penetration than original Hydra-Shok, and the center post has been improved, so it's more robust to provide better integrity and performance through barriers.
Hornady (www.hornadyle.com) promoted its new Subsonic 300 Blackout ammunition, which is made to expand at a slower rate because of its patented Flex Tip insert for deep penetration with better accuracy. Hornady says its SUB-X (Subsonic—eXpanding) bullet expands at subsonic velocities as low as 900 feet per second. It's also designed to not produce as loud a report as other subsonic ammo.
Apparel
5.11 Tactical (www.511tactical.com) debuted two new major apparel lines. Developed in partnership with Veil Camo, a new line of 5.11 Tactical wear will feature Veil Camo's Geo7 camouflage pattern, made to be effective in urban environments at 10 meters and 100 meters. The pattern will be available in two colors—Night (black) and Terrain (green and khaki)—in 20 different styles, including tactical duty uniform shirts, pants, jackets, hats, a plate carrier, and additional gear. The new 5.11 Class-A Flex-Tac Poly/Wool professional collection was created in partnership with The Woolmark Company. It includes men's and women's short-sleeve and long-sleeve shirts and pants that are machine washable and feature a fade-resistant Teflon finish.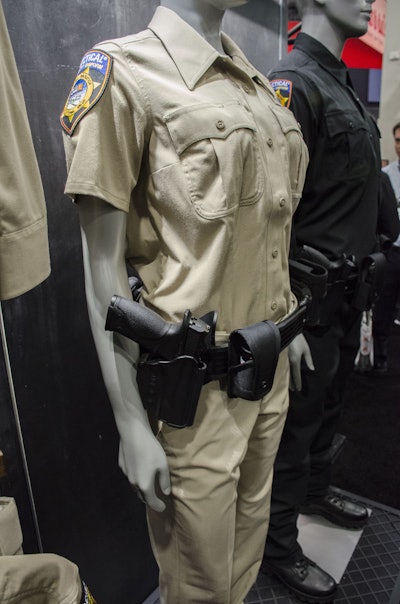 Blackhawk (www.blackhawk.com) showed two new patrol gloves. The Patrol Elite glove is intended for everyday wear. It features a lean, ergonomic cut, and is made with form-fitting neoprene to maximize dexterity and tactility. An embossed palm-side print offers a stable grip, even in wet environments. The Blackhawk Patrol Barricade glove is the higher end model, featuring a palm reinforced with SpectraGuard to provide moderate cut protection and knuckle pleats for increased range of motion. Both are touch screen compatible.
Dickies (www.dickies.com/tactical-wear/) introduced new tactical wear, including the Dickies Women's Tactical Covert Ripstop Pant. It's created specifically for women and features performance stretch fabric and hidden pockets. Also available are the Men's Tactical Covert Ripstop Pant and the Men's Tactical Ripstop Cargo Pant.
First Tactical (www.firsttactical.com) promoted its V2 Tactical Pant at SHOT. Available for men and women, the V2 features a stretch waist and enhanced pockets. Constructed of 65/35 poly/cotton with micro ripstop, the V2 features First Tactical's ARMS Technology for color protection after 50 washes.
Propper (www.propper.com) showed it HLX (Hybrid, Lightweight, Crossover) line, including pants, polos, and button-up shirts. HLX pants don't scream "tactical" but have many of the features of tactical pants. The HLX shirts also have a non-tactical look but offer tactical features.
Tru-Spec (www.truspec.com) released its 24/7 Series Responder Shirt at SHOT. The quarter-zip shirt is made of Drirelease fabric and has 65/35 poly/cotton rip-stop sleeves for abrasion resistance.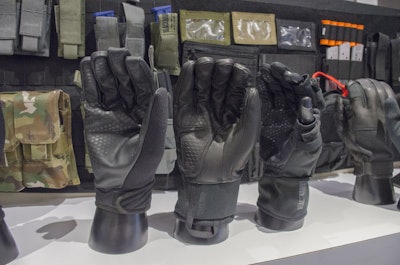 Equipment
Earphone Connection (https://earphoneconnect.com) introduced three new products to improve law enforcement communications at SHOT. The company's Easy-Connect system uses visible arrows to facilitate connection between the radio and the headset. The Micro Sound 1A is a very lightweight, very compact in-ear speaker that features an ambidextrous eartip. The Fin Ultra Ambi is a soft gel eartip that can be used in either ear and offers the wearer both clear radio communications and the ability to hear ambient sounds.
Garrett (www.garrett.com) showed its THD Hand-Held Metal Detector, which is designed for wearing on the officer's belt and even comes with a holster. The THD offers ultra-sensitive response to all ferrous, non-ferrous, and stainless steel weapons; a 360-degree detection field; a vibrating alarm; and a bright red LED indicator.
Med-Eng/Safariland (www.med-eng.com) showed an enhanced variant of its TAC 6 multi-threat protective suit and new ARC Rail Visor Mount. This lightweight modular system provides blast, fragmentation, and optional ballistic threat protection to tactical officers. The ARC Rail Visor Mount allows operators to quickly mount a Med-Eng blast protective visor to their tactical or combat helmet. The new TAC 6 variant features a purpose-designed shoulder protector that can be donned or doffed while continuously wearing a respirator to protect against chemical, biological, or other airborne threats.
Viridian Weapon Technologies (https://viridianweapontech.com) brought an evidence capture system for documenting officer-involved shootings to the show. The Viridian Fact Duty system captures high-definition video evidence that can be stored and reviewed. Fact Duty is activated by Viridian's patented Instant-On technology, meaning video and audio begin recording once the user's weapon is drawn from the holster. The system works with a number of popular duty holsters.
Eyewear
Gargoyles Performance Eyewear (https://www.fostergrant.com/) brought its Vortex line of tactical eyewear to the show. Vortex glasses meet MIL-PRF-32432(GL) for high velocity and high mass impact. The browbar and temples have co-injected rubber, which provides comfort, stability, flexibility and grip. With anti-reflective and Tri Tech oleophobic treatments, the lenses control harsh light and are both water and smudge resistant.
Wiley X (www.wileyx.com) showed its line of tactical and patrol sunglasses at this year's SHOT. The company's WX Valor has Selenite lenses that meet mil spec for impact and are available in darkness from gray to clear.
Gear
5.11 Tactical (www.511tactical.com) showed its AMP line of packs. The packs feature 5.11's patented Hexgrid Gear Set attachment for multi-directional mounting of web/MOLLE pouches. Named for the number of hours they're intended to be used, the collection includes the AMP12, AMP24, and AMP72 backpacks.
Condor Outdoor (www.condoroutdoor.com) showed a variety of tactical pouches at the show. The line includes rifle magazine holders, shotgun ammo pouches, and tactical medical pouches.
Odor Crusher (https://odorcrusher.com) introduced to law enforcement its tactical line of bags. Each bag contains an ozone generator that helps eliminate odors and bacteria from sweaty gear. You can plug it in at your house or in your car for 20 minutes and it leaves the bag and everything in it smelling fresh and clean. There is no filter to replace or chemicals to add.
S.O. Tech Tactical (https://sotechtactical.com) showed its Viper Flat IFAK (Individual First Aid Kit). This ambidextrous IFAK can be worn on an armor carrier, battle belt, or duty belt. The Viper Flat IFAK comes in two sizes: full size (VFIFAK-A1) and the LE Version.
Voodoo Tactical (www.voodootactical.com) introduced its Valor Standard P.R.B. (Patrol Ready Bag). The PRB is 28 inches long, 16 inches wide, and 12.5 inches high; and it can hold a helmet, plate carrier and plates, a range bag, reports and manuals, ammo, and pounds and pounds of other gear you need in the field. It's also got wheels for easy transport.
Footwear
Danner (www.danner.com) showed it new Scorch Side-Zip boots, which are designed specifically for officers who work in warm climates. Available in six- and eight-inch versions, the Scorch boots feature a lightweight, patterned upper for maximum air circulation.
Original Footwear (https://originalfootwear.com) showed its Altama OTB (over the beach) Maritime Assault Boot. The OTB is made to allow water to drain from it and fit swim fins for tactical water operations. It comes in 8-inch and 6-inch versions in multiple colors, including a new black MultiCam.
Reebok (https://reebokwork.com/job/military-law-enforcement/) showed its complete line of Sublite Cushion boots. The Sublite Tactical Series includes 8-inch, 6-inch, Oxfords, and Mids all featuring the Sublite EVA cushion midsole with rubber heel and forefoot pad. The boots have moisture-wicking nylon mesh linings and MemoryTech Massage removable cushion footbeds.
Ridge Footwear (https://ridgefootwear.com/) brought its new Momentum athletic shoe-inspired boot line to SHOT. The boots currently come in 8-inch and 6-inch models. The Momentum 8" features a full-grain leather toe box along with breathable Hi-Lite mesh, while the upper of the Momentum Mid 6" is made entirely of the Hi-Lite mesh. Both weigh less than one pound and are made with nylon loop speed lacing and triple/double stitching.
Holsters
DeSantis (www.desantisholster.com) introduced the Light Bearing Raptor holster at SHOT. The new holster is designed for Glock pistols and is available in IWB and OWB versions.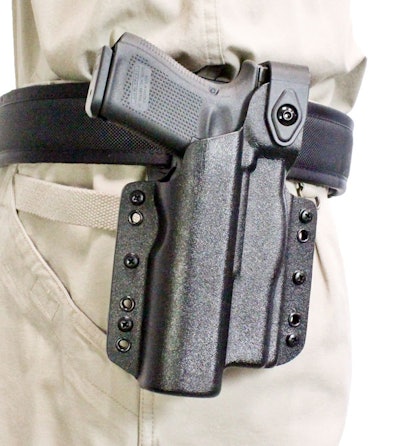 Galco Gunleather (www.galcogunleather.com) introduced its Ankle Guard holster. A combination of the Ankle Glove and BlakGuard belt holsters, the new open-top holster's black neoprene cuff secures with Velcro and is padded with sheepskin to make it breathable and more comfortable. It uses passive retention and features an injection-molded sight rail to accommodate most iron sights. Galco's Ankle Guard holster can also be used with most carry-style optical sights.
Lights
Elzetta (www.elzetta.com) brought its line of modular flashlights to SHOT. The lights range in size from one CR123A battery to three CR123A batteries and range in power from 415 lumens to 900 lumens. Buyers can use the Elzetta Website to build the flashlight with the features they want and then order the light directly from the company.
First-Light (https://firstlight-usa.com) showed its line of innovatively shaped tactical flashlights. The company's T-Max boasts a 700-lumen white light output and is constructed of aircraft-grade aluminum. Features include: multiple LED options, strobe function, and three settings of light output.
Pelican (www.pelican.com) showed its new 7070R, which can be programmed via app using Bluetooth and comes with a wireless USB charging cradle. You can activate the flashlight with the forward- or rear-mounted switches. Other features include full-time battery level indication and an anti-reflective glass lens. The 7070R is expected to be available in March.
Powertac (www.powertac.com) introduced its E9R USB Rechargeable Tactical Flashlight. The E9R is a 5.5-inch flashlight with tailcap activation and a high-output rating of more than 1,000 lumens. Operational modes range from extremely low at 1 lumen to maximum output of 1,020 lumens and include a strobe function.
QuiqLite (www.quiqlite.com) showed its new X2 model. Manufactured from aircraft-grade aluminum, this adjustable hands-free concealed LED flashlight provides from 20 up to 200 lumens of light on demand. Its new extra wide (30mm) adjustable flood light arm gives you the freedom of directing light where you need it without having to hold it.
Streamlight (www.streamlight.com) had a slew of new lights at SHOT. The TLR-7 is a lighter, lower profile entry in the TLR weapon light line that provides 1.5 hours of continuous runtime from a single lithium battery and delivers 500 lumens. The rail clamp is designed to rapidly attach and detach from the side of compact and full-frame weapons. The new TLR-8 is essentially the same light with an integrated red aiming laser.
SureFire (www.surefire.com) designed its new Stiletto light with the slim form of a pocket knife in mind, including a heavy-duty pocket clip that allows for fast draw and acquisition. The Stiletto's lithium-ion battery can be charged with any Micro-USB charger. The handheld flashlight's front body switch activates a wide 650-lumen, medium 200-lumen, or 5-lumen beam. The rear switch activates high-only output and has an optional high-frequency strobe.
Optics and Sights
FLIR (www.flir.com/ots/breach) debuted its new thermal imaging system, the Breach monocular at SHOT. The Breach lists for $2,495, which is a major price breakthrough for a full-function thermal imaging system. The Breach is small and lightweight, but it has plenty of features. Users can choose from seven color palettes all with 1280 x 960 resolution. Up to 2.5 hours of video and 1,000 still images can be stored on the Breach's internal memory.
Leupold & Stevens (www.leupold.com) showed its new VX-Freedom scopes. Major improvements from the previous VX models include refined tension on the power selector and improved knurling on the windage and elevation knobs. The scopes feature Leupold's Twilight Light Management System, which refines optical performance in diminished light situations.
Night Vision Devices (https://www.nvdevices.com/) showed its new BNVD-SG UL, ultra light dual tube goggle with single gain control. The company says its BNVD-SG UL incorporates new high-performance optics that are lighter and offer higher performance than standard optics. The BNVD-SG UL features EMI compatibility, full diopter adjustment range (-6 to +2), infrared LED, and a close focus range of 9.8 inches for reading maps or doing close-up work such as clearing a weapons jam.
Sightmark (https://sightmark.com/) introduced its latest first-focal-plane riflescope, the Pinnacle 3-18x44 at SHOT. The 3-18x Pinnacle is designed for both close- to long-range shooting. Features include Japanese multi-coated lenses, a zero-stop elevation dial that allows a "no look" return to zero without passing below the zero range, and a first focal plane reticle for accurately range-finding targets.
Truglo (www.truglo.com) showed its TFX Pro Tritium Fiber Optic sights. The TFX Pro features contrasting colored front sight rings, U-notch rear sight, and an angled rear sight edge for emergency one-hand operation.
Protection and Armor
Angel Armor (www.angelarmor.com) showed its RISE armor system and Truth Snap hard armor system. Angel Armor's Truth Snap plates are designed to work in conjunction with the officer's soft armor and provide protection from rifles up to 5.56mm. The Truth 47 is a roughly 1.5-pound special threat plate that is intended to be worn at all times by the officer. The Truth 44 weighs about the same as the Truth 47 and offers additional protection. But the really interesting thing about the Truth 44 is it is designed to magnetically snap together with the Truth 47 and create a plate that in conjunction with the wearer's soft body armor can stop 5.56mm rifle fire. The Truth Snap system works with any soft body armor that can accept the addition of hard plates.
Armor Express (www.armorexpress.com) launched a new brand, Lighthawk Tactical, that covers its plate carriers, tactical soft armor, hard armor, and helmets. The company's new SAU (Special Assignment Unit) is a flagship product of the new Lighthawk Tactical brand. The SAU offers advanced shoulder pads, a cummerbund with multiple wrap options, a quad ventilation liner system, and bottom loading front and rear plate pockets.
Eagle Industries (https://eagleindustries.com/) introduced a new line of armor carriers designed for active shooter response. The LE Plate Carrier with Cummerbund lets first responders quickly upgrade their ballistic protection. The wrap-around cummerbund improves stability, and lets officers attach more MOLLE pouches.
Hardwire (www.hardwirellc.com) exhibited its line of armor products. The company makes hard and soft ballistic protection products, including shields, plates, and vehicle armor. Hardwire's 'B'-KIT Vehicle Door Armor is available in protection capabilities up to NIJ Level III. The 'B-KIT' attaches to the outside of the vehicle's door with anti-tamper fasteners. The armor skin is OEM color matched to blend with existing vehicle color and accepts decals to match police department markings.
Monadnock/Safariland (www.safariland.com/monadnock) debuted the MOLLE Vest and a MOLLE Battle Belt Thigh and Groin Protection for the Monadnock ExoTech Riot Suit System, enabling officers to more effectively carry gear and accessories required for crowd management situations. The ECB100 MOLLE Vest is worn over the ECB100 Hard-Shell Torso Protector. The EPT200 MOLLE Battle Belt Thigh and Groin Protection features a battle belt design and MOLLE.
Point Blank (www.pointblankenterprises.com) showed its latest laser cut armor systems, including the crossover ODC Laser. The ODC Laser features laser cuts in the carrier that are reinforced with Dyneema material to make them extremely difficult to tear. As a crossover system, the ODC Laser allows the user to quickly integrate their Point Blank concealable armor into the carrier to create an exterior load-bearing vest.
Propper (www.propper.com) showed the 4PV (4 Panel Vest) line, including concealable and exterior vests for both men and women. Propper says the vest's four-panel design offers greater side protection and ease of movement than two-panel designs.
Protech Tactical/Safariland (www.safariland.com/protech-tactical) debuted the X Series line of ballistic shields. The X Series boltless shield line features a patent-pending process that molds the lens cap into the ballistic composition of the shield at the time of pressing. Protech says the X Series shields' design eliminates points of weakness and reduces overall shield weight by approximately 20 percent.
Team Wendy (www.teamwendy.com) brought its new EXFIL Ballistic SL helmet to SHOT. The SL provides a 15% reduction in weight while maintaining the same fragmentation and NIJ IIIA performance ratings as the original EXFIL Ballistic.
Storage
Go Jotto (www.gojotto.com) showed its new ZRT Gunrack with Smartlok Technology. Features include injection-molded polycarbonate butt plates that are secured to the side of the extruded backbone, allowing individual weapon adjustability based upon the setup of the vehicle. Go Jotto says its SmartLok Technology prevents unauthorized people from gaining access to weapons by manipulating the power input.
Truckvault (https://truckvault.com/) showed its line of storage products for law enforcement operations, including its Command Centers, which allow customers to stack multiple drawers, cubbies, and other storage systems to maximize secure storage space.
Training
Laser Ammo (www.laser-ammo.com) exhibited its complete line of training tools, including dry-fire Laser Cartridges, Simulated Recoil Training Pistols, and the Advanced Training Laser Pistol (ATLP) with Accidental Discharge Sensor. The ATLP features a sensor that detects when the shooter's finger is inside the trigger guard. The sensor sets off an alarm to train the shooter not to put their finger on the trigger unless ready to shoot.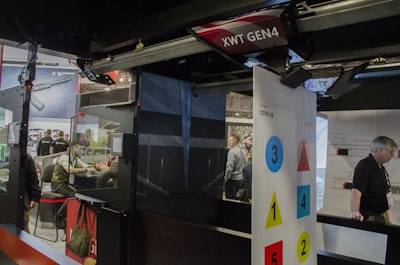 Meggitt Training Systems (https://www.inveristraining.com/) showed its new XWT Gen 4 Wireless Target Carrier. This upgrade of the Gen 3 is a smart target carrier that runs scenarios using 50% more battery power with its new lithium-ion battery. This new version also features red and blue lights and simulated hostile fire light for increased realism. In concert with Meggitt's new Pro Image system, users can also project images onto the targets and upload videos from their smartphones to use in training.
Peacekeeper International (https://peacekeeperproducts.com) showed its Peacekeeper DT Suits. The Pro Flex Instructor Suit is made to provide maximum protection and the Dyno Flex Student Suit is made for maximum mobility. Both have a one-piece lightweight design so you can take them on and off in less than a minute.
Weapons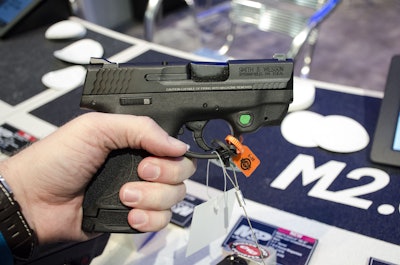 CZ-USA (https://cz-usa.com/) brought two new variants of the P10C line of compact polymer-framed pistols to the show. The pistol is now available in flat dark earth, light gray, and Urban Grey. The Urban Grey version is available in a suppressor-ready model.
FN (https://fnamerica.com) showed its new FN SCAR-SC. The subcompact FN SCAR-SC is a select-fire 5.56mm rifle with a 7.5-inch barrel. Features include a telescoping buttstock, a non-reciprocating charging handle, and an enlarged trigger guard for access when wearing gloves.
KE Arms (www.kearms.com) showed its Customized Pistol, featuring numerous KE Arms' upgrades on a Glock duty gun. The Customized Pistol has a KE17 Charlie Slide that is machined to accept a Leupold Deltapro reflex sight, a KE Arms carry mag well, and KE Arms trigger.
Kel-Tec (www.keltecweapons.com) announced at SHOT that as of the second quarter 2018, the company's semi-automatic Sub-2000 will be taking SIG P320 magazines. This 9mm or .40 caliber rifle is adjustable and foldable to 16.25 x 7 inches for easy storage and can already accept other popular handgun magazines.
LaRue Tactical (www.larue.com) showed its Siete bolt-action rifle at SHOT. The Siete (Spanish for "seven") has a Remington 700 pattern of action and a Winchester-style safety. It's not known when it will be available for sale.
PepperBall (www.pepperball.com) showed its latest less-lethal launcher for law enforcement, the Tactical Compact Pistol (TCP). Designed to be worn on a patrol officer's belt, the TCP is slightly larger than a duty pistol and fires PepperBall ammunition using a CO2 cartridge. Projectiles can deliver capsaicin powder, CS, and marking dyes; or they can be inert for training.
Savage Arms (https://savagearms.com/) showed its new 110 Tactical rifle with the Accufit system that lets shooters quickly adjust comb height and length of pull. Other features on this bolt-action precision rifle include: user adjustable AccuTrigger, accessory rail, 10-round Magpul magazine, synthetic stock, and soft grip forend. Available in .308 Winchester and 6.5mm Creedmoor.
SIG Sauer (www.sigsauer.com) debuted the P365 micro-compact pistol at this year's SHOT. With a barrel length of 3.1 inches, the P365 is small, but it packs a lot of firepower. This 9mm, striker-fired pistol features a modified double-stack magazine that holds 10 rounds in both the flush-fit and extended versions. The pistol's frame is polymer with a slim-line rail that will accommodate SIG light or laser accessories. The stainless-steel slide comes standard with front and rear serrations for easier slide manipulation, as well as SIGLITE night sights.
Smith & Wesson (www.smith-wesson.com) introduced the M&P Shield M2.0, M&P Shield M2.0 with integrated red or green Crimson Trace laser, and the M&P M2.0 Compact pistol in 9mm and .40 S&W. The new Shield features the M&P 2.0 trigger, and a 3.1-inch barrel. It's available in both 9mm and .40 S&W, with a choice of white-dot sights or tritium night sights, and one standard and one extended grip magazine.
Weapon Accessories
Amtac Suppressors (https://amtacsuppressors.com/) showed its new Hornet suppressor for 9mm carbines. The Hornet is designed to add 3.7 inches to the barrel and is rated to suppress the report of 9mm carbines by as much as 30 decibels.
B&T Industries (www.accu-shot.com) showed its Atlas Bipod at SHOT. Atlas Bipods feature five independent and intentional leg positions of 0, 45, 90, 135, and 180 degrees along with 30 degrees of pan and cant, adjustable leg height, and optional feet swapped with a push of a plunger and "hold what you move technology," according to the company.
Hogue (www.hogueinc.com) had many products in various colors at its booth, including Handall Universal Grip Sleeves. HandAll series grips are designed to improve shooting comfort, accuracy, and control inexpensively. They are designed with a unique shape to hug the contours of a firearm. HandAlls are molded from soft, durable rubber and available in a variety of colors.